[30W Panel Foldable] HKYH Solar Panel Lighting Kit, Solar Home DC System Kit, USB Solar Charger with 4 LED Light Bulb as Emergency Light and 5 Mobile Phone Charger/5V 2A Output Can Charge Power Bank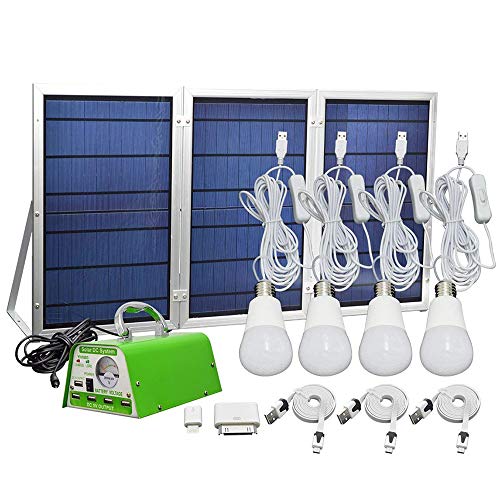 Specifications:
Solar panel:Polycrystalline 11V 30W
Battery:Lithium battery,7.4V 14AH
Light source:2x2W LED+2x3W LED
Package Includs:
1 solar systerm with panel
4pcs LEDs
3pcs 1m android phone charging cable+1 for Iphone 4 plug+1 for Iphone 6 plug
8pcs Tapping screw ∅4*40,plastic anchor 8pcs
16pcs stainless steel screw with plate 3M*15
16pcs Hexagon stainless steel nuts M3
4pcs H shape conjunction parts
4pcs support shelves
1pc Galvanized spanner
THE SOLAR PANEL
Chagre:The red indicator light will turn on when connect to solar panel where a input power from.
Load:The indicator light will turn on once any of the five outlets has been connect to load and there is a power output.
BATERY VOLTAGE:
(1)Yellow area: low level of power stored in battery,the protection of over discharge function initiates;
(2)Green area: medium level of power,this area shows the battery works in normal condition.
(3)10V: Full power, the protection of over charge function initiates.
POWER:the switch for the whole system
(1)Turn on this switch,all outlets are ready to export power.The battery voltage needle points to Green area and shows how much power is stored in the battery.
(2)Turn off this switch,all outlets stop to export power.The battery voltage needle points to zero.
IN CHARGE:connect to solar panel to charge the battery.The solar panel will charge the battery no matter the switch is being Turned ON or OFF.When the panel connected to IN CHARGE with switch Turned ON,the CHARGE indicator will be lit up and the BATTERY VOLTAGE shows how much power the battery stores.The system can be charged and export power at the same time
NOTE:Except solar panel,this system can be charged by AC or DC power.Recommend to use transformer:AC:100V-240V with a power output DC:9V 2A★ NEW DESIGN EMERGENCY POWER SUPPLY ★ Keep your ordinary electricity need in the hurricane, snowstorm time, Combine the charging and lighting, with anti-reflective and high-transparency. This is a completely independent off-grid power system.
★ FULL ACCESSORY EASY INSTALL POWER ★ Includes 1 10V 30W Flexible Solar Panel +1 Solar DC System + 2x 2W LED + 2x 3W LED + 2 for IPHONE 4&8 Adapter + 3 Cord, meet whole ordinary electricity need no any added cost. genuine energy conservation and environmental protection.
★ WATERPROOF MULTI-PURPOSE SOLAR ★ Flexed panel can be mounted on a Curved Roof, RV, Travel Trailer, Van, Truck, Boat, Cabin, Tent or any other irregular surface. High waterproof grade never worry about rainy, hurricane, snowstorm outdoor using!
★ FAST CHARGE PORTS & BRIGHT BULBS ★ The 5V 2A output is a universal charge port, can quickly charge your cellphone, digital devices, power bank, fan etc. The multiple outlets enable several LED bulbs working at the same time.
★ POWERFUL LIGHTWEIGHT SOLAR KIT ★ Full kit only 9.9 lbs. EASY INSTALLATION, Working time: 2x 2W bulbs—13 to 14 hours, 2x 3W bulbs—10 to 12 hours, 4 bulbs—8 to 9 hours. Widely applied to the wild, home, outdoor such as patio, garden, outdoor party, camping, snack street etc.



BUY NOW

$152.99