4 Ways to Stop Chrome to Automatically Opens Apps on Android
Whenever you open a link on Google Chrome, it automatically redirects you to a play store or the linked app if installed on your phone. It can troublesome if you don't want it to open the app, and want to check it on Chrome itself. This especially happens in apps like YouTube, Facebook, etc. Don't worry, as in our today's guide, we discuss how to stop Google Chrome from opening apps on Android. Meanwhile, you can also learn to send Web Page Links to All Your Devices.
Methods to Stop Google from Opening Apps on Android
There are four ways to disable the Google Chrome feature to stop opening apps on your Android. Follow this step-by-step guide to turn off this feature so that no more links will be opened in the apps.
Disable Apps to Open Links in Other Apps
The instant Apps feature on Android lets you use apps without installing them. So when you tap on a link in Chrome, it either opens an instant app or the dedicated app installed on your phone. Here's how to disable this.
1. Open Settings and go to Apps and select Default apps. On some phones, you will find this under App Management.
2. Under the default apps settings,  you need to disable the toggle in front of Open links in Apps.
This will stop Google Chrome, to stop opening apps from the said links.
Disable Instant apps
If you open websites that have an instant app, it launches the respective instant app instead of Google Chrome. You can fix this by disabling the instant apps from Google settings to force links to open in the Chrome browser instead of instant apps. Here's how it can be done:
1. Go to the Settings app on your phone, and select Google from the list.
2. Scroll down and navigate to the Settings for Google apps option.
3. Here you need to disable the Upgrade Web Links toggle under Google Play Instant.
Don't Allow Apps to Open Links
The next method to stop Google Chrome from opening apps on Android is to change individual app settings, and don't allow it to open supported links. Here's how it can be done:
1. Navigate to your phone Settings > Apps and look for Default apps.
2. Under Default apps settings, tap on the Opening links option. Here, select the app for which you want to change the setting.
3. On the next page, disable the toggle for Open supported links.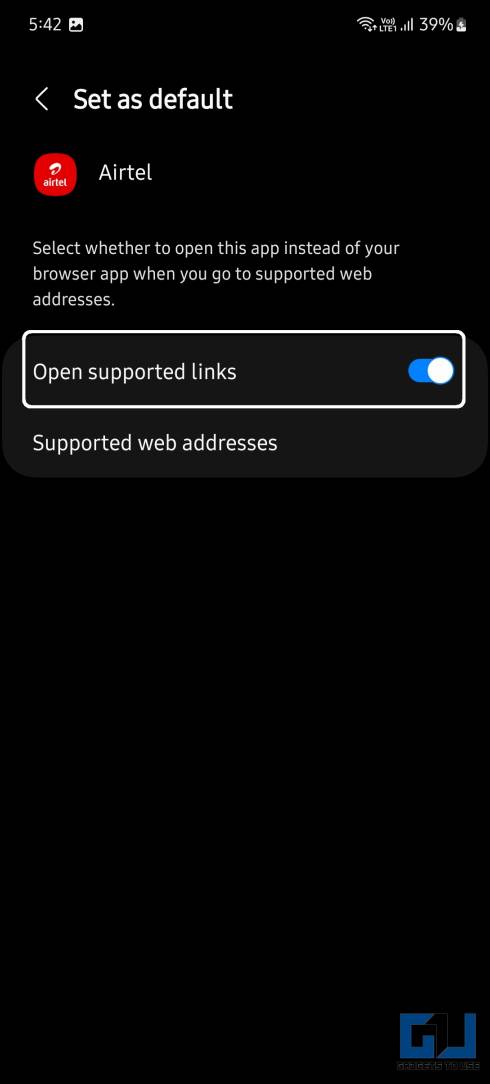 4. Now, simply restart the phone to apply the changes.
This will force the Chrome browser to open the app's links in the browser itself. Moreover, if you select Always Ask, your phone will ask every time whether it should open the link in an app or not. Similarly, you can change the behavior of other apps as well.
Reset App Preferences
Lastly, you can reset the app preferences on your Android smartphone. This will not affect any of your apps' data, as it will only reset the app's defaults and permissions you've given to the apps.
1. Open the Settings app and go to the Apps section.
2. Here, tap the three dots menu icon and select Reset app preferences.
Wrapping Up
These were some ways to stop Google Chrome from opening apps on your Android. If Chrome still opens apps on your phone, you should open the links in incognito mode if nothing works. We hope you will be able to open the links in Chrome with the help of these methods. Check out other useful tips linked below, and for more such tech tips, stay tuned to GadgetsToUse.
Also, read:
You can also follow us for instant tech news at Google News or for tips and tricks, smartphones & gadgets reviews, join GadgetsToUse Telegram Group or for the latest review videos subscribe GadgetsToUse Youtube Channel.