Choosebuy Unlocked Cell Phones, Gradient Screen 6.2 inch Dual SIM HD Camera Smartphone Android 8.1 Eight Cores Bluetooth 3G GPS Call Mobile Phone 1 G +16 GB (Purple)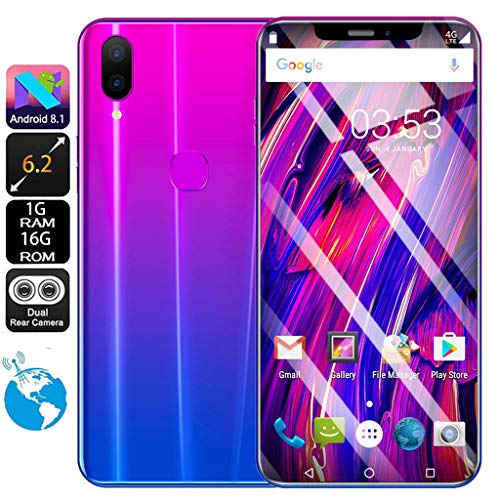 Description:
This innovative camera is suitable for the same sensitive light of the human eye, The new camera's photos taken in low light conditions and bright light are sharper and more realistic.
It adapts to any type of brightness, from strong to bad, and from today, you can express your artistic aspects and recreate the details around you at any time of the day or night.
Share photos and videos instantly with social software. So you always feel at home.
With stereo speakers technology, the smartphone will deliver Dolby Atmos sound with clear sound.
The new dimension of sound has arrived. Dolby Atmos will surround you with 3D sound, immersing you in a spectacular experience, just like in a movie theater.
 Specification:
Model No:X21
Dimension: 156×74.5×7.5mm
Platform : MTK 6592 Eight Cores
Standby : Dual SIM Card
Screen: 6.2″ HD 18:9 LCD 1320×720
Speaker:1511 Box Speaker
Frequency: GSM850/900/1800/1900MHz, 4G/3G: WCDMA850/2100MHz (1900MHz optional)
Vibration: Support.
Colors:Purple,Red,Black
Memory: 1G RAM+16GB ROM Extended memory 64G
Multi Media: MP3/MP4/3GP/FM Radio/Bluetooth
Camera 800w+1600w
Multi Function: Face recognition, Single SIM Wifi, GPS, Gravity Sensor, Alarm ,Calendar ,Calculator ,Audio recorder ,Video recorder, WAP/MMS/GPRS/Wireless charging, Image viewer,E-Book,World clock,Tasks,card rear flash IML rear cover.
Languages: Multi-language support.
System: Android 8.1
Battery: Real 3800Mah Lithium-ion battery
Package Content:
Smartphone×1
User manual×1
Phone case×1
Charger×1
Earphone(3.5mm)×1
Battery×1
USB line×1❤️ Multi Function: Face recognition, Single SIM Wifi, GPS, Gravity Sensor, Alarm ,Calendar ,Calculator ,Audio recorder ,Video recorder, WAP/MMS/GPRS/Wireless charging, Image viewer,E-Book,World clock,Tasks,card rear flash IML rear cover.
❤️ Camera 800w+1600w
❤️ Memory: 1G RAM+16GB ROM Extended memory 64G
❤️ The new dimension of sound has arrived. Dolby Atmos will surround you with 3D sound, immersing you in a spectacular experience, just like in a movie theater.
❤️ System: Android 8.1



BUY NOW

$121.99