DJI Osmo 2 Mobile Handheld Smartphone Gimbal Stabilizer Videographer Bundle with Case, Flex Tripod, Base and Lens Maintenance Kit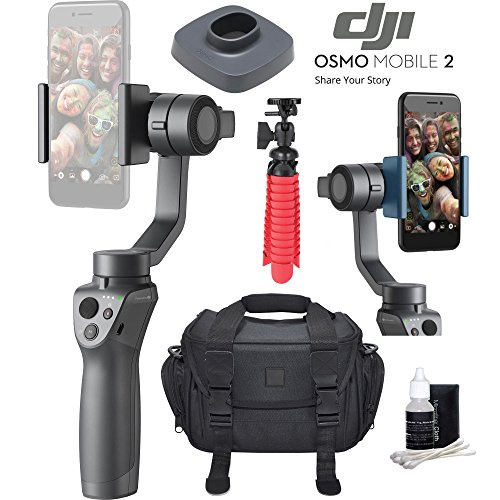 Stable and Smooth Moves
The Osmo Mobile 2 was built to film on the go. Just select your subject and ActiveTrack will follow, using built-in sensors and a brushless motor to ensure stability. Whether it's small vibrations from a skateboard or more intense instability from jumping, this smartphone stabilizer stays steady.
Time in Motion
Turn everyday situations into incredible moments with Timelapse. Shoot blooming flowers and rolling clouds, recording all their movements in a stable shot. For an even more dynamic effect, Motionlapse lets you move with the camera while creating equally smooth video.
Cinematic Zoom Control
For aspiring filmmakers, a new built-in zoom slider lets you completely operate your smartphone camera from the handle with more fluid, cinematic zoom. You can even produce dolly zoom – a visual effect that only professional film sets could produce.
Reveal a Bigger World with Panoramas
Adventures allow us to stumble upon breathtaking landscapes and stunning architecture. Relive these moments with high-definition panoramas. The Osmo Mobile 2 moves automatically to capture multiple photos then stitches them together to create a seamless image. You can also set your smartphone to Landscape or Portrait mode, giving you ideal options for every picture.
Hours of Live Streaming
Go live! With up to 15 hours of battery life, the Osmo Mobile 2 can also charge your smartphone for hours of streaming. Beautify mode also keeps you looking great in front of the camera.
Lightweight and Portable
Now you can take your story anywhere. The Osmo Mobile 2 is made of a high-strength composite material cuts the weight to just 485g, perfect for allday use. Also, its modified design now supports more compact folding for increased portability. Move, shoot, and share with the Osmo Mobile 2.DJI AUTHORIZED DEALER – Includes Full DJI USA WARRANTY
The Osmo Mobile 2 is a handheld smartphone gimbal made for the storyteller in all of us. | Capture moments with cinematic movement and incredible ease using a lightweight design, intelligent ActiveTrack AI powered functions, and a long-lasting battery.
Using built-in sensors and a brushless motors to ensure stability. Whether it's small vibrations from a skateboard or more intense instability from jumping, this smartphone stabilizer stays steady. | Turn everyday situations into incredible moments: Smooth Video | Motion Timelapse | Zoom Control | Panorama | Portrait Orientation | 15-hour battery life
Box Includes: Osmo Mobile 2 Gimbal & Selfie Stick Smartphone Stabilizer (Built in Battery) | Power Cable | USA Authorized Dealer Warranty
Bundle Includes: Osmo Mobile 2 Gimbal | 12-Inch Compact Rubberized Spider Tripod & Support | Large Gadget Bag for Photography Equipment | Deluxe Digital Camera Starter Kit | DJI Base for Osmo Mobile 2



BUY NOW

$129.00