HJCINTL Cell Phone Signal Booster AT&T 4G LTE Mobile Booster FDD High Gain Band 12/17 Wireless Signal Boosters Home Mobile Phone Signal Booster Repeater Kits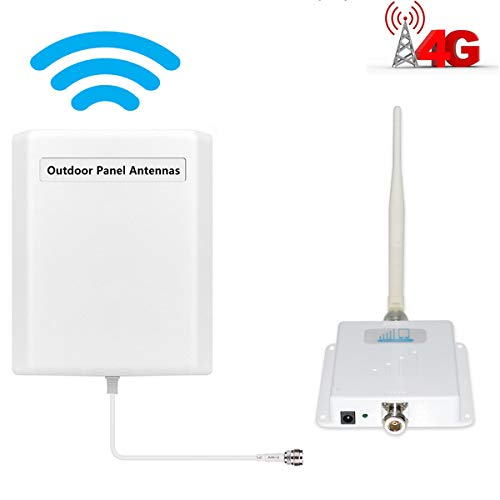 The HJCINTL cell phone signal booster simply amplifies your existing signal to give you more bars and maintain fast data speeds while you browse the internet or talk on the phone.
Specification:
Operation Frequency:Band 12/17
Uplink:698MHz-716MHz,Downlink:728MHz-746MHz
Emission Designator:LTE(G7D)
AGC LEVEL:Uplink:-45.00 Downlink:-56.00
Max.Antenna Gain:Uplink:8.1dBm Downlink:7.85dBm
Package Content:
1* ATT/T-Mobile 700MHz Single Repeater
1 * Indoor Whip Antenna
1 * Outdoor Panel Antenna
1 * 10 Meters (32.80 feet) Coaxial Cable
1 * Screws for Mounting
1 * English User Manual
Installation Steps:
1. Mount the Outdoor Antenna. Choose a location for the Outdoor Antenna using your cell phone to determine the area of strongest signal.
2. Place the Base Unit where you want to create a Cell Zone. For the widest possible signal area, position the Base Unit near the middle of a room.
3. Connect the Indoor Antenna to the Base Unit and place it where you need signal.
4. Run the provided coaxial cable between the Base Unit and Outdoor Antenna.
5. Connect the Base Unit to the provided power supply and plug into a power outlet.
General Troubleshooting Steps:
1.Make sure your cell phone is ATT T-Mobile 700MHz 4G LTE Band 12 network frequency
2.Make sure the Outdoor Panel Antenna towards the cell phone signal tower,and could receive receive 2-3 bars of stable signal
3.It is better to determine the exact in different location until the highest signal strength is received on your phone(most amount of bars).Once you ascertain the best location then permanently mount the outdoor antenna.Keep the distance between the outdoor antenna and indoor antenna should be above 22ft and make sure a proper amount of physical separation between outdoor antenna and indoor antenna.These things are absolutely critical for this booster to work.
Signal Boosters – This cell phone booster Supports voice and 4G data for 4G/LTE AT&T T-Mobile cell phones in the frequency range : Downlink: 728-746Mhz Uplink: 698-716Mhz, including iOS , Android, and other mobile devices.
【Excellent Function】- Reduces dropped call, better voice quality, faster uploads and downloads. No more slow internet connections or long buffer times while watching your favorite streaming tv shows and movies. Give your smartphone, tablet, data card, and notebooks boosted speeds all at the same time while using the Home 4G.
【Stop dropped calls】- Boost 4G LTE cell phone signals in your home or office with a signal boosting range of up to 2500 sq ft. The booster simply amplifies your existing signal to give you more bars and and maintain fast data speeds while you browse the internet or talk on the phone.
【Easy to Install】 – All of the components you need for installation are included in the package with easy to read, step-by-step instructions. Requires no technical experience with easy plug-and-play style setup, safe and convenient to use.
Warranty: One year manufacturer's warranty, as long as during the service period we can replace a new repeater for you at any time. cell phone signal boosters, cell phone booster, cell booster, at&t booster, 4g signal booster, cell signal booster, cell phone signal amplifier



BUY NOW

$159.99