KKBSTR Cell Phone Signal Booster, ATT T-Mobile 2G 3G 4G LTE, Verizon Sprint 2G 3G, Home B2 B12 B17 Cellular Signal Repeater Amplifier Kit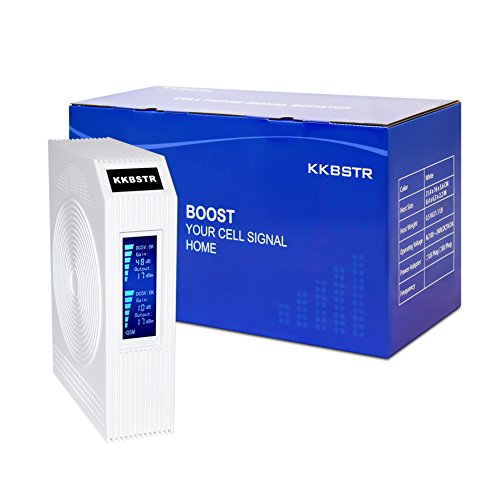 Does your house have cell phone signals only outside the house? With it, call and browse the Web, don't have to run outside anymore!
Package included: 1 x Host, 1 x Power Adapter(US Plug), 1 x Indoor Antenna, 1 x Outdoor Antenna, 1 x 15m(49.2ft) Coaxial Cable, 1 x User Manual
Frequency range: 700MHz (Uplink 698-716MHz, Downlink 728-746MHz), 1900MHz (Uplink 1850-1910MHz, Downlink 1930-1990MHz)
Operating voltage: AC100 ~ 240V, DC5V/2A
Outdoor antenna: Lightning protection, waterproof, drain outlet down, adjustable direction, not including the mounting pole
Indoor antenna: Length 3m(9.8ft), can be adsorbed on any metal, don't get too close to the booster
Applications: Can be used for apartment, hotel, office, basement of buildings, coffee shop and shopping mall etc.
Note:
1. The indoor and outdoor antenna is best to keep the distance of more than 8m(26ft), preferably separated by walls. The outdoor antenna is preferably installed horizontally in a better signal area and toward a cell tower.
2. Outdoor must have 2 to 3 bars signal, otherwise the signal can not be amplified, because this is a cell phone signal repeater.
3. Due to the complexity of the US carrier band, please make sure the 4G LTE band of your cell phone card is 2 or 12 or 17. If the band is wrong, it won't work. If you don't know your band, you can query through these simple operations(iPhone: Dial *3001#12345#* -> Serving Cell Info -> LTE -> Freq Band Indicator, Samsung: Dial *#0011# -> ServiceMode -> Band, Other Android Phone: Download and install the app 'LTE discovery' -> SIGNALS -> EARFCN).
If you have any question, please feel free to contact us by buyer-seller messages or email, we will try our best to help you. Thanks!
1. Dual-band, Works with AT&T, T-Mobile, Verizon, Sprint: This cell phone signal booster is dual-band(B2/B12), B12 contains B17, smart chip. It can boost 2G/3G/4G LTE signal for AT&T and T-Mobile phones, 2G/3G for Verizon phones, 2G/3G/4G LTE for most Sprint phones. It can improve both voice and data signals, faster data uploads and downloads, better voice quality, fewer dropped calls. Note: Please follow the instructions on the details page to check if your cell phone is supported.
2. Beautiful Appearance: New style, big screen, unique design, is not only a cell phone signal booster but also an artwork.
3. Coverage Range: Maximum coverage range 3500 sq.ft / coverage radius about 32.8 ft. The indoor coverage area will depend on the outdoor signal strength.
4. Easy to Install: The simple instructions and DIY installation make it easy. All of the components you need for installation are included in the package.
5. Product Warranty: Every product passes QC, it is guaranteed to increase the signal strength. 30 days money-back guarantee, if not work, full refund for you. One year manufacturer's warranty, as long as during the service period we can replace a new one for you at any time.



BUY NOW

$299.99