KKBSTR Cell Phone Signal Booster, Verizon Sprint 2G 3G 4G LTE, ATT T-Mobile 2G 3G, Home B2 B13 Cellular Signal Repeater Amplifier Kit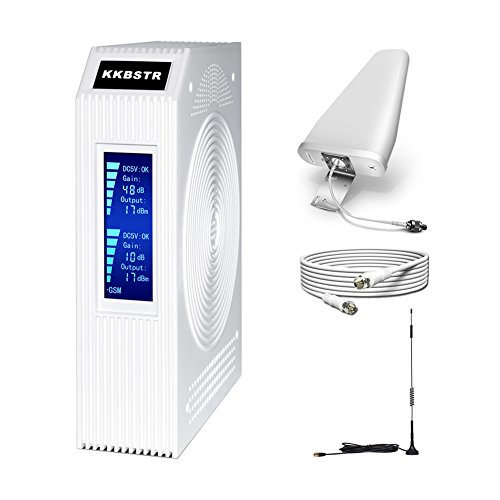 How a cell phone signal booster works: A cell phone signal booster uses an outdoor antenna to search for cell phone signals in the area. It captures those signals and boosts their power with a signal booster. An indoor antenna broadcasts the strengthened signal so that your phone can receive it.
Package included: 1 x Host, 1 x Power Adapter(US Plug), 1 x Indoor Antenna, 1 x Outdoor Antenna, 1 x 49.2ft Coaxial Cable, 1 x User Manual
Frequency range: 700MHz (Uplink 777-787MHz, Downlink 746-756MHz), 1900MHz (Uplink 1850-1910MHz, Downlink 1930-1990MHz)
Operating voltage: AC100 ~ 240V, DC5V/2A
Outdoor antenna: Lightning protection, waterproof, drain outlet down, adjustable direction, not including the mounting pole
Indoor antenna: Length 9.8ft, can be adsorbed on any metal, don't get too close to the booster
Note:
1. The indoor and outdoor antenna is best to keep the distance of more than 8m(26ft), preferably separated by walls. The outdoor antenna is preferably installed horizontally in a better signal area and toward a cell tower.
2. There must be 2-3 bars signals outside, otherwise the signal can not be amplified, because this is a cell phone signal repeater. A booster can only enhance the signal, can't create a signal.
3. In order to boost your 4G LTE signal, please confirm that the 4G LTE band of your cell phone card in your area is 2 or 13. If you don't know your band, you can query through these simple operations(iPhone: Dial *3001#12345#* -> Serving Cell Info -> LTE -> Freq Band Indicator, Android Phone: Download and install the app 'LTE discovery' -> SIGNALS -> EARFCN).
If you have any question, please feel free to contact us by buyer-seller messages or email, we will try our best to help you. Thanks!
Advantages: Dual-band(B2/B13), smart chip, high-tech custom circuit, faster data uploads and downloads, better voice quality, It can improve both voice and data signals, supports 2G/3G/4G LTE signal for Verizon, Sprint phones, 2G/3G for AT&T, T-Mobile phones, the effect of dual band(700/1900M) is better than single band(700M). Note: Please follow the instructions on the details page to check if your cell phone is supported.
Coverage: Maximum coverage range 3500 sq.ft / coverage radius about 32.8 ft. The indoor coverage area will depend on the outdoor signal strength.
Installation: Easy to install, all components required for installation are included in the package. Point the outdoor antenna towards a cell tower. Connect the coax cable from the outdoor antenna to the booster inside. Connect the indoor antenna. Then power supply. Done.
Applications: Can be used for home, hotel, office, basement of buildings, coffee shop and shopping mall etc.
Product Warranty: 30 days money-back guarantee, if not work, full refund for you. One year manufacturer's warranty, as long as during the service period we can replace a new one for you at any time.



BUY NOW

$299.99