Original Grain Wood Wrist Watch | Barrel Collection 47MM Analog Watch | Wood and Stainless Steel Watch Band | Japanese Quartz Movement | Whiskey Barrel Wood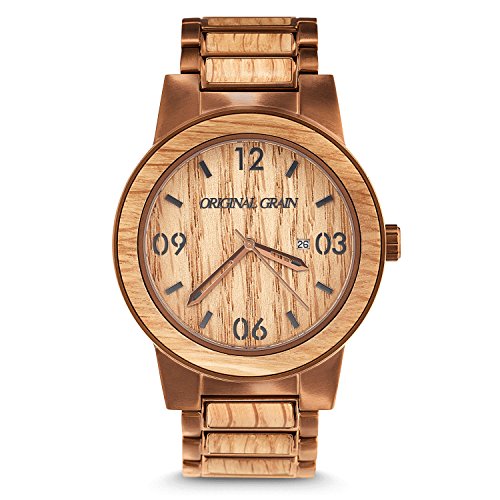 The Original Grain Men's Whiskey Barrel Wooden Wrist Watch is a stylish timepiece that combines accurate technology with the beauty of natural wood. Inspired by and made of aged American whiskey barrels, this watch is made from natural American Whiskey Barrels that are sustainably sourced. This gives off a sleek and sophisticated look with its natural color that contrasts with the dark shade of the metal. The 47mm watch face is covered with hardened Mineral Crystal glass which is highly durable and scratch resistant, making it ideal for everyday use.
The 24mm stainless steel band can fit most standard wrist sizes and is made of plated gold stainless steel, for lasting durability and protection against rust and water damage. Weighing in at only 4.96 oz, this timepiece is lightweight and durable. The band is adorned with exotic wood inlays to add to the overall natural look of the watch.
Featuring high quality Japanese Miyota quartz analog movement for reliability and performance, the Original Grain Men's Watch comes in a premium display box with every purchase. The watch face helps you tell the time and date with its distinct industrial-inspired design with bold numbers.
Make a statement with Original Grain's Whiskey Barrel Wristwatch for men; built to last with its materials and high quality components, this timepiece brings affordable style to everyone.
ORIGINAL GRAIN is the premier maker of natural wood and steel watches. We are purveyors of style forged of wood, steel and a fresh approach to classic traditions. We hold our timepieces to the highest standards of craftsmanship, authenticity and quality. Each of our products is truly an original. Embodying the same bold characteristics as the wood that inspired it, the Barrel Collection features the first and only watch made with authentic American Oak reclaimed from whiskey barrels.
HAND CRAFTED – Each one of our hardwood timepieces is hand tooled to fit each time piece using traditional woodworking techniques, ensuring each watch is unique and no two pieces are the same. Stainless steel watch band can be adjusted for almost any size wrist by adding or removing links. Watch face displays the date of the month. Japanese quartz movement with analog display ensures lasting precision. Silver oxide battery included; ships in premium wood engraved box. 1 YEAR WARRANTY
SUSTAINABLY SOURCED – This wrist watch features wood reclaimed from American Oak barrels that were used to store whiskey for up to four years. Our premium wood watches can be worn daily and won't degrade or become brittle over time.
WATER RESISTANT to 5ATM. However, the natual wood should not be submerged for long periods of time. The stainless steel construction helps prevent water from seeping into the delicate inner workings of the watch.
SCRATCH RESISTANT – High quality mineral crystal glass protects the natural wood dial and won't scratch or scrape easily.



BUY NOW

$272.00