Verizon Cell Phone Booster Mingcoll 700MHz Band 13 Cell Phone Signal Booster Repeater 4G LTE High Gain Mobile Phone Signal Amplifier Repeater Kit for Home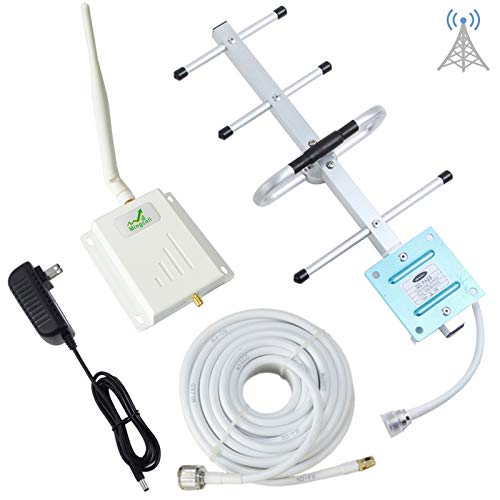 Mingcoll Verizon Cell Phone Booster 700MHz Band 13 4G Signal Booster: boost your Verizon LTE band 13 cell signal, offer much faster high-speed 4G LTE internet, and improve call quality.
Attention: 1.This cell phone signal booster could only work with Verizon 700MHz 4G Lte Band 13 network frequency.
2.ThisMobile signal booster could only make the weak signal stronger, it couldn't generate any signal.
Packing:
Signal Repeater Booster
Outdoor Directional Yagi Antenna
Indoor Whip Antenna
32ft 5D-FB OD7.5 Coaxial Cable
Power Adapter
Mounting Screw Kit
English User Manual
Installation Guide for Cell Phone Booster:
1.Tightly connect the 32ft coaxial cable to the outdoor Directional yagi antenna.
2.Please kindly download Network Cell Info Lite (free app) to find out the nearest cell tower,then keep the Outdoor Directional Yagi Antenna point at the nearest Verizon cell tower,and make sure Outdoor Directional Yagi Antenna could receive receive 2-3 bars of stable signal in the location where it is mounted. (OpenSignal.com aslo provides an Android and IOS app)
3.The signal amplifier should be mounted in a place where is near from the power socket, and have good ventilation in your room.
4.Connect the 32ft coaxial cable to the OUTDOOR port of the signal booster.
5.Connect the Indoor Whip Antenan to the INDOOR port of the cell signal repeater,and Keep the the Indoor Whip Antenna is about 22ft away from Outdoor Yagi Antenna and make sure a proper amount of physical separation between them.
6.Connect the power adapter to the signal amplifier.Works with Verizon> The cell service booster could work with Verizon 4G Lte Band 13 network frequency, Uplink:776MHz-787MHz,Downlink:746MHz-757MHz.
Boost the Signal> The signal booster could amplify your existing signal to give you more bars, and then you can experience much faster high-speed 4G LTE internet. Perfect for people needing fast uploads and downloads for streaming apps such as Google, YouTube.
Improve Call Quality> The signal booster will improve call quality and maintain a better voice environment. Its coverage can be up to 1500-2000 sq.ft in your house, office, villa, garage, basement and so on. No more dropped calls, faster data speeds.
Easy Installation> The package will contain all of the components you need for installation with step-by-step instructions. Requires no technical experience, plug and play, easy and convenient to install.
Product Warranty> One-Year Manufacturer Warranty, and with FCC authentication certificate. If any matter, please feel free to contact us, we're always at your service!



BUY NOW

$125.99