2019 Unlocked IsatPhone 2.1 Satellite Phone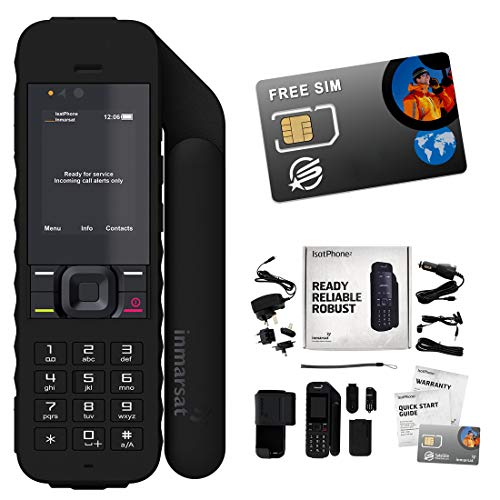 SERVICE PLAN OPTIONS: Package includes free Global SIM card ready for prepaid or monthly plan activation with Satellite Phone Store. No hidden fees and it's simple to activate. Purchase minutes whenever you need them, or get setup with monthly service and enjoy uninterrupted connectivity.
GLOBAL COVERAGE: NO ROAMING CHARGES: Make and receive voice calls, SMS, track your position with GPS from anywhere on the globe and never pay roaming charges. Your coverage area is EARTH (except the extreme north and south polar regions)
PACKAGE INCLUDES: Inmarsat IsatPhone 2 satellite phone handset, Lithium-ion battery, International AC wall charger with international plugs, Car DC charger, Holster with a belt clip, Hands free earpiece, Lanyard, USB cable, USB thumb drive with documentation, Quick start guide, Satellite Phone Store SIM card and 1 year manufacturers warranty.
SHOCK, DUST AND WATER RESISTANT: IK04 shock resistance rating and an ingress rating of IP65: the IsatPhone2 can withstand dirt, dust and jets of water from every direction. It has a humidity tolerance of 0 to 95%, and an operational temperature range of -20C to +55C (-4F to +131F). An innovative display technology provides enhanced daytime visibility. Longest lasting batteries of any satellite phone with 8 hours talk time and 160 hours standby.
24/7 CUSTOMER SUPPORT: Satellite Phone Store proudly offers Free 24/7 global customer support. Now answering machines – No waiting. Anytime you call an expert will answer the phone and immediately assist you. SERVICE PLAN OPTIONS: Package includes free Global SIM card ready for prepaid or monthly plan activation with Satellite Phone Store. No hidden fees and it's simple to activate. Purchase minutes whenever you need them, or get setup with monthly service and enjoy uninterrupted connectivity.
GLOBAL COVERAGE: NO ROAMING CHARGES: Make and receive voice calls, SMS, track your position with GPS from anywhere on the globe and never pay roaming charges. Your coverage area is EARTH (except the extreme north and south polar regions)
PACKAGE INCLUDES: Inmarsat IsatPhone 2 satellite phone handset, Lithium-ion battery, International AC wall charger with international plugs, Car DC charger, Holster with a belt clip, Hands free earpiece, Lanyard, USB cable, USB thumb drive with documentation, Quick start guide, Satellite Phone Store SIM card and 1 year manufacturers warranty.
SHOCK, DUST AND WATER RESISTANT: IK04 shock resistance rating and an ingress rating of IP65: the IsatPhone2 can withstand dirt, dust and jets of water from every direction. It has a humidity tolerance of 0 to 95%, and an operational temperature range of -20C to +55C (-4F to +131F). An innovative display technology provides enhanced daytime visibility. Longest lasting batteries of any satellite phone with 8 hours talk time and 160 hours standby.
24/7 CUSTOMER SUPPORT: Satellite Phone Store proudly offers Free 24/7 global customer support. Now answering machines – No waiting. Anytime you call an expert will answer the phone and immediately assist you.



BUY NOW

$579.00