4 Ways to Use ChatGPT with Internet Access
ChatGPT has limited information with a knowledge cutoff date of September 2021. And unlike Bard, ChatGPT can't provide up-to-date information from the web. It cannot give you news updates about what happened yesterday or read a company's financial results this quarter, making it unfeasible for work and research use. Fortunately, it is possible to connect ChatGPT to the internet to access the latest information. Here, we'll look at the top ways to use ChatGPT with internet access.
How to Use ChatGPT with Internet Access?
You can connect ChatGPT to the internet using the WebChatGPT extension on your browser, use the Bing AI for web-oriented results, or enable the beta browsing feature for ChatGPT Plus. All the methods are detailed below.
Method 1- Use WebChatGPT Extension in Chrome, Edge, or Firefox
The easiest method to connect ChatGPT to the web is using the WebChatGPT extension in your browser. It is available for all Chromium-based browsers (including Chrome, Edge, and Brave) and Firefox.
Once added, the extension adds relevant web results to your ChatGPT prompts, allowing more accurate and up-to-date conversations. It is similar to web browsing features rolled out to ChatGPT Plus users but is instead available for free for everyone. Here's how to use it:
1. Open Chrome Web Store and search for "WebChatGPT."
Select WebChatGPT: ChatGPT with internet access extension from the list. Firefox users, on the other hand, can install the WebChatGPT add-on.

2. Click on Add to Chrome and select Add Extension when prompted.
3. Upon installation, the extension will automatically open the ChatGPT window. If it doesn't, you can manually click the extension icon in the toolbar.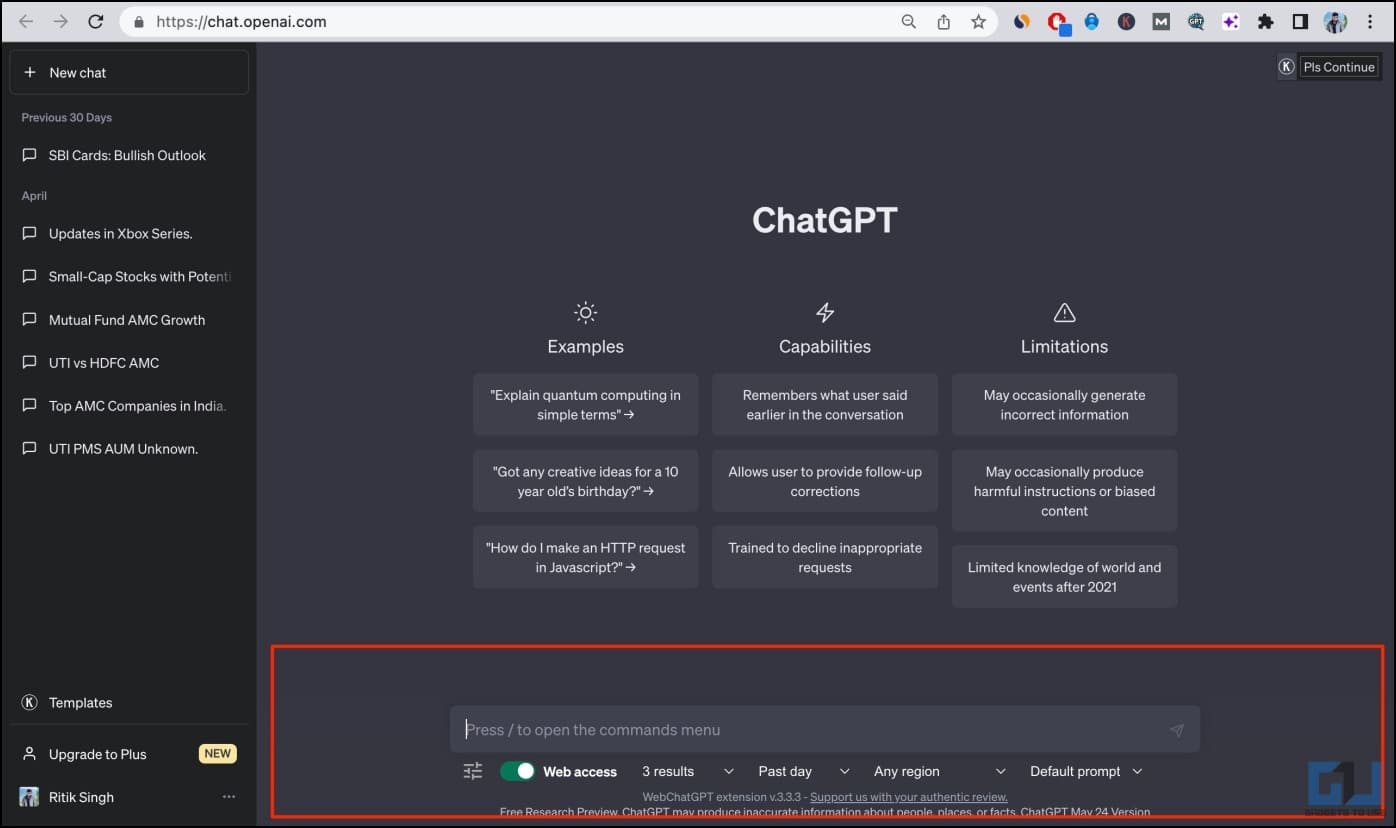 4. Here, enable the toggle for Web Access if not already. Then, select how many results you want, when you want the news, and specify the region if required.
5. Next, type your query and hit Enter.

ChatGPT will now pull the relevant results from the web (here, we selected three results) and then simplify the information the way it usually does.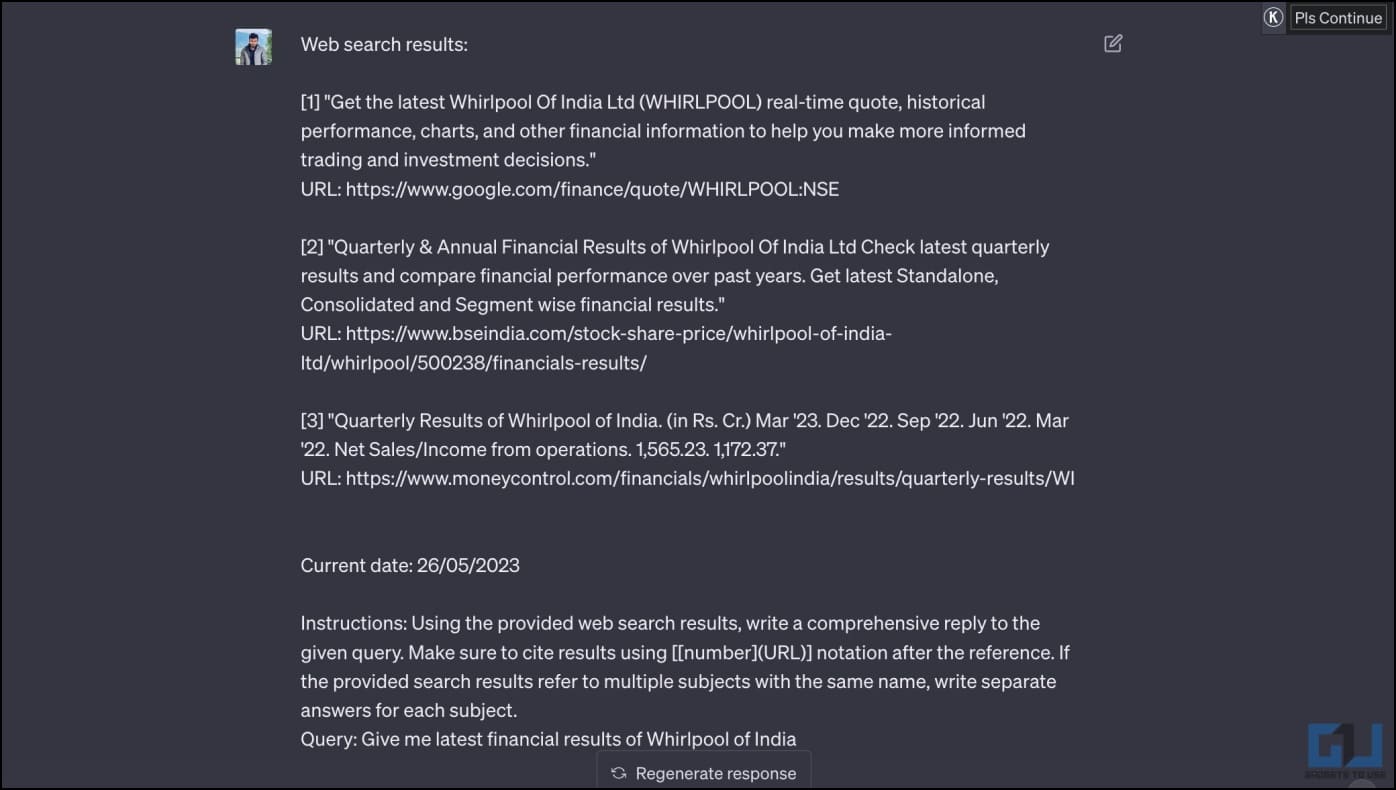 In short, the extension feeds ChatGPT with the latest information about the topic from the web. The GPT then understands and processes the new data to answer questions about the latest happenings around the globe.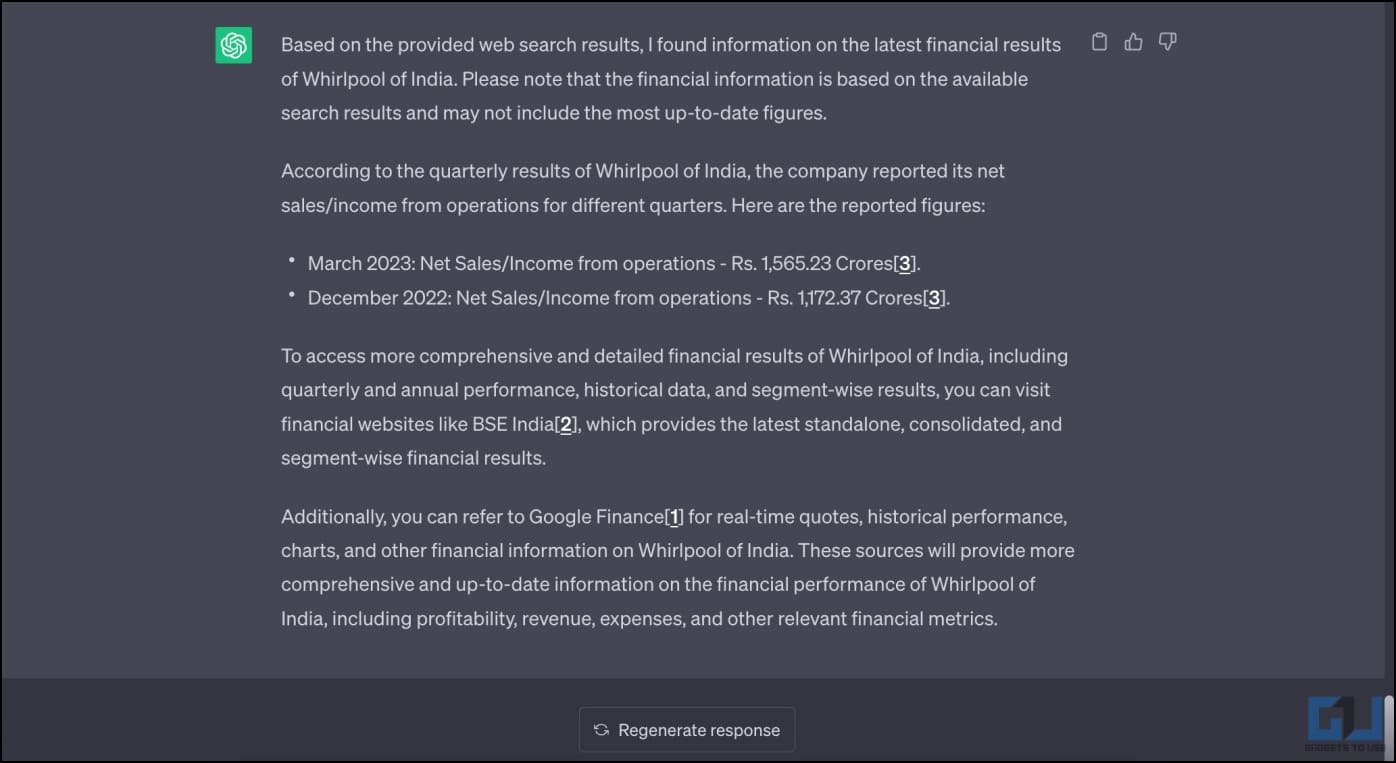 Method 2- Access ChatGPT with Internet Using Bing AI
Microsoft's Bing AI Search takes power from ChatGPT 4 and enhances it with real-time information and citations. In layman's terms, it's more or less ChatGPT integrated into a search engine, making it capable of answering queries with up-to-date information.
You can use Bing AI search and chat on your mobile phone and computer, as shown below:
On Microsoft Edge: Install the browser, log in to your Microsoft account, and enroll for Bing AI Search to start using it. You can also enable Bing AI on Edge Mobile.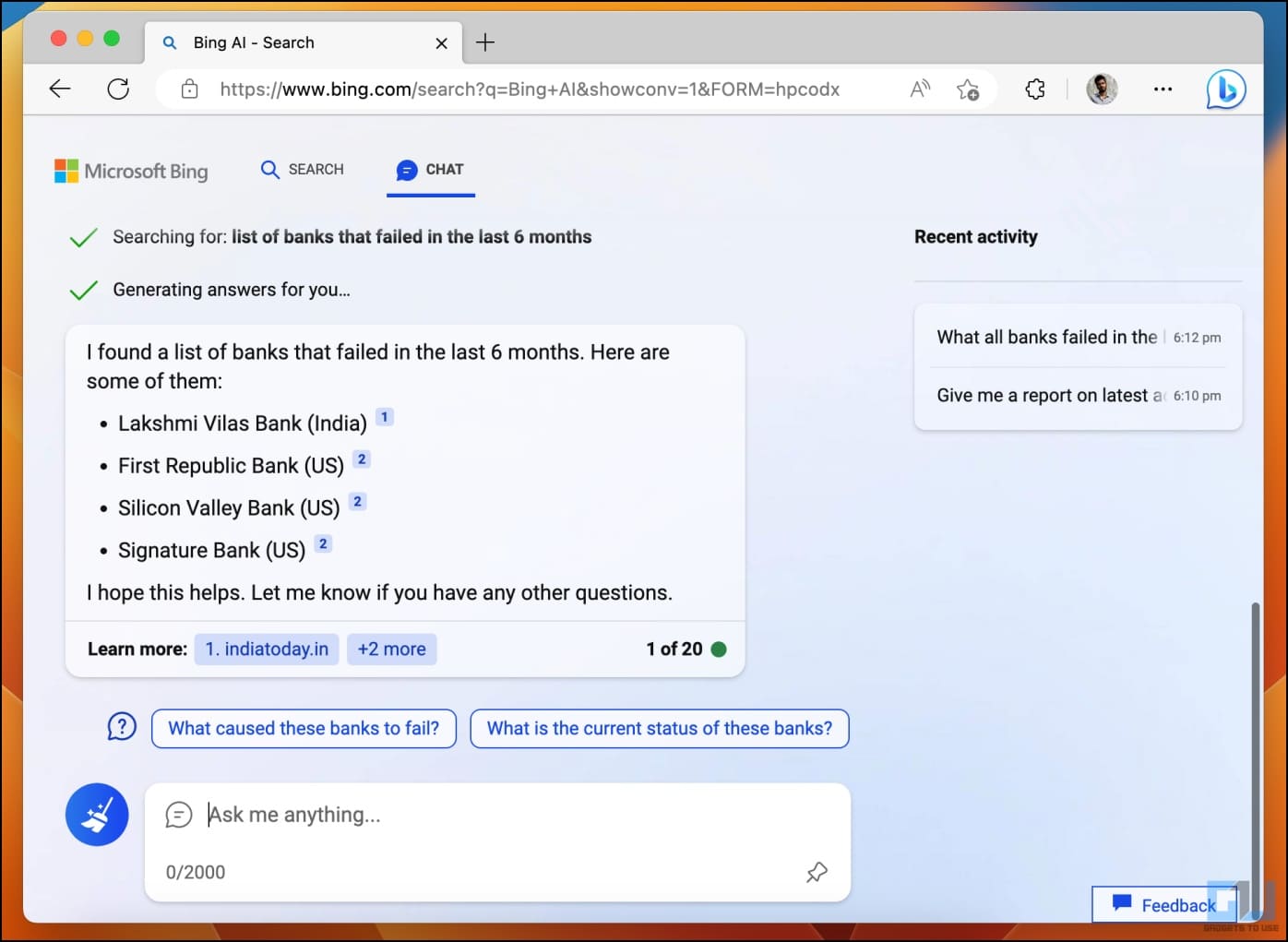 In Chrome, Brave, and Other Browsers: You can add Bing Chat to any Chromium browser on your desktop computer using Bing Chat for All Browsers extension.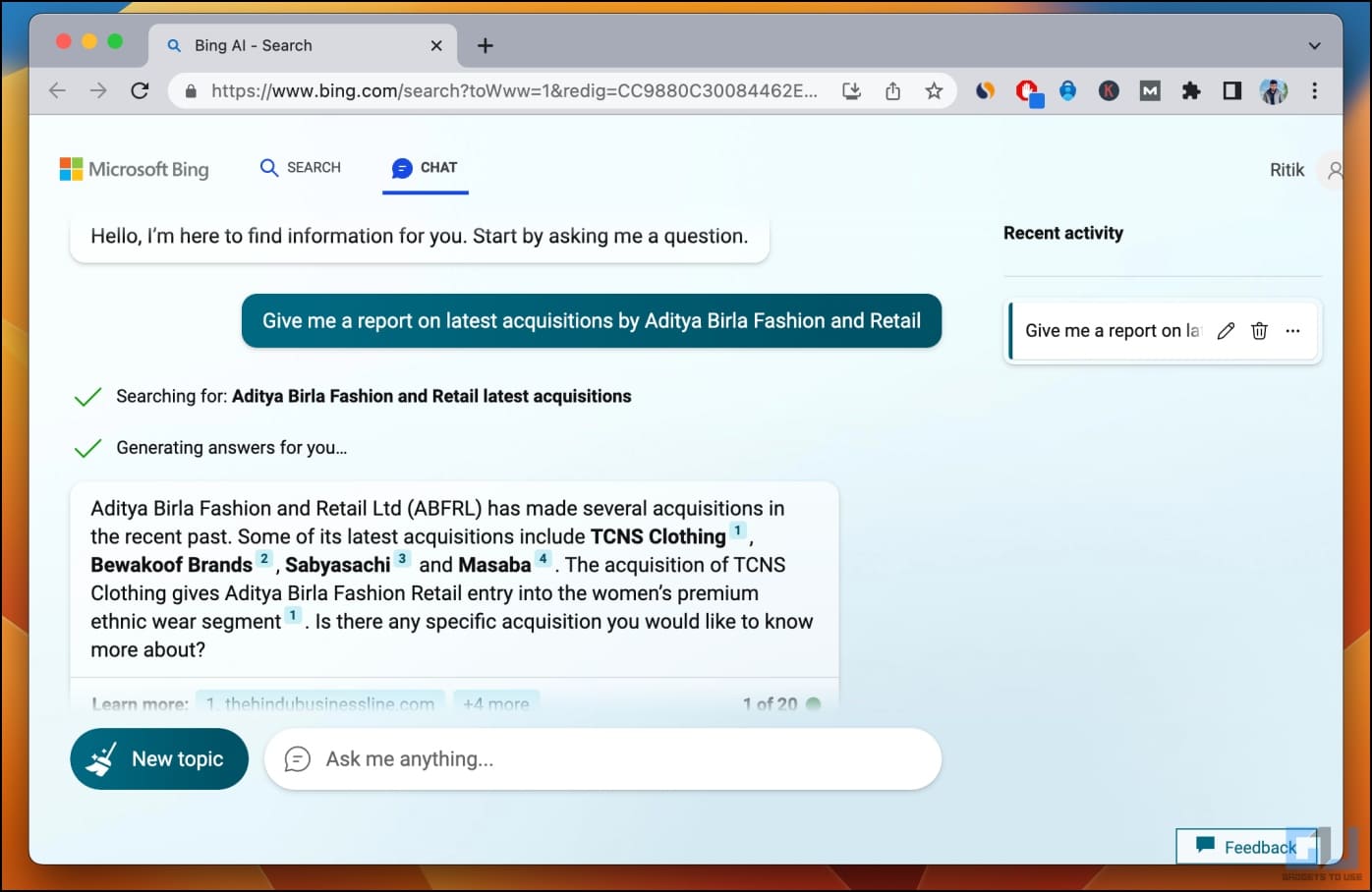 Using Bing AI Chat app: Install the Bing AI Chat app on your Android or iPhone, log in to your Microsoft account, and tap the Bing Chat icon to start talking with ChatGPT. Here are other ways to use Bing AI on your phone.
Method 3- Enable Web Browsing Features in ChatGPT Plus
If you're a ChatGPT Plus user, you can make it browse the web to find up-to-date information. But before you do that, you must enable web browsing in the beta features panel, as shown below:
1. Open ChatGPT on your web browser.
2. Click the three dots next to your name in the screen's bottom left corner.

3. Next, click on Settings.

4. Click Beta Features on the left to access the beta features panel.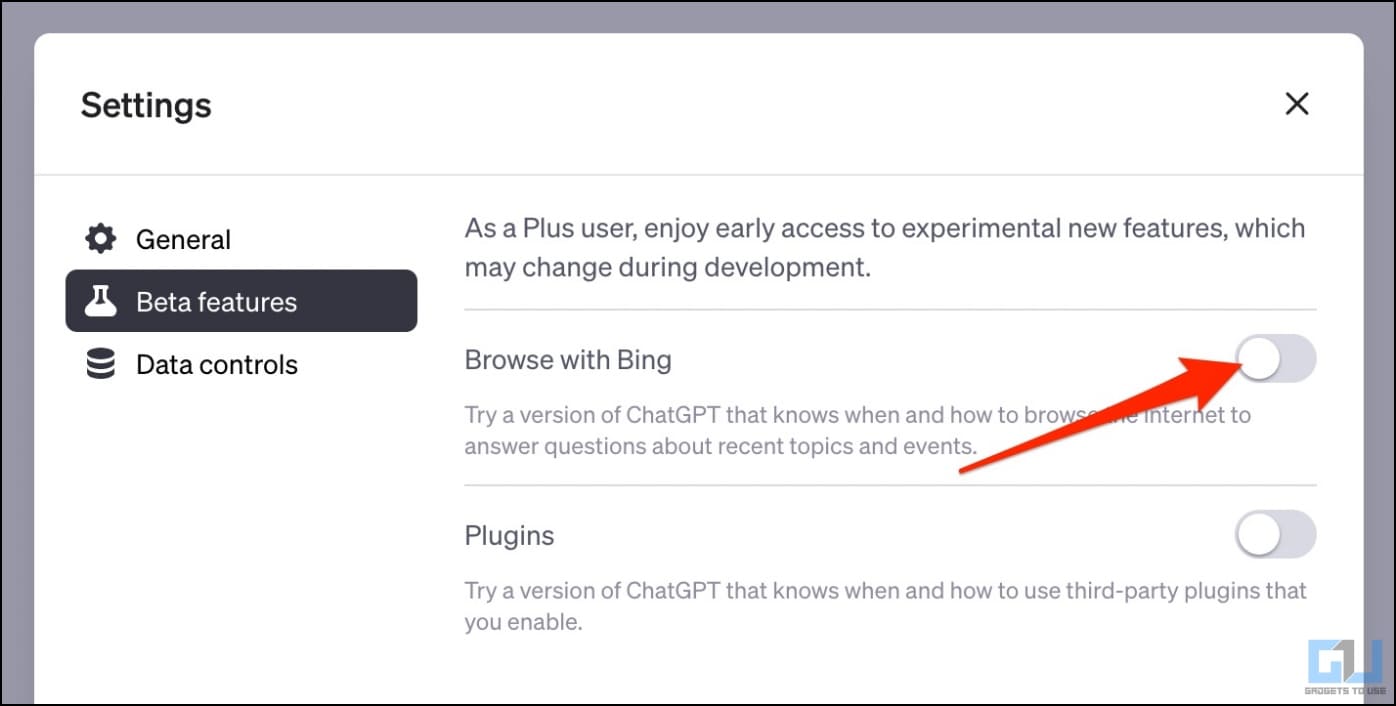 5. Here, enable the toggle for Browsing with Bing. You can also enable Plugins if you want to.
6. Now, click on New Chat in the ChatGPT window.
7. Before writing anything, select ChatGPT 4 as your preferred model if not already. Then tap the drop-down arrow next to it and choose Browsing.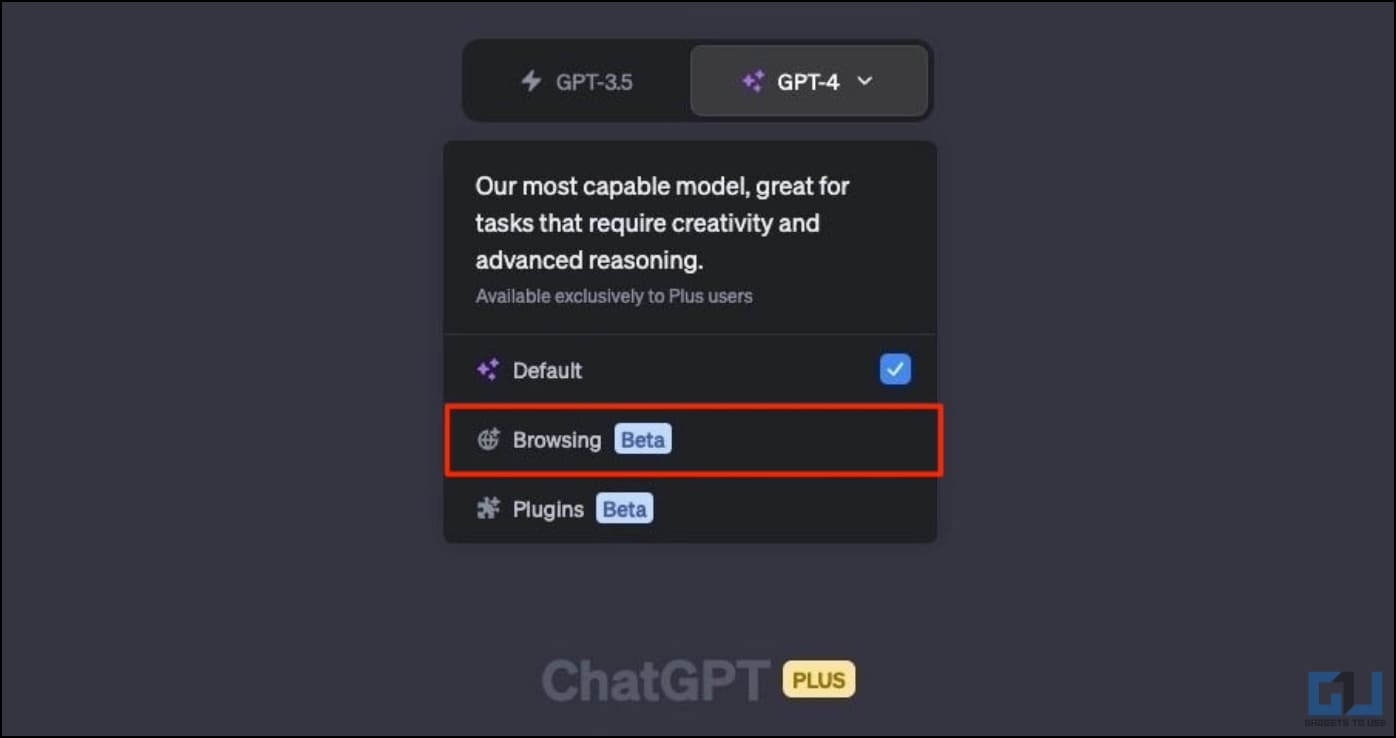 You can now ask any question that requires information from the internet, such as "What's the latest quarterly result of Whirlpool Corp?" or "Who won the IPL this year?." ChatGPT will then try to find the relevant answers from the web.
Method 4- Use Other ChatGPT-like AI Chatbots with Internet Access
ChatGPT is currently the most popular AI chatbot in the market. However, it has its limitations, the major being the knowledge cutoff. Thankfully, there are plenty of other AI-based chatbots and search engines in the market that can access the web to reply to you with up-to-date information. This includes:
Google Bard
Microsoft Bing Chat
YouChat
Poe by Quora, etc.
FAQs
Q. Is WebChatGPT Extension Safe?
WebChatGPT is a completely serverless extension. There's no backend server, and it does not collect any data or analytics. And hence, it is safe to use on your browser.
Q. What Search Engine Does WebChatGPT Use?
WebChatGPT currently uses Yahoo search to rely on for searching on the web.
Q. What Other Extensions Can Give Internet Access to ChatGPT?
Here are other extensions that let you integrate ChatGPT with the web:
Q. WebChatGPT Extension Not Working or Showing in Toolbar?
If WebChatGPT does not work or appears in the toolbar, it could be that other similar extensions are interfering with its functioning. Consider disabling other ChatGPT-based extensions and try using it again to see if it resolves the problem.
Q. How to Enable Real-Time Web Browsing in ChatGPT?
ChatGPT has rolled out a web browsing feature that allows users to search for information in real time. The feature is currently in beta and can be enabled in Settings > Beta features. However, this feature is only available for ChatGPT Plus users, which requires a premium.
Q. Will Real-Time Web Browsing Become Available for ChatGPT Free Users?
The real-time web browsing and plugin features are available only for ChatGPT Plus users. And as of today, there is no official announcement from OpenAI regarding the availability of real-time web browsing for free users.
However, we feel these features will make their way to the free plan since Bard is already open for everyone, and Bing AI is more or less "ChatGPT integrated with the web." It's also worth noting that people are looking for chatbots that can give them real-time information, and locking it under a paywall might make ChatGPT less attractive.
Wrapping Up
This is how you can use ChatGPT with internet access to get the latest answers to your queries, including what's happening worldwide. The easiest way is to use the WebChatGPT extension, which is lightweight and free for everyone. ChatGPT Plus users, on the other hand, can rely on the built-in browsing feature. Anyways, what's your preferred method to connect ChatGPT to the web? Let us know via comments. Stay tuned for more such tips, tricks, and how-tos.
You might be interested in:
You can also follow us for instant tech news at Google News or for tips and tricks, smartphones & gadgets reviews, join GadgetsToUse Telegram Group or for the latest review videos subscribe GadgetsToUse Youtube Channel.