5 Best AI Tools to Write Email in Google Chrome
Composing an e-mail can sometimes be tedious, especially when you want it to sound compelling. Not to forget that you have to keep the format in mind for different types of e-mails and come up with a catchy subject line as well. If it is too much effort for you, then fret not, as AI tools can assist you with writing those e-mails. This read will look at the best AI-powered tools and extensions to help you write an email for free in Google Chrome.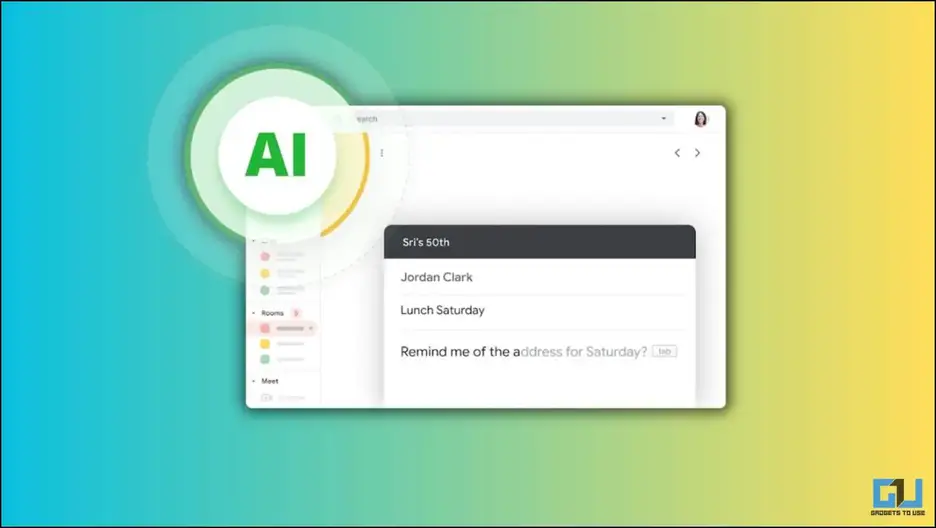 Best Free AI Tools for E-mail Writing
Given the abundance of AI-powered tools, applications, and extensions, finding the best option to write a convincing enough e-mail wasn't easy. Not to forget that many people can look at a mail and recognize AI-written emails because of a lack of human touch. This is why we have curated a list of five AI tools that you can use for free to write an email on Chrome. Let us check them out.
Gmplus Email Extension for Chrome
The GMPlus extension utilizes the AI prowess of ChatGPT to generate emails for you. With GMPlus, you can choose from 52 different prompts to get the best possible outcome for the type of email you want the AI tool to write.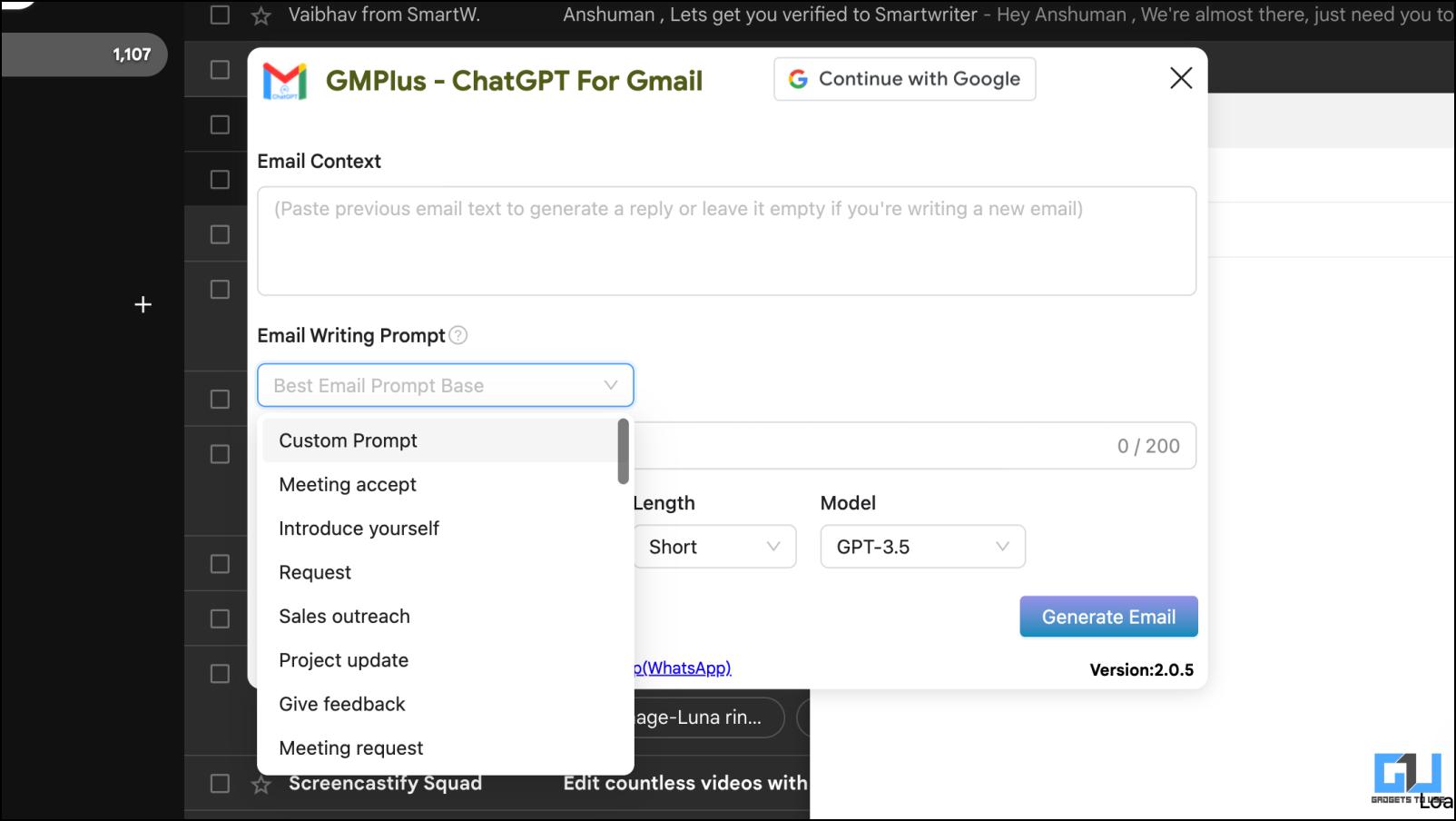 You can also change the tone, language, length of the email, and language model between ChatGPT 3.5 and ChatGPT 4. If you stick with the GPT 3.5 model, the extension is free. You can generate only up to two emails per day. The limit resets automatically. It does not require any sign-in and integrates well with the Gmail website.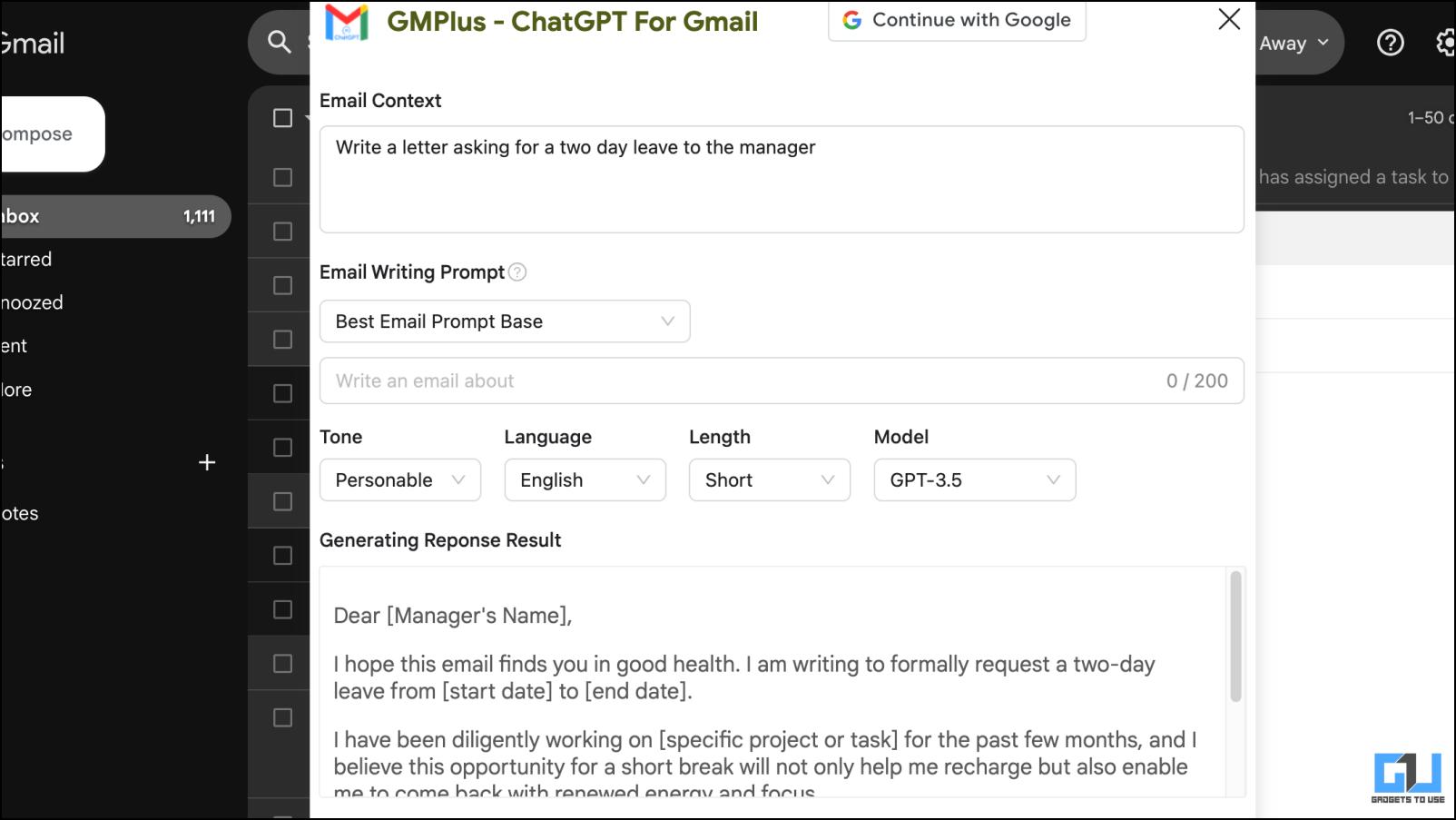 It is a relatively helpful extension if you have to draft emails on certain occasions and want to have an AI assistant handy for when the opportunity arrives.
Pros:
Allows to alter the tone, language, length, and AI models
Option to choose between 52 different email prompts
Easy to use and integrates with Gmail
It does not require creating an account or signing up
Cons:
Can only generate two emails per day
The emails generated are not that natural sounding
ChatGPT Writer Extension for Chrome
The ChatGPT Writer extension for Chrome was among the few AI tools that emerged soon after the initial release of ChatGPT. This is why it is limited in features, but like other tools in the list, it is as good as writing and composing e-mails.
The extension lets you enter the context of a previous e-mail reply to generate a response based on that. This means it is a great way to reply to emails, and if you are dealing with bulk mail, you can set a default context to generate a similar reply for each mail.
I often find it difficult to reply to emails, so I prefer this extension. It is free and does not require sign-in, and lets you directly insert responses that it has created into the compose window in Gmail.
Pros:
Simple interface with a basic set of options
It lets you compose emails for free
Can create responses based on the previous email
Signing in is not compulsory to use this extension
Cons:
No option to edit the tone or the length of the email
The extension fails to write a proper email at times, getting stuck after the subject line
Copy.AI
Copy.AI is one of the most popular copywriting AI tools to write an email for you. It lets you create various types of content, whether suggesting a catchy caption for a social media post, writing a convincing email, or even an informational blog. Copy.AI can do it all.
There are several templates to choose from for different email types, and if that is not enough, you can add your brand's voice for better consistency in results. The tool is free, with the pro version offering more advanced features. You must create an account with an email ID or Google account to use it.
For the most part, I liked the generated responses. But the tool itself is targeted for enterprise usage. Most people who will use the tool for general usage won't be able to take complete advantage of all the provided features.
Pros:
Option to include Brand tone for consistent tone in responses
Multiple templates for various types of copywriting requirements
Free to use but requires sign-in
Creates a workflow for better efficiency
Arrange previously generated drafts in folders
Cons:
Most featured options are for businesses and enterprises
The generated responses are good but can be lengthy at times
YAMM Email Writer
YAMM (Yet Another Mail Merge) is an online tool that lets you send multiple campaign emails simultaneously and track their status. It also features an AI-powered email writing tool where you can tweak the tone, writing style, and age range of the recipient along with the style of the email.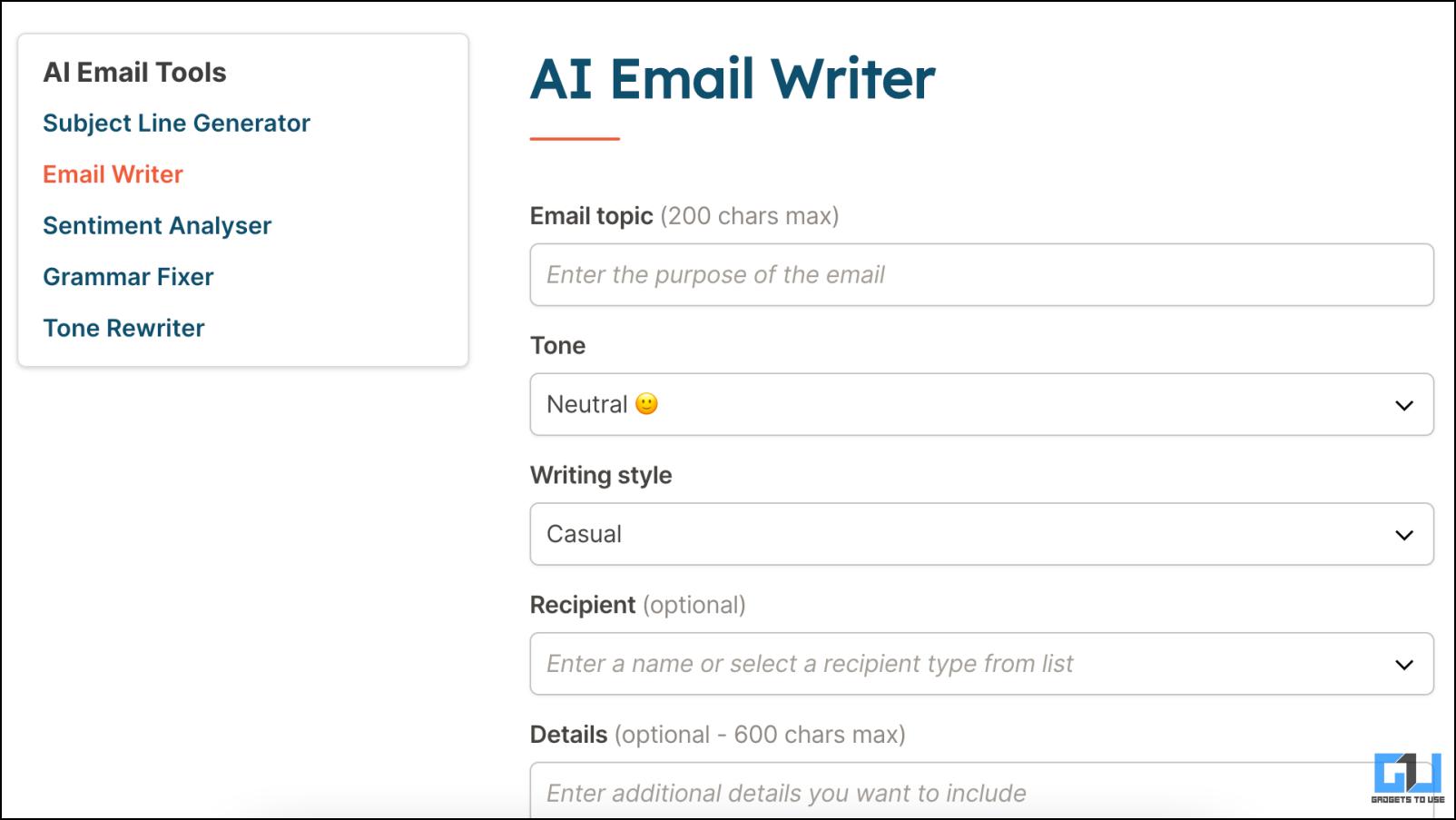 This way, you can fine-tune your emails for the right audience. It generates two different drafts so that you can pick your preferred option. However, in my usage, the drafted emails were lengthy and took a while to get to the point. Also, there is no way to tell the AI to shorten or rewrite the generated drafts. The good thing is that it is free to use, and sign-in is not required.
Pros:
Simple to use AI tool for generating emails
Free to use with no requirements to create an account
Multiple options to adjust the email content according to preference
Generates two different drafts simultaneously
Cons:
No option to ask the AI to rewrite the draft
Generated drafts are quite long
Rytr AI Writing Assistant
Rytr AI Writing Assistant is another popular online tool that uses AI to create engaging written content. The tool is well designed, featuring a Word document style editor to show the generated written content.
This lets you easily change and add headings, bold or italic letters, links, or images. Like some other tools mentioned in this list, Rytr also has the option to choose the tone of the email, use case, language, and creativity level, and it even lets you create multiple variants of the same draft.
Even with all that, I have noticed that most other GPT-powered writers; tend to write lengthy emails that are not engaging. The same is the case with Rytr.
Pros:
Intuitive design and easy-to-use UI
Select the language, tone, use case, creativity level, and draft variants
Features a Word document editor to manage generated drafts
Can output up to three different variants of a single prompt
Requires Sign in to use
Cons:
Generated drafts are not convincing
No option to request the AI to tweak the draft
Bonus: Microsoft Edge Bing AI
Microsoft's Bing AI is based on the latest GPT 4 with all the enhancements and improvements. The search engine, now turned AI, has proven itself time and again to be quite a capable generative AI chatbot. But there is also a lesser-known feature introduced with Bing AI that is exclusive to the Microsoft Edge browser, called Compose.
This option is available from the Bing sidebar menu and lets you select the content type, tone, and length. I added it to the list because it generates better drafts than I have seen from an AI. Depending on the length, these email drafts are short, concise, and to the point, like an email should be. It is completely free to use but requires the Microsoft Edge Browser.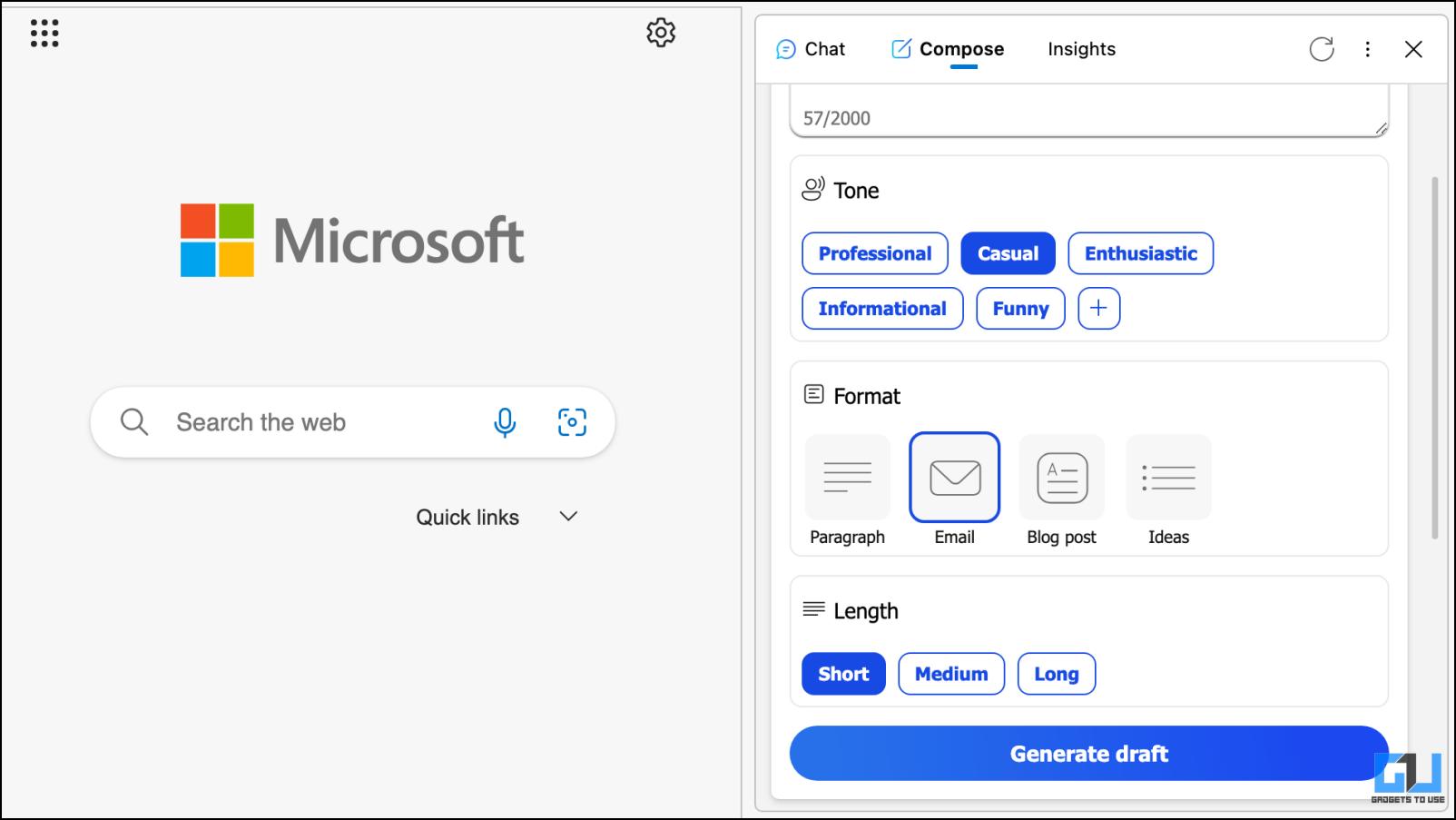 Pros:
Bing AI incorporates Microsoft's Bing search
Completely free to use and only requires a Microsoft Edge browser
Generates natural-sounding emails
The tone and length of the generated mail can be changed
Suggest changes with additional prompts
Cons:
Requires a Microsoft account to use Bing
Currently only works on Microsoft Edge
Wrapping Up
This wraps up this article, discussing the five best AI tools to write an email for you. I hope you found this guide and the contents mentioned helpful; AI tools have advanced impressively thanks to the arrival of ChatGPT. Yet these tools cannot write as naturally as humans. Hopefully, we will see further developments to overcome this issue. Stay tuned on GadgetsToUse for more such articles, reviews, and How-Tos.
You might be interested in the following:
You can also follow us for instant tech news at Google News or for tips and tricks, smartphones & gadgets reviews, join GadgetsToUse Telegram Group or for the latest review videos subscribe GadgetsToUse YouTube Channel.