5 Best Free AI Tools to Remove Background Noise From Audio
Removing unnecessary background noise from audio files and sound samples can be a time-consuming task and requires patience. Thankfully, due to the developments in the field of technology, we can now separate and remove background noise in seconds with AI tools for free. So in this article, we will discuss five AI tools that can help you clean audio by removing background noise.
Best AI Tools to Remove Background Noise from Audio
For this list, we have curated a list of five AI-powered tools that can either separate or remove background noise. Most of the tools mentioned in this list are free to use, but they have their limitations. Since they use Artificial Intelligence to achieve their goal, there is a margin of error. So we recommend you keep a backup of the audio file before moving forward. Let us look at the best AI tools to remove background noise and clean the audio.
Lalal.AI
First on the list, we have Lalal.AI. This is a popular online tool that uses AI prowess to separate vocals from music as well as cleanse audio samples. The tool lets you upload one file at a time of up to 50 MB in its free version. There is an option to batch upload twenty files simultaneously, but that will require you to buy their paid version. This is how you can clean audio with Lalal.AI.
1. Head over to the Lalal.AI website.
2. Click the Login button to enter your email address.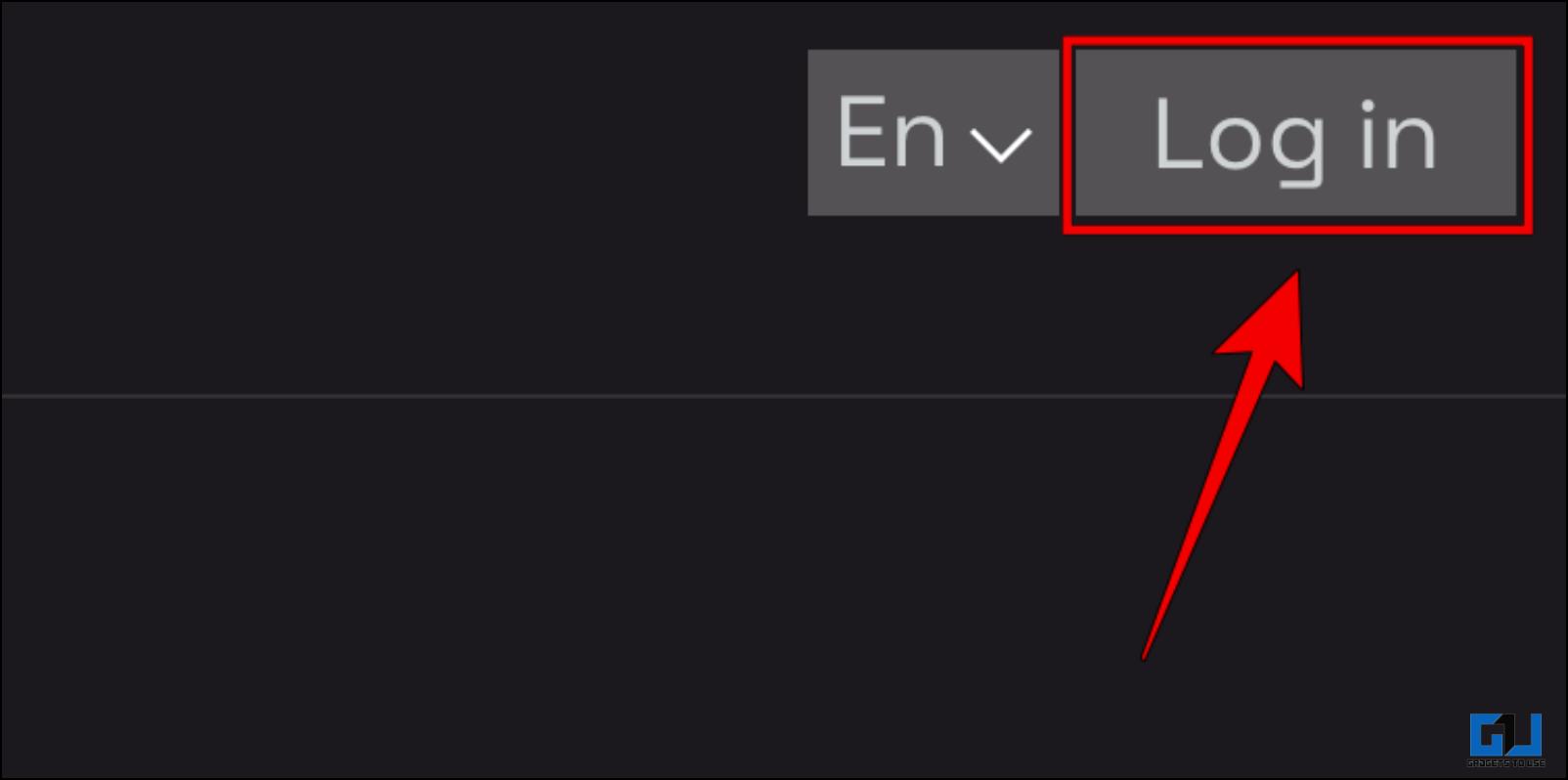 The tool requires you to sign in to download the processed audio sample.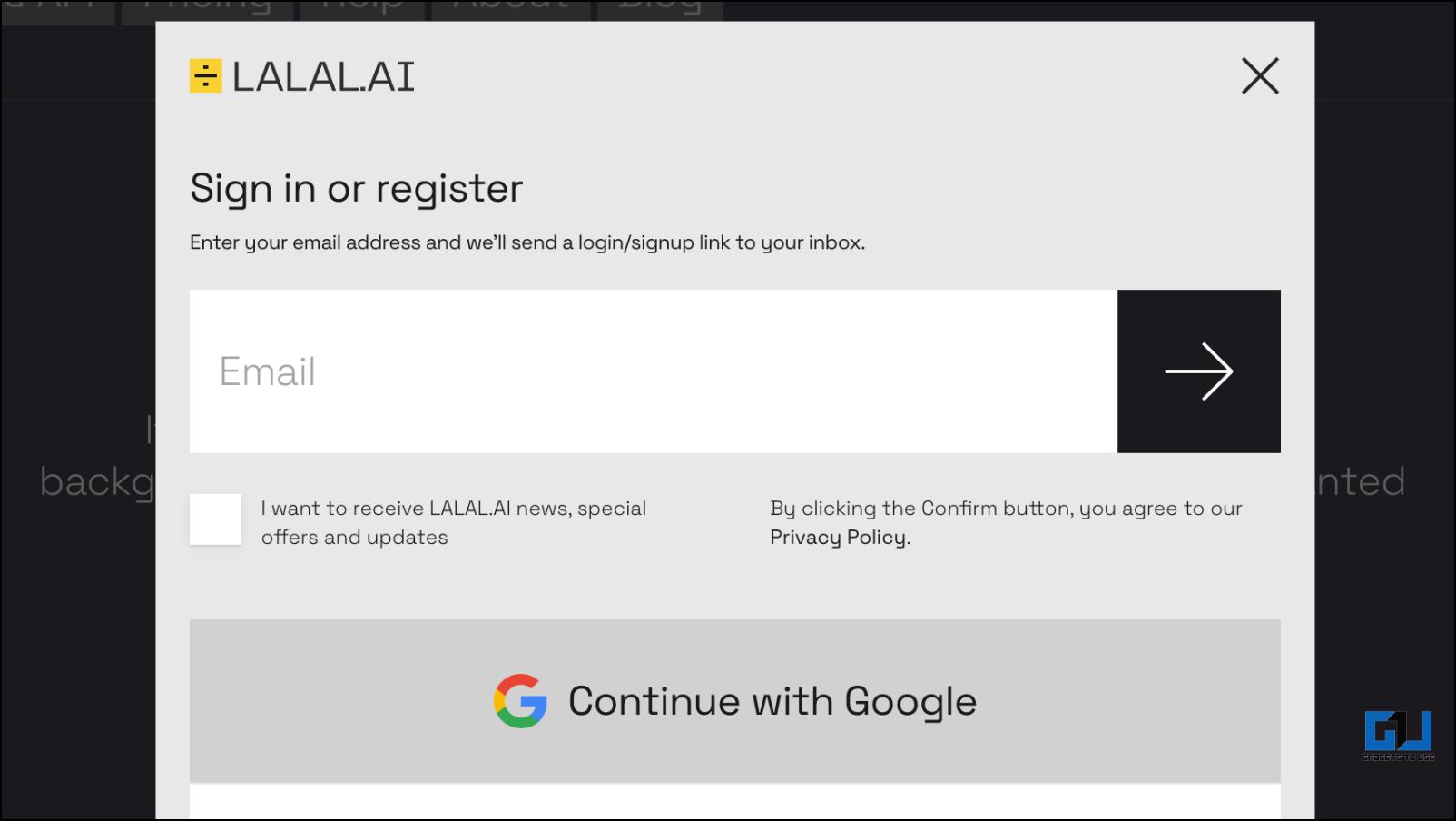 3. Click on Select Files and choose the file from which you want to remove background noise.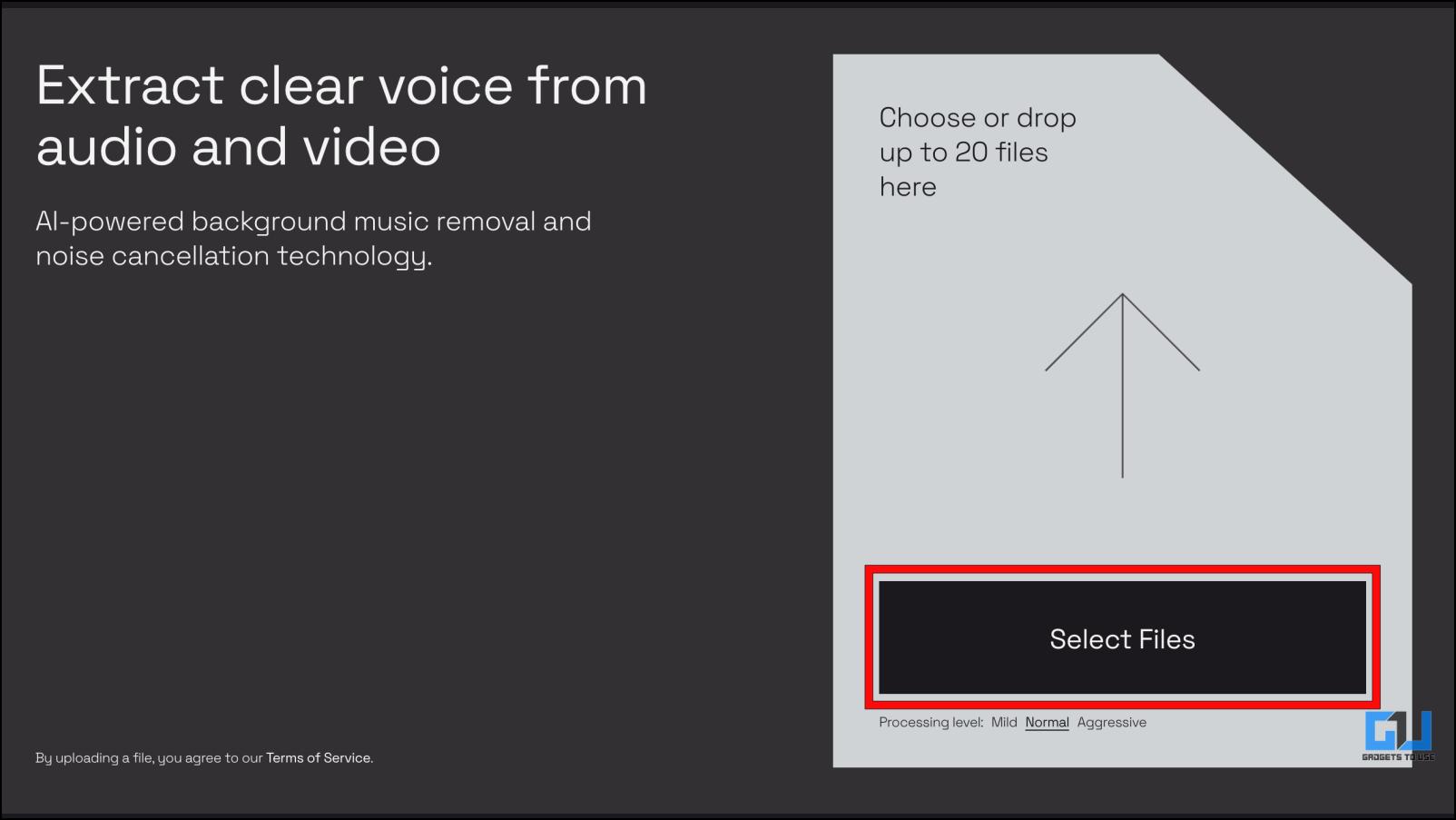 Wait for the AI to upload and process the audio file.
It will create a preview where the voice and the background noise will be split. You can listen to it to check if the provided result is good enough for your usage.

4. Once satisfied with the audio, scroll down and click on Process the Entire File.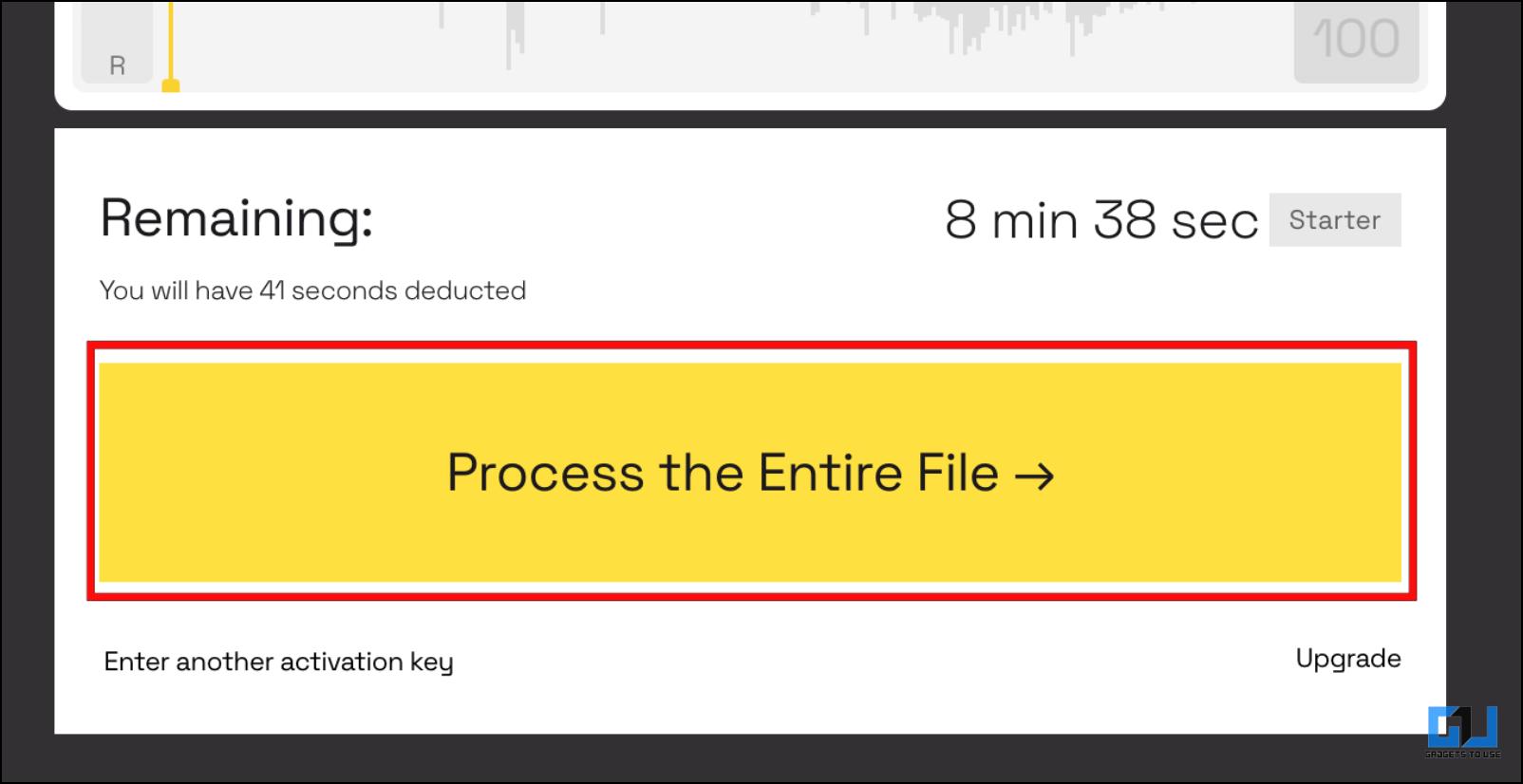 This will create a demo of the file. The free version only allows you to process up to 10 minutes of audio. There is no option to download this processed audio in the free version.
Kapwing: Remove Background Noise
Kapwing is a library of useful online tools for various editing and creative purposes. Among this library, you can find an option to remove background noise. This feature for free to listen to clean audio. Let us look at how you can use Kapwing to clean unnecessary noise from your audio.
1. Go to the Kapwing website on a web browser.
2. Click on Upload video or audio.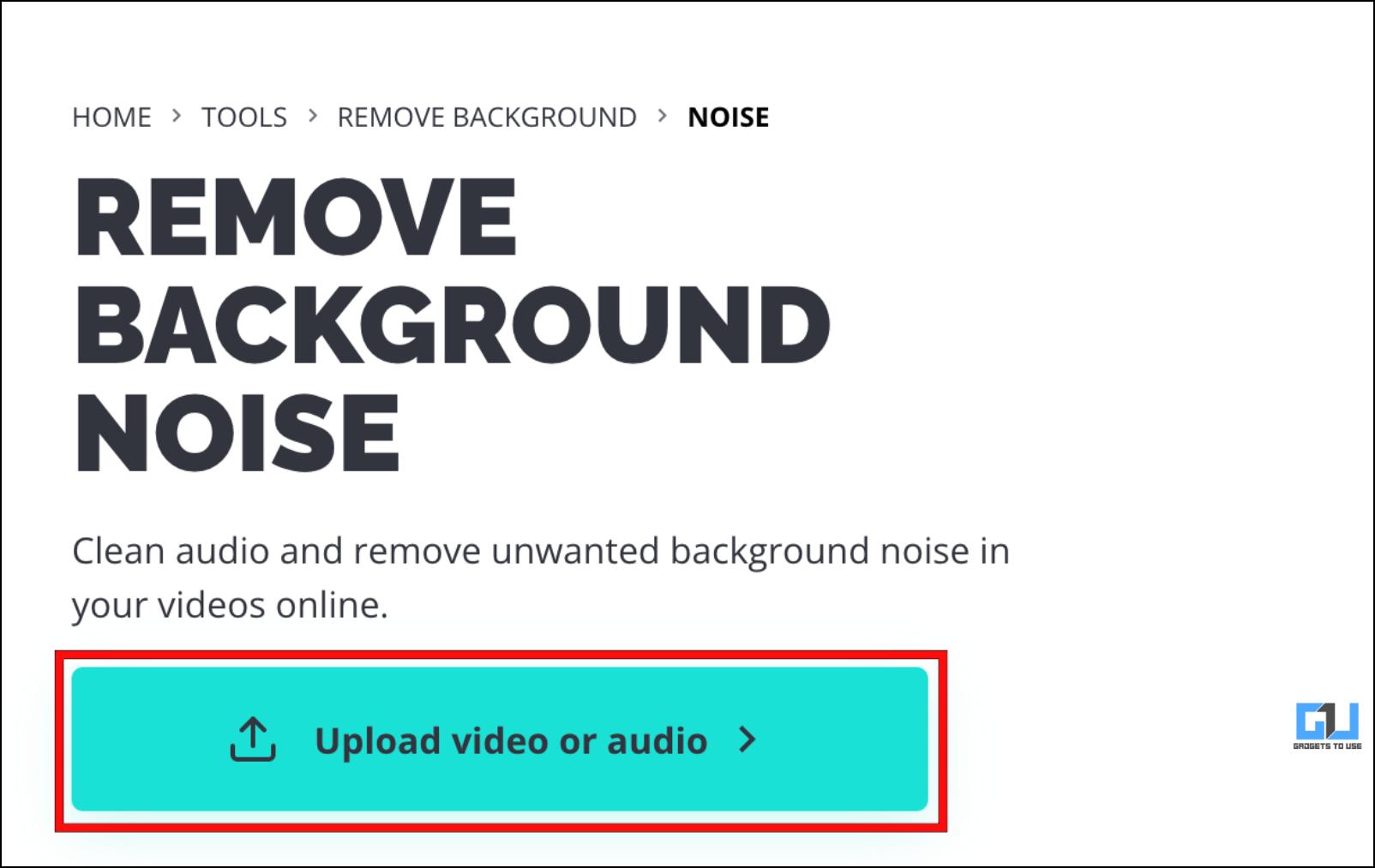 3. On the next page, click on the area that says, Click to upload.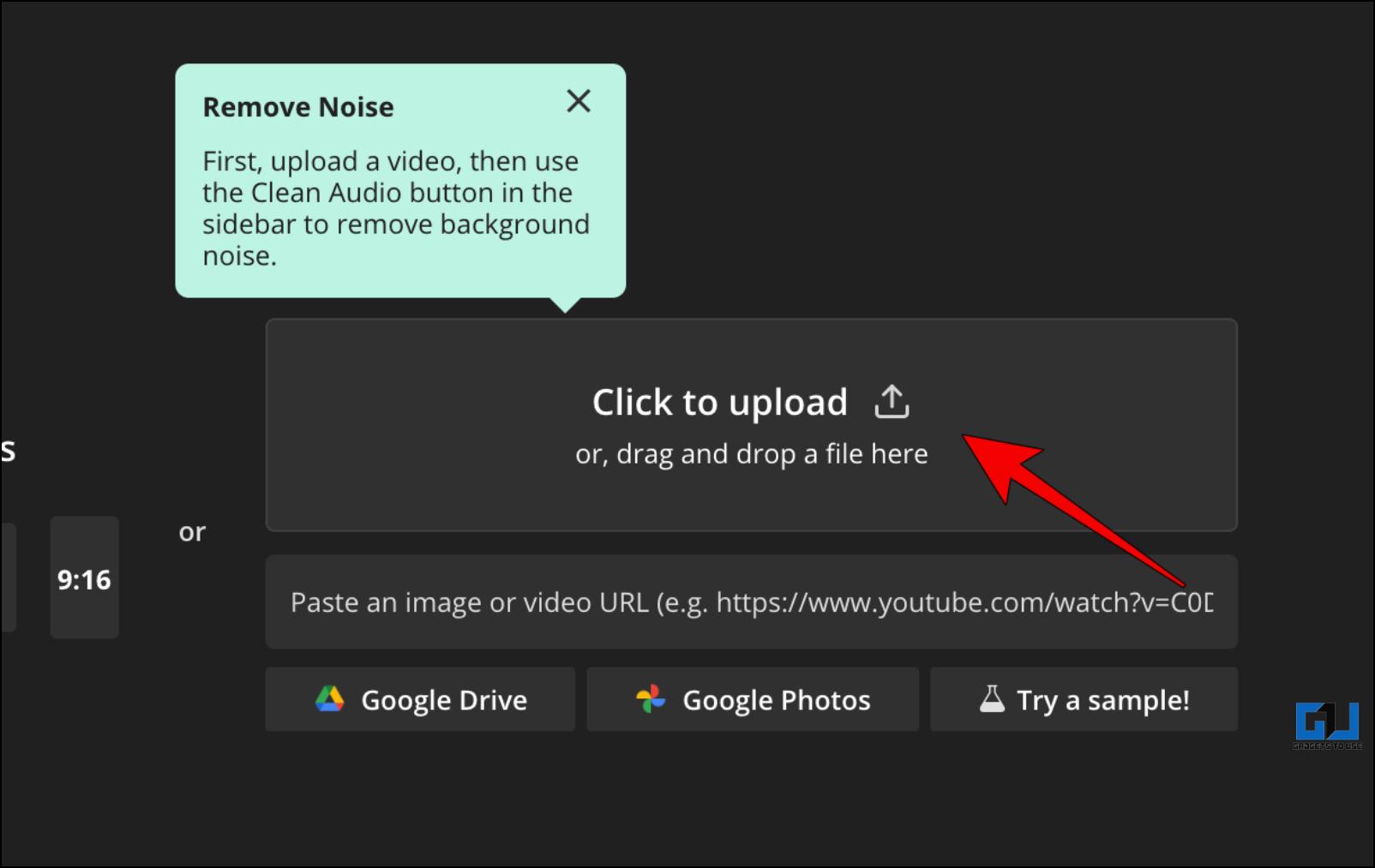 4. Select and open a locally stored audio file.
5. You will see a timeline of the audio sample. Here, click on Clean Audio.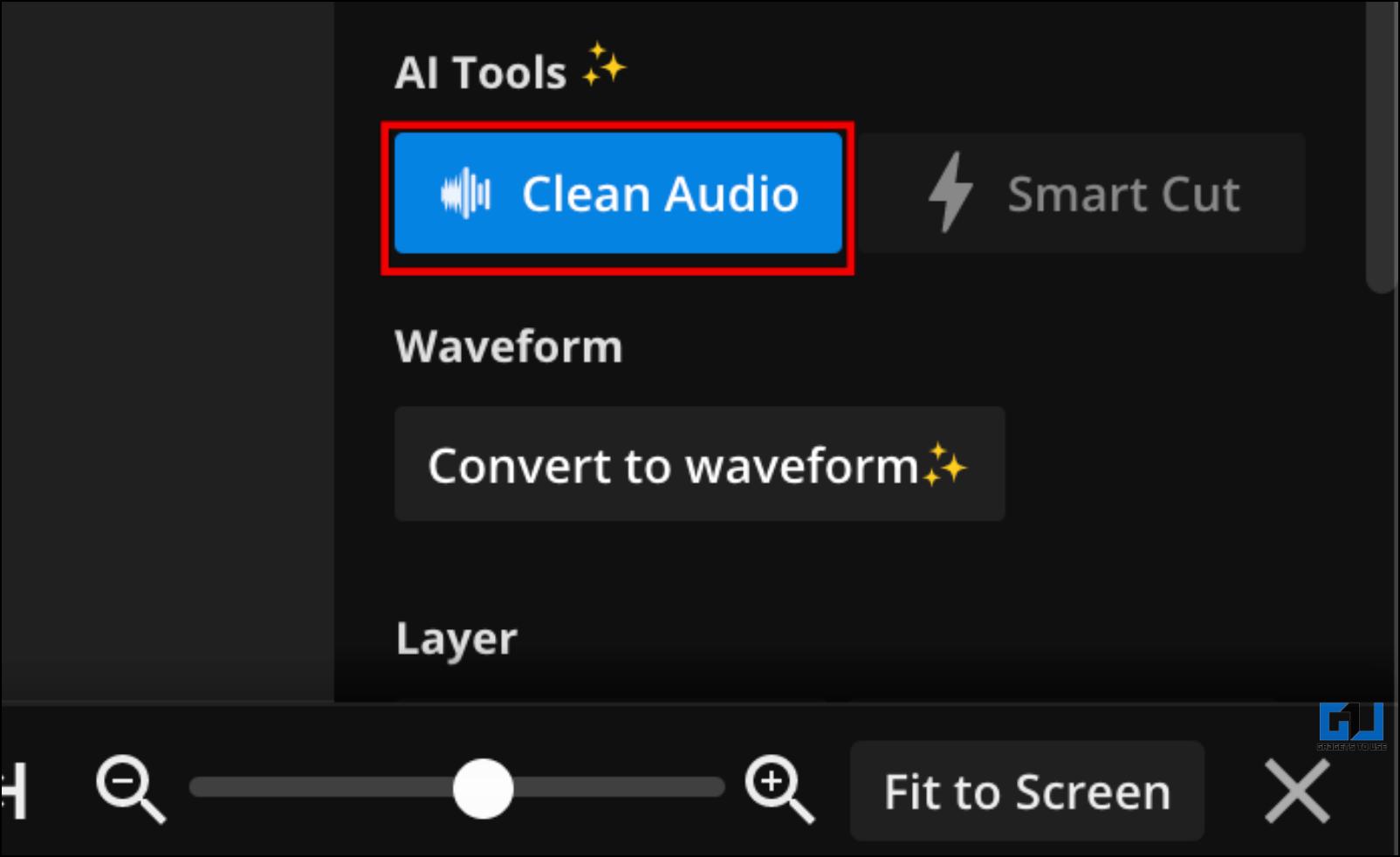 6. On the confirmation box, click on Preview Clean Audio.
The tool will process the file using advanced AI algorithms to remove background noise. When the file is processed, the Clean Audio button will turn blue.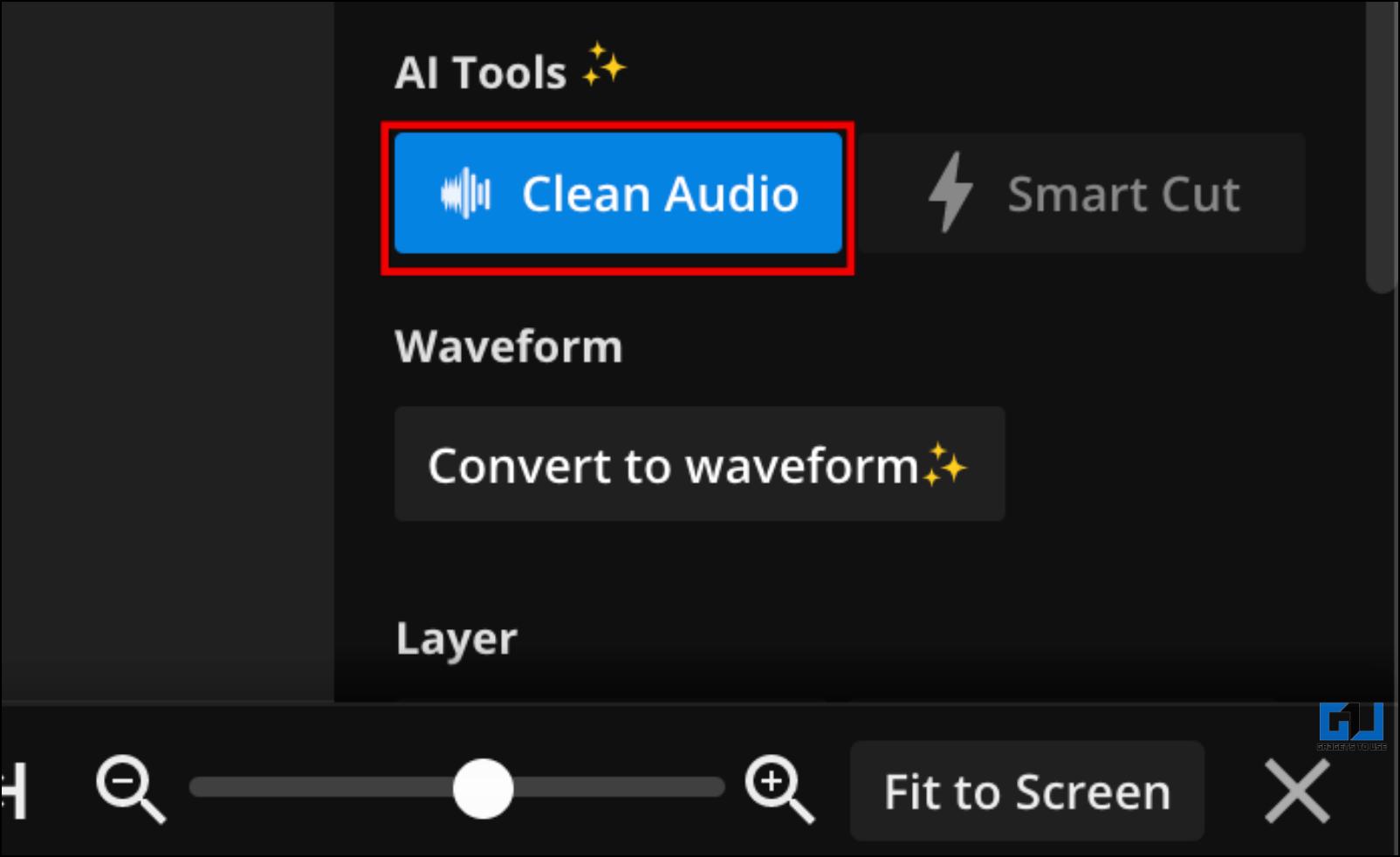 7. Press Play to listen to the cleaned audio.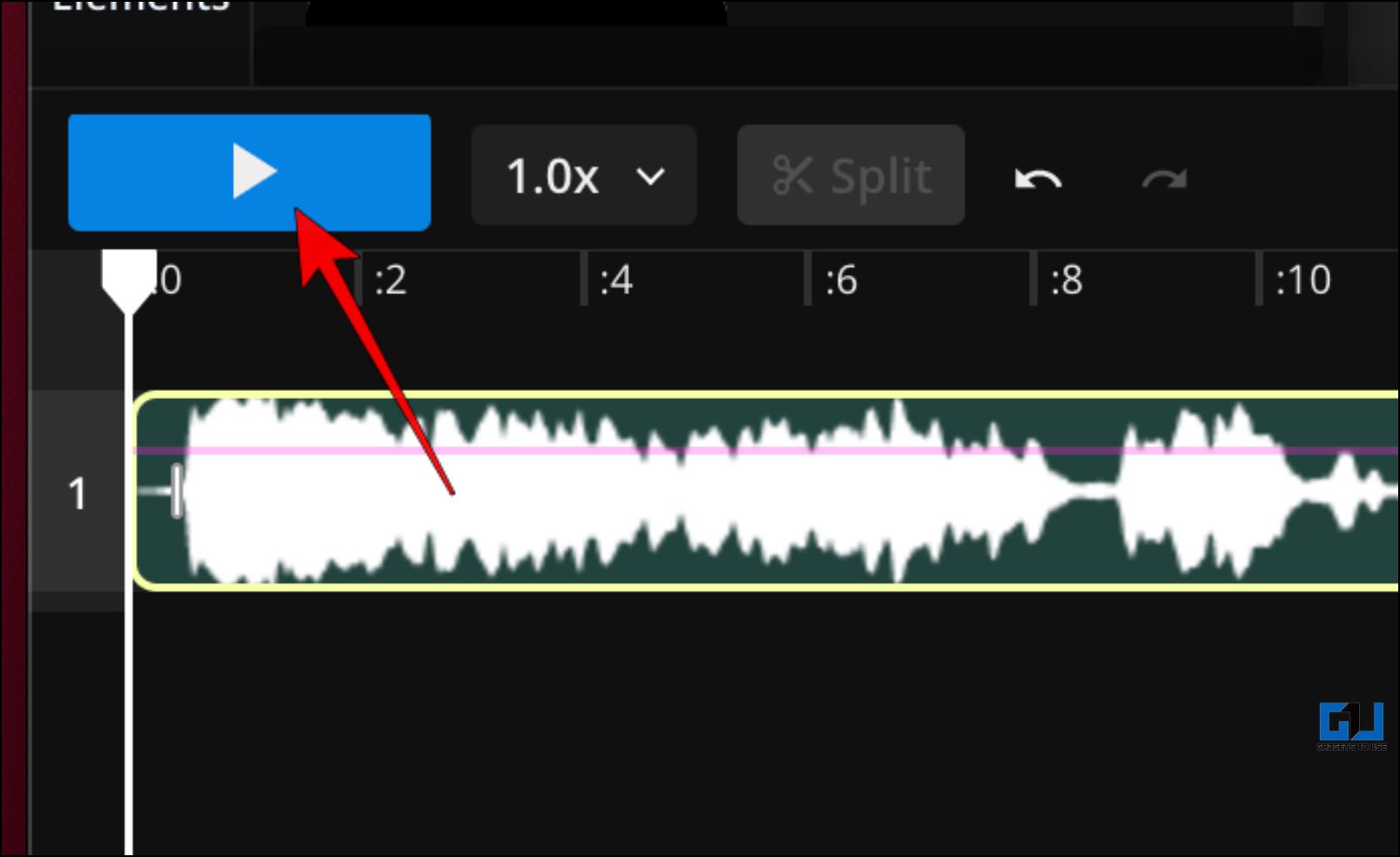 As previously mentioned, there is no option to save this file to your device in the free version. But the paid version of the service does let you export the audio sample.
Media.io AI Noise Reducer
Next on the list, we have Media.io, which is an online tool. It can help you eliminate various background noises with a click of a button. This tool does not require signing in to process and listen to the audio sample. However, you must log in with your email to download the improved file. This is how you can use it to remove background noise.
1. Visit Media.io's AI Noise Reducer webpage.
2. Here, click on Upload and select the file to remove background noise.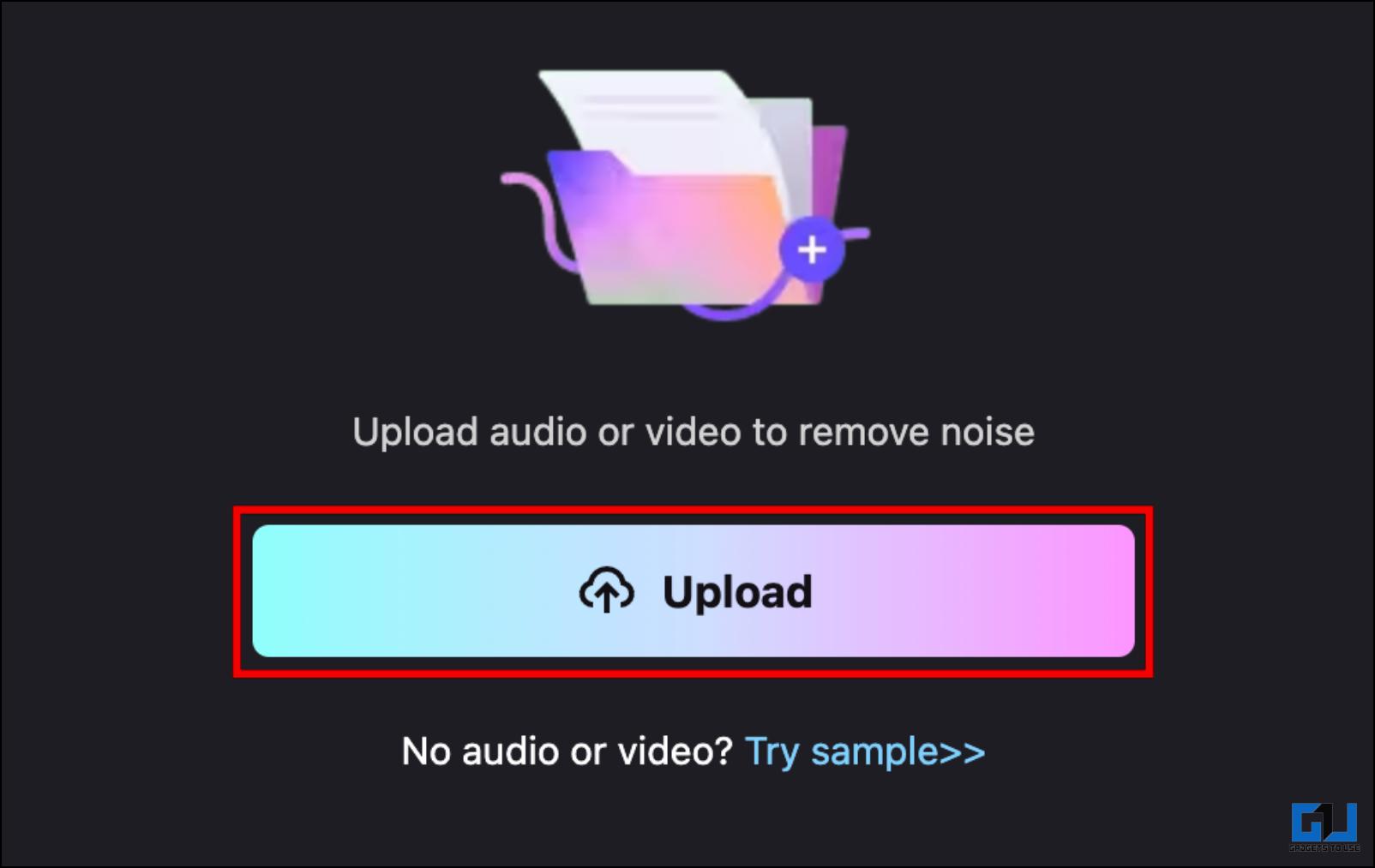 3. Once the file is uploaded, select which noise filter you want to apply.
Each filter helps to eliminate or enhance certain types of sound. For our test, we went with the Hiss noise option.
4. Next, click on Reduce noise now.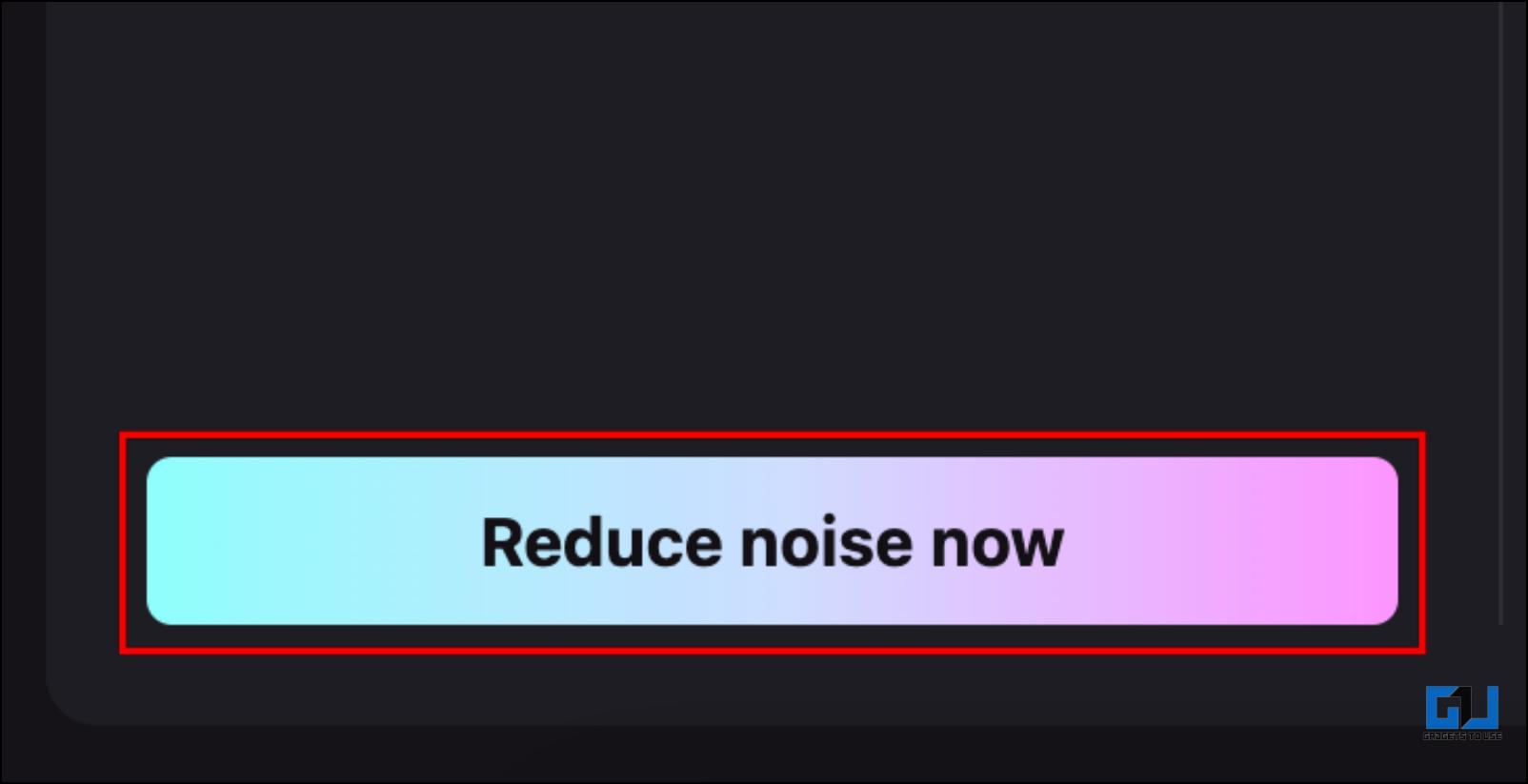 The AI tool will apply the filter and generate an audio preview.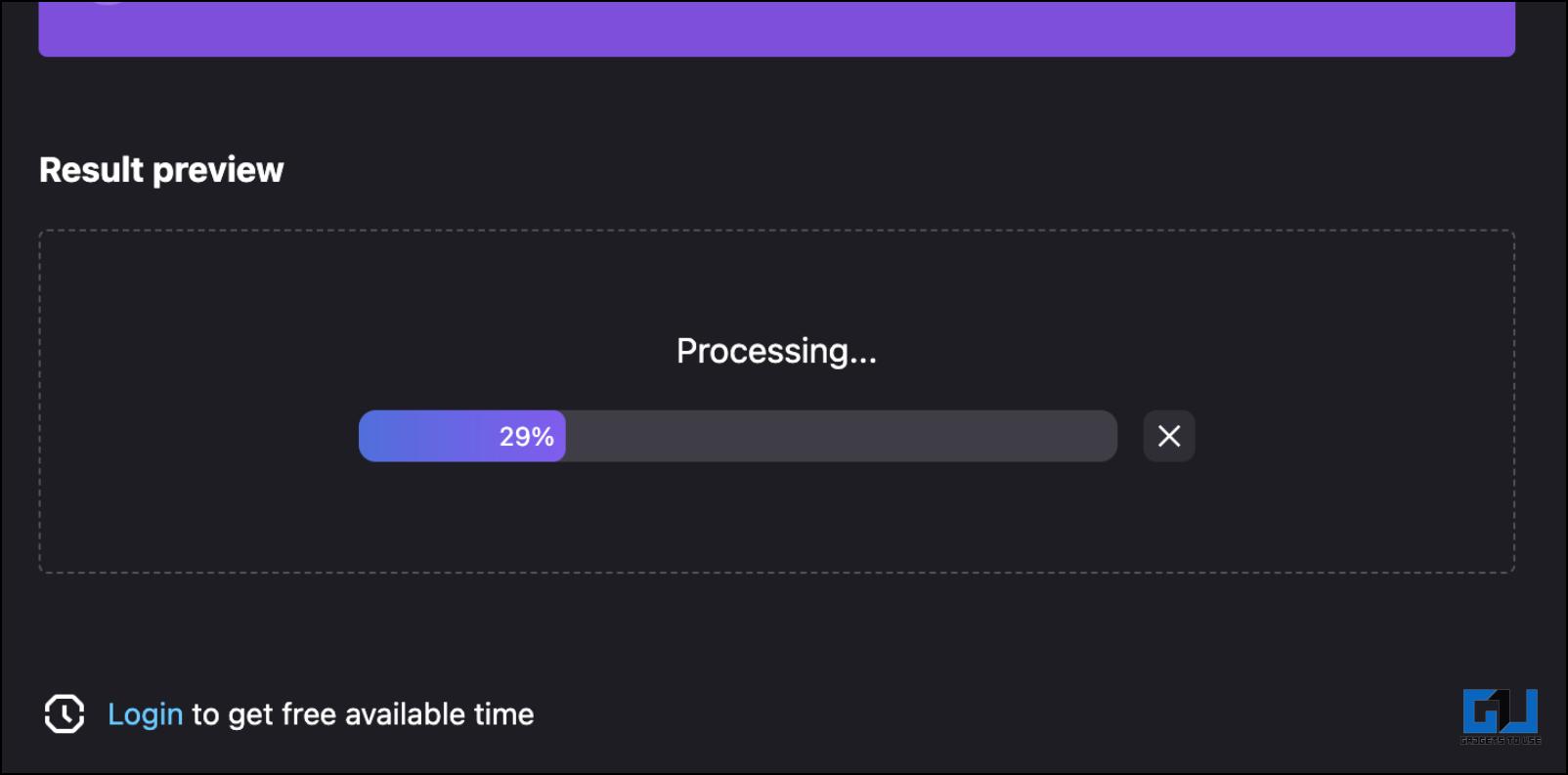 5. The audio preview will appear in green. You can press Play on it to listen to it.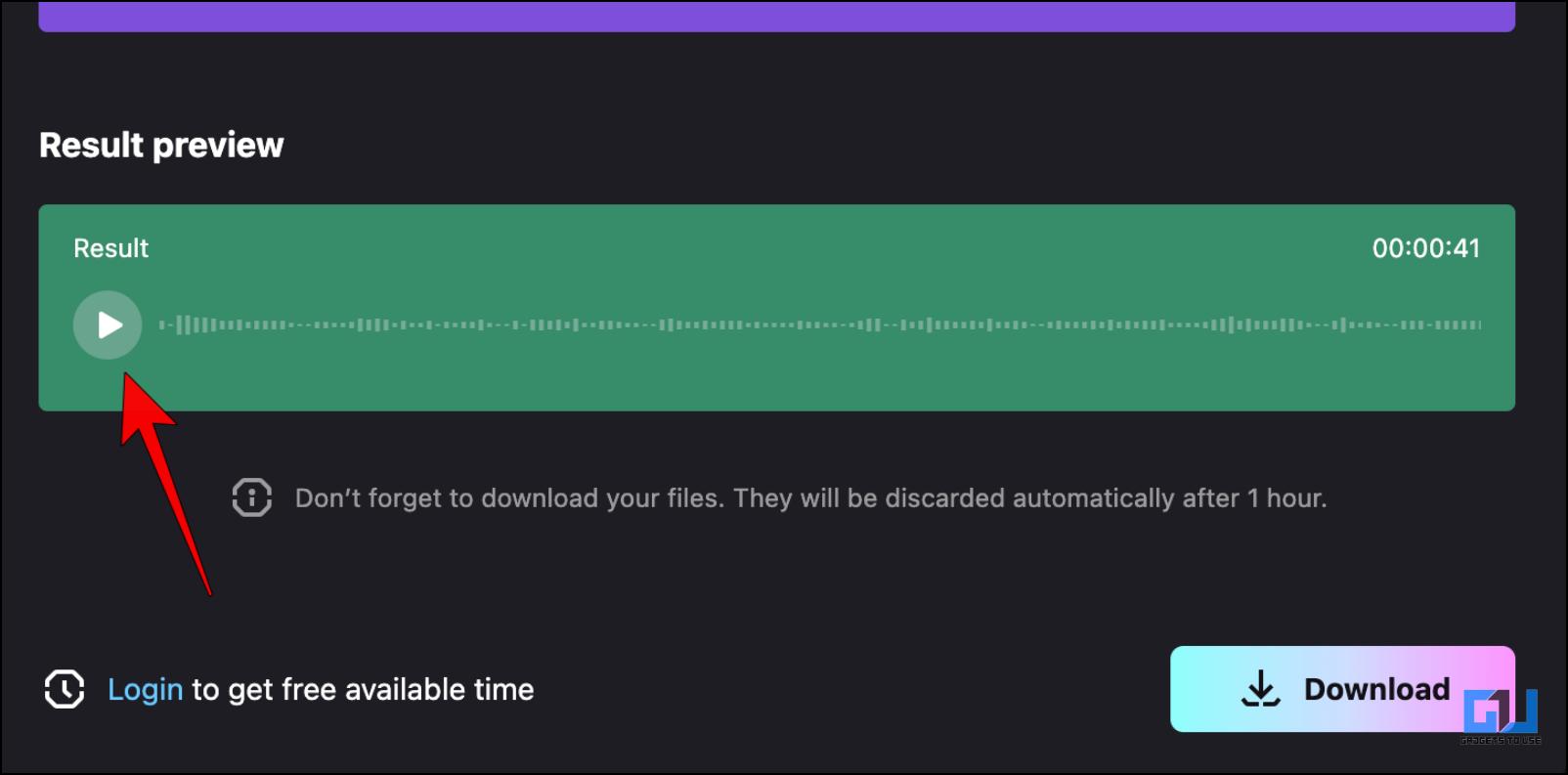 6. To save the file, click on the Download button.
7. Now, sign in with your e-mail or alternative account to begin the download, and the file will be saved to your device.
Aspose.app Online Noise Remover
If you are looking for a basic tool to remove background noise without the hassle of signing in, choosing filters, or dealing with previews, then you can try out Aspose.app's online background noise remover. This tool just requires you to upload the audio file. In return, it lets you download a background noise-free result completely for free. Follow these steps to use this online tool.
1. On your web browser, go to Aspose.app website.
2. Click on Upload your file. Choose the audio file you want to use.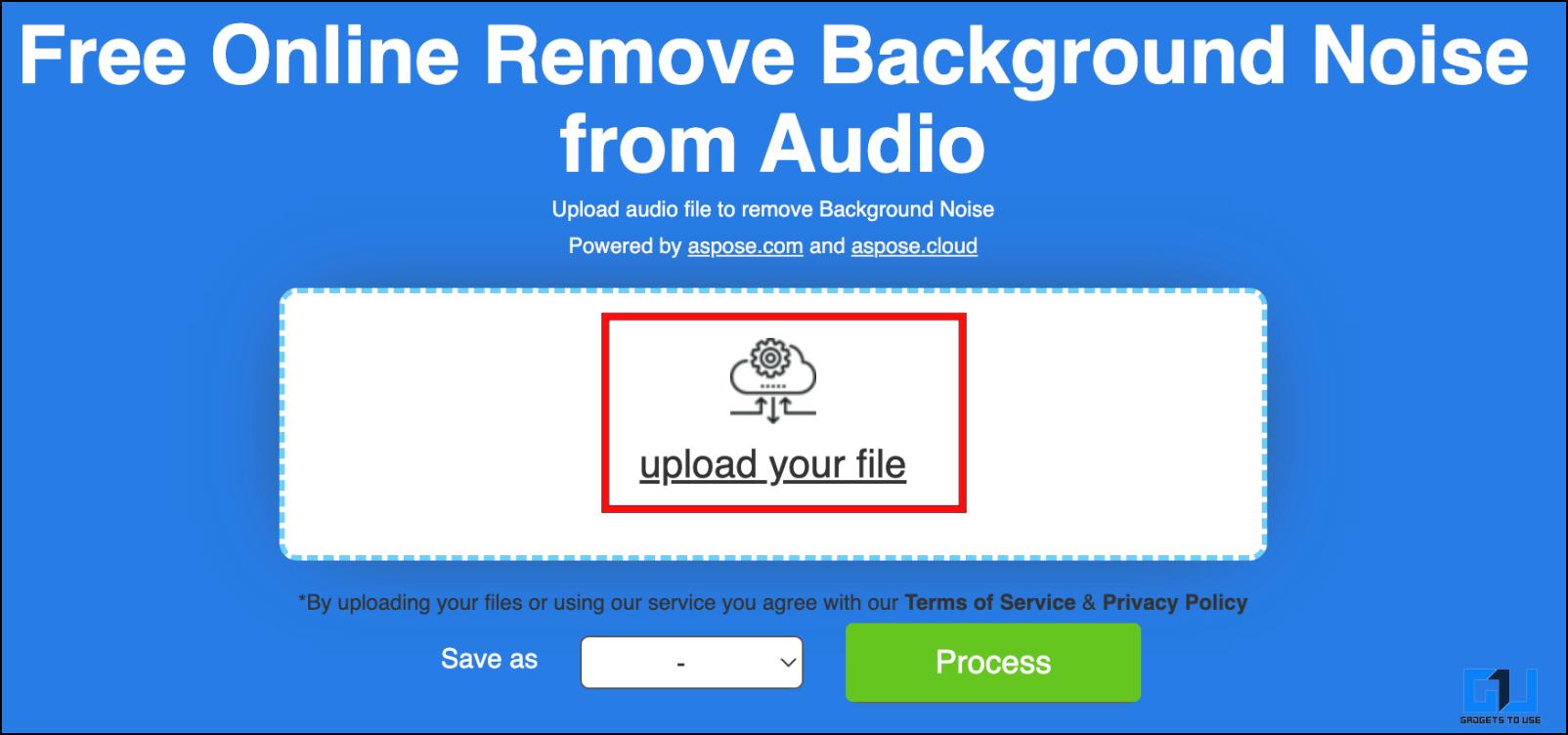 3. Next, click on the Process button.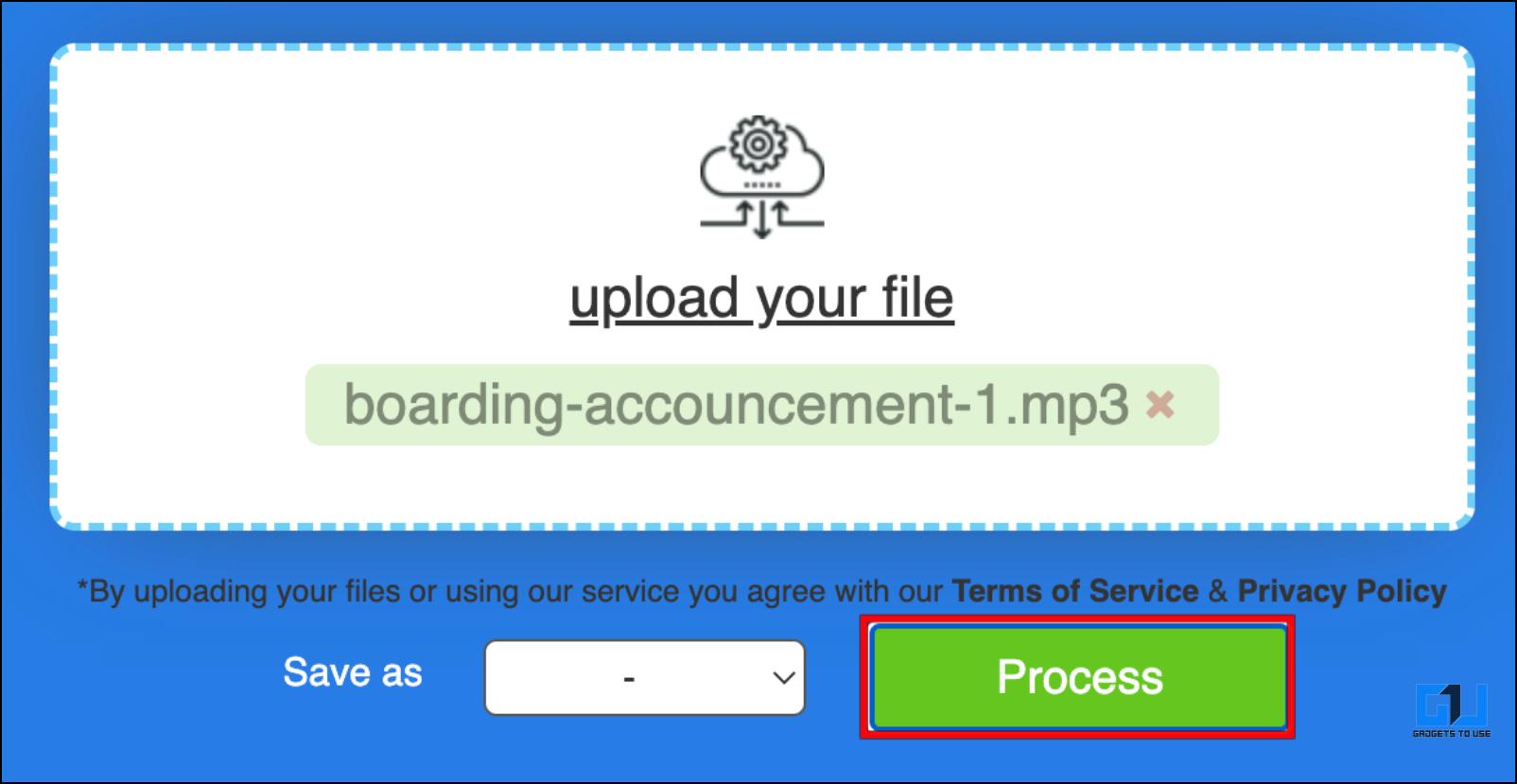 The tool will remove the background noise during this processing period.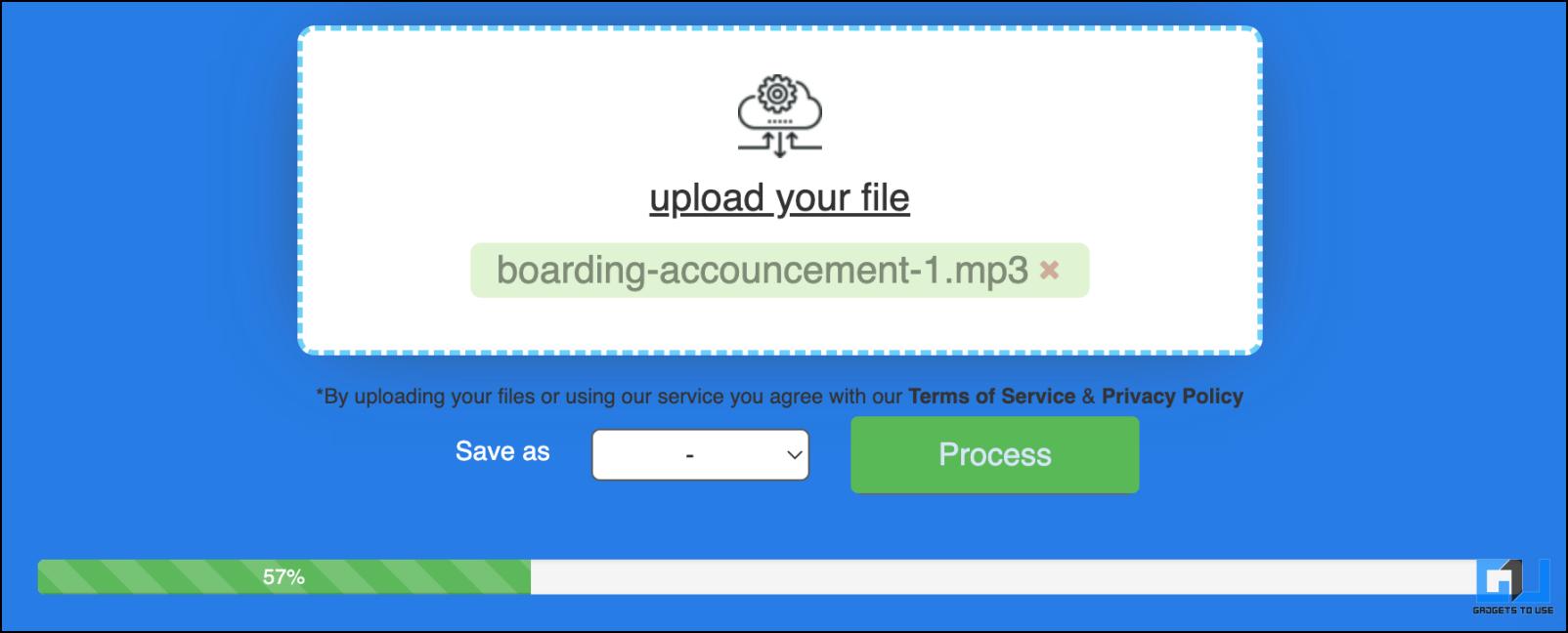 4. Lastly, click on Download to save the output audio file to your device.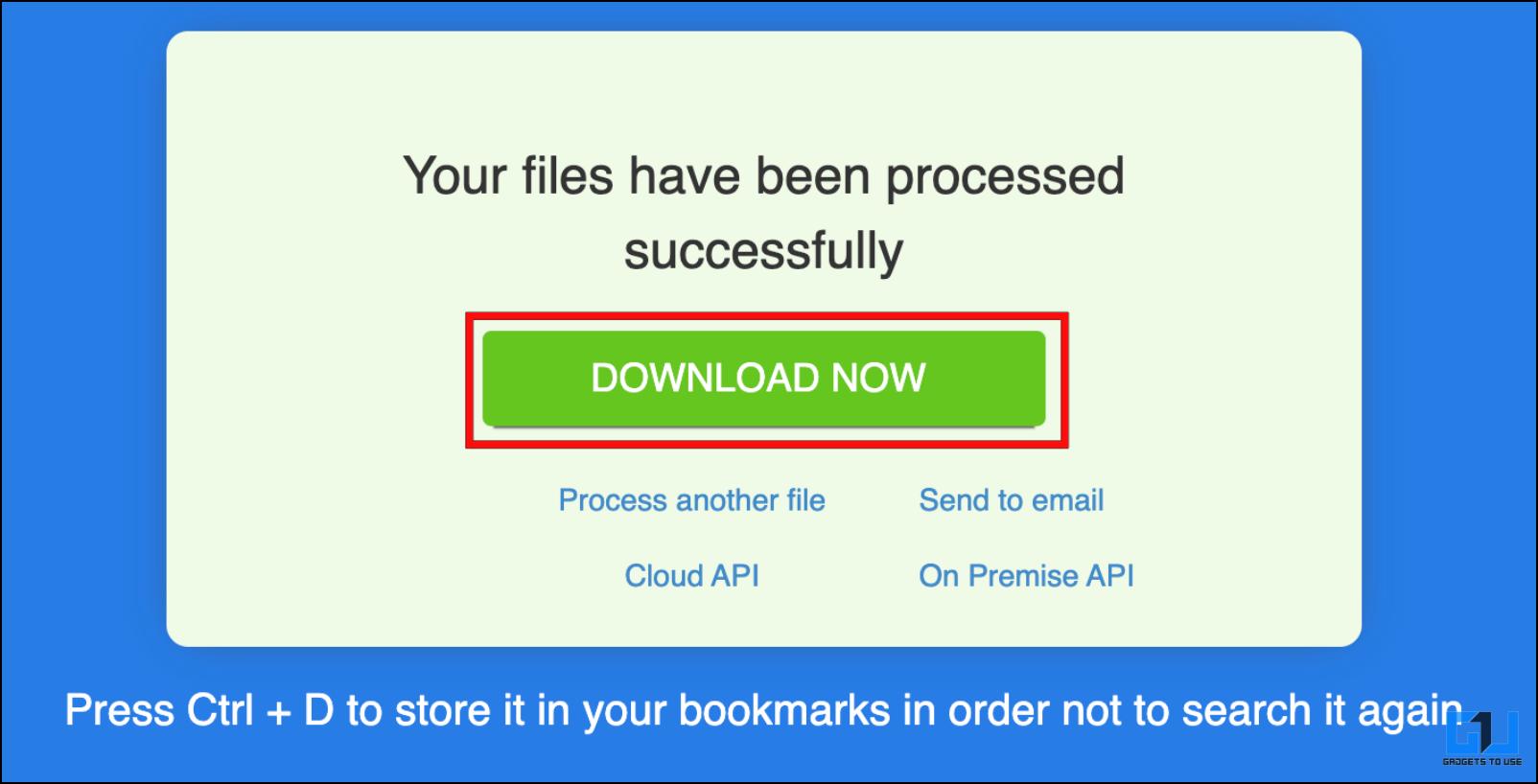 In my opinion, Aspose provided decent results. The quality of the sample was not compromised and I could barely notice any background noise.
Cleanvoice AI
As the name suggests, this is yet another AI-powered tool on the web that aims to help you remove the annoying background noise. Like Lalal.AI, it also has a limit of 30 minutes of sound samples in the free version. You will be required to log in with an email account, which also allows you to download the enhanced audio files. Here is how it works.
1. Open the Cleanvoice AI webpage on your web browser.
2. Click on Try it out.
3. Provide the required email address to create an account.
4. Choose between Single Track or Multi Track options, then click Continue.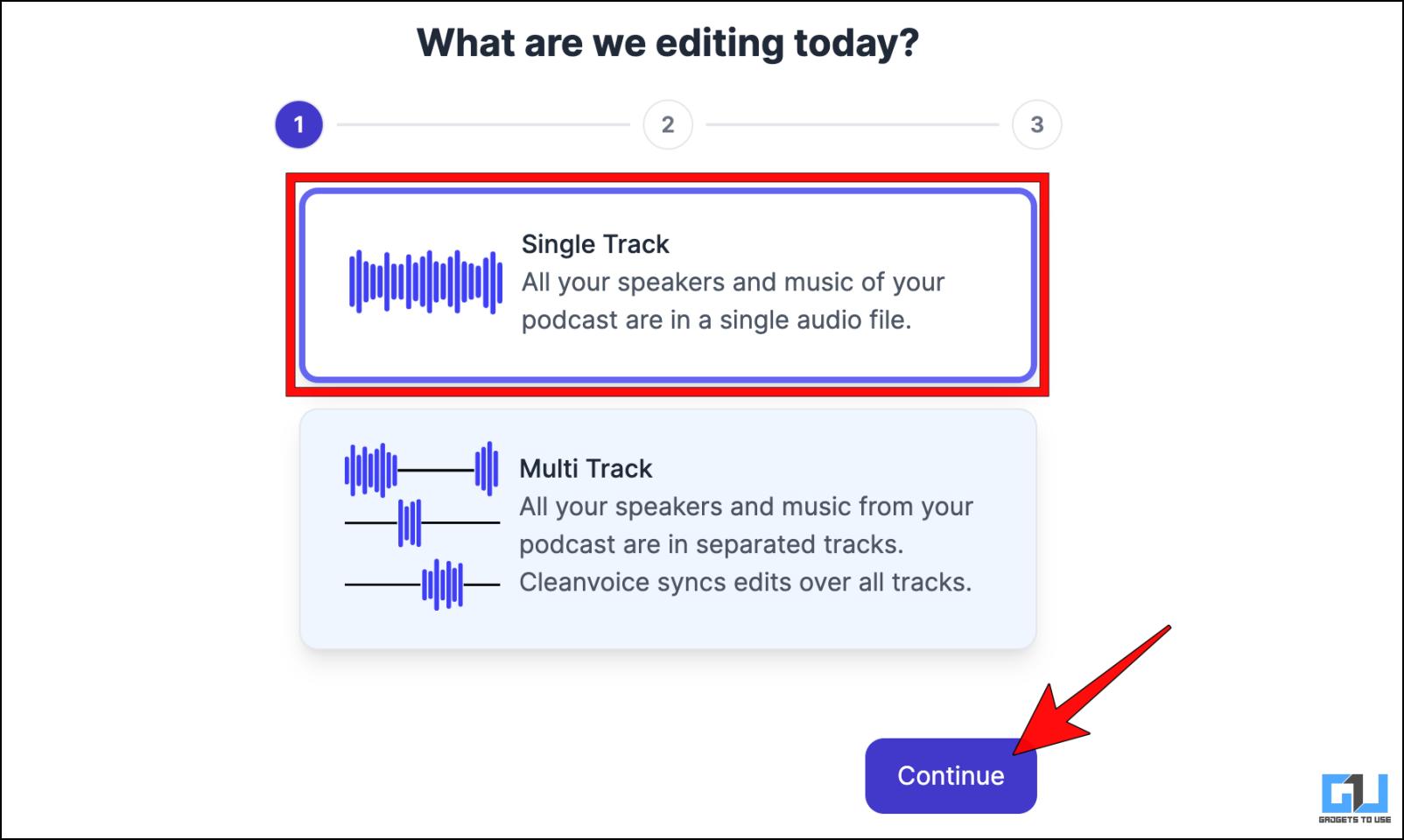 For most users, we would recommend going with Single Track.
5. Select Clean Everything and click on Upload.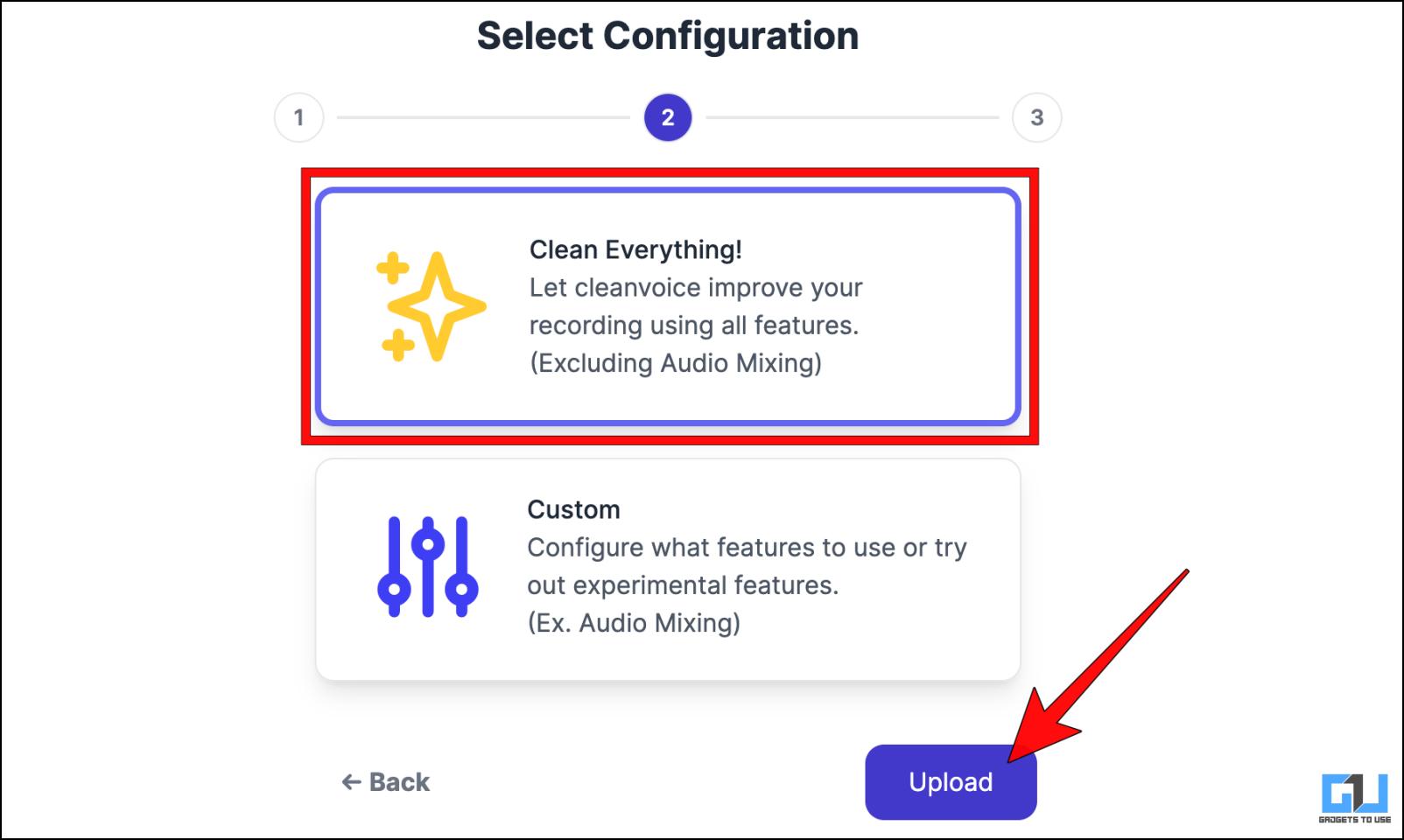 6. Click on browse files to select a locally stored audio file.
You can also attach the link to the sound file or use Google Drive or Dropbox instead.
Once the file is uploaded it will get processed. after which you will land on the download page.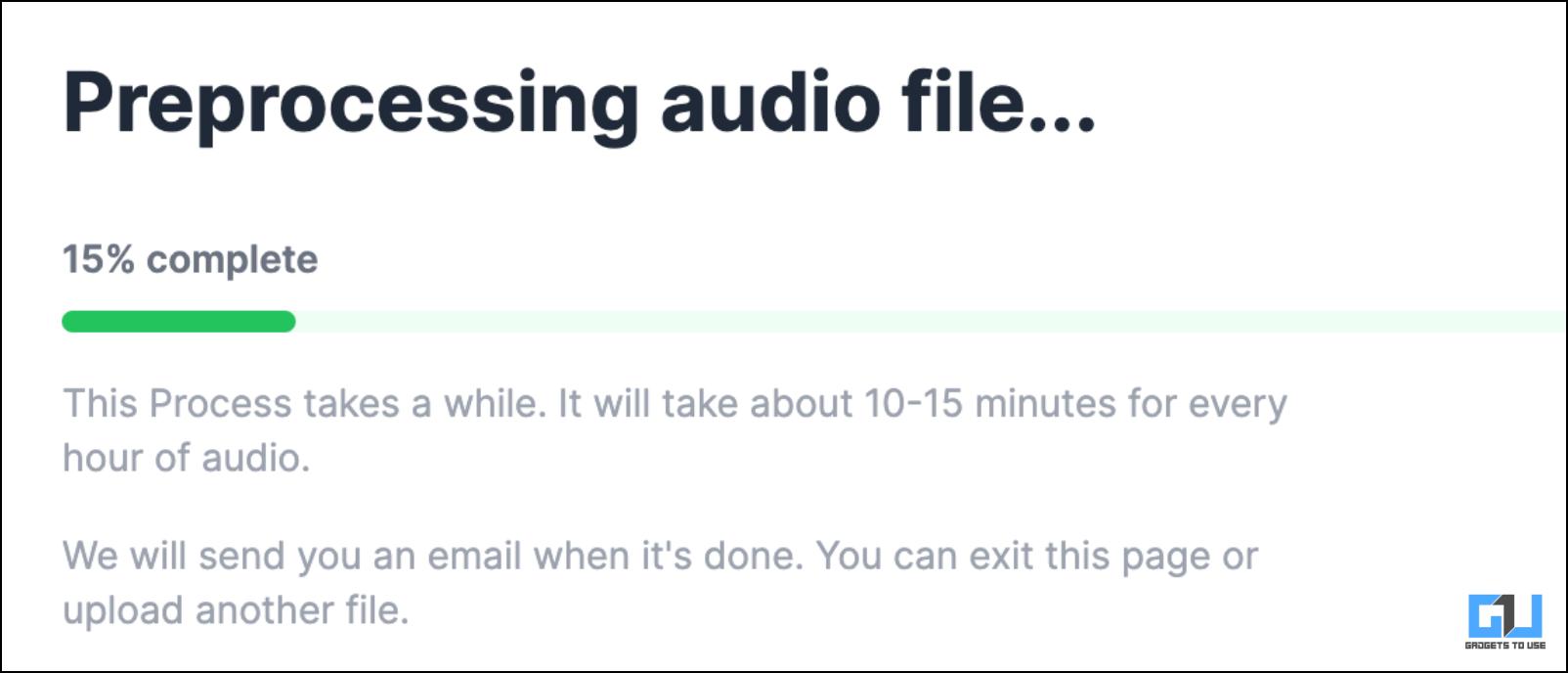 7. Next, click on Download Audio.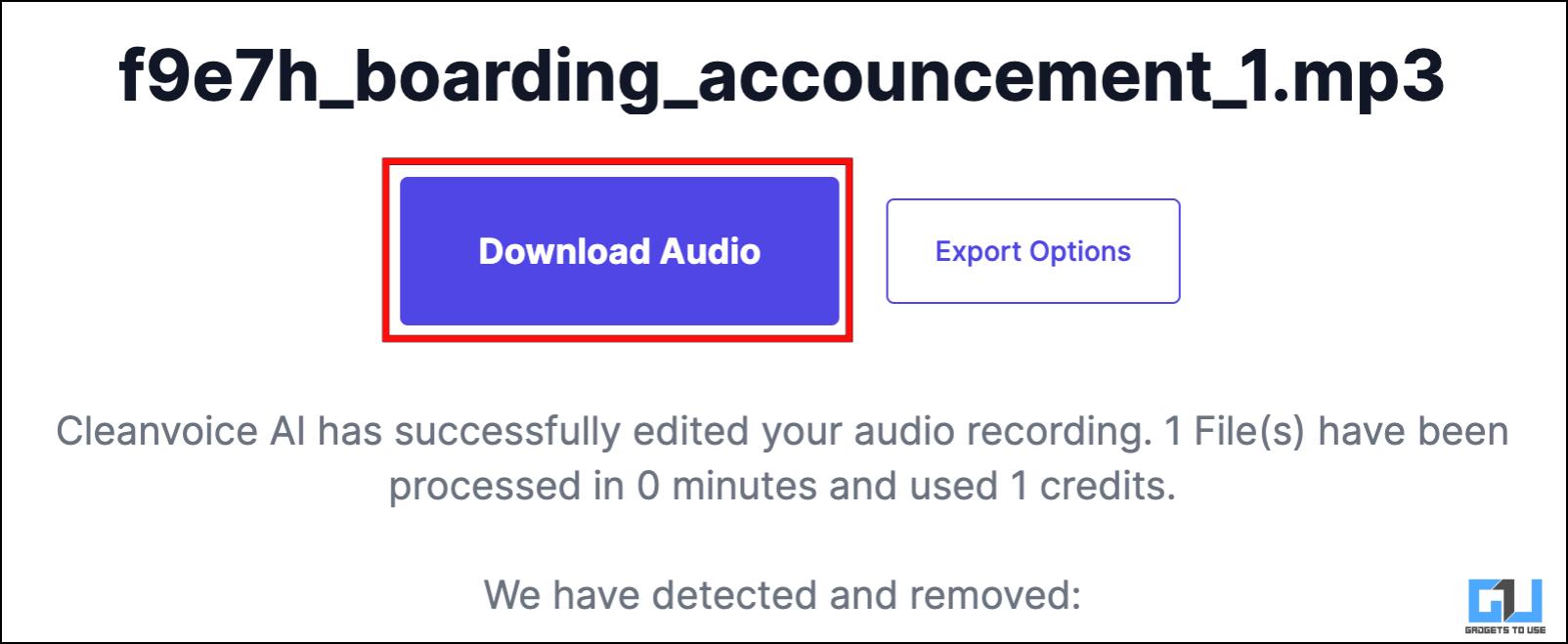 The audio sample we used with Cleanvoice was quite clear after the AI enhancement of the tool with minimal background noise.
FAQs
Q. What Is the Best Free AI Tool to Remove Noise From Audio?
Media.io is the best Free AI tool to remove noise from audio, as it does not require any premium account to download the processed file. Also, it offers multiple options to filter background noise.
Q. Is There Any AI Website to Reduce Background Noise?
Yes. There are a couple of online AI tools to reduce or remove background noise, like Lalala, Kapwing, Media.io, Aspose, and Cleanvoice. Follow the detailed guide above to learn more and how to use them.
Q. Which Is the One Click AI Tool to Remove Noise From Audio?
Aspose is the go-to AI tool if you want a one-click solution to remove noise from Audio. It does not require you to sign in to any account or set any filter. Simply upload your file, process it, and download it.
Wrapping Up
This brings us to the end of this article. Having tools that can easily remove background noise can come in handy on several occasions. I hope that you enjoyed the list of tools we have mentioned in this article. Do let us know if you have any queries related to this article. Stay tuned on GadgetsToUse for more such articles and How-Tos.
You might also be interested in:
You can also follow us for instant tech news at Google News or for tips and tricks, smartphones & gadgets reviews, join GadgetsToUse Telegram Group or for the latest review videos subscribe GadgetsToUse YouTube Channel.