5 Ways to Create an AI Avatar Video Talking To Yourself
With advancements in Artificial Intelligence, creating generative videos or motion-tracking video elements has become quite easy and can be done in the blink of an eye. With these advancements, you can create an AI Video Avatar talking to yourself from a still photo as if you've originally recorded it. Let's have a detailed look at such AI tools in this explainer. Additionally, you can learn to remove and replace a video background using AI.
How to Create an AI Avatar Video
Creating an AI Avatar video talking to yourself from a still image has become convenient, thanks to free online AI tools. Upload your image to the AI tool, pick your desired presets, and wait for the magic.
AI will instantly generate your avatar video talking, which looks surprisingly accurate and realistic. Once generated, you can use it in various video projects or YouTube videos to address your viewers/followers. Below we have mentioned such AI tools after testing them.
Method 1 –  Use Canva to Create AI Avatar Video
Canva is a renowned online tool for creating or editing images; with new updates, various apps can be linked to the Canva account, allowing users to implement AI for drafting their projects. The D-ID AI Presenter is an app that allows users to create an AI avatar video in the Canva workspace. Here's how you can configure and use it on Canva.
1. Sign in to your Canva account and click on Apps.
2. Browse the list on the right and select the D-ID AI Presenters to add it to your workspace.
3. Click Use in-existing Design to pick the existing project dimensions or start afresh with the Use in New Design button.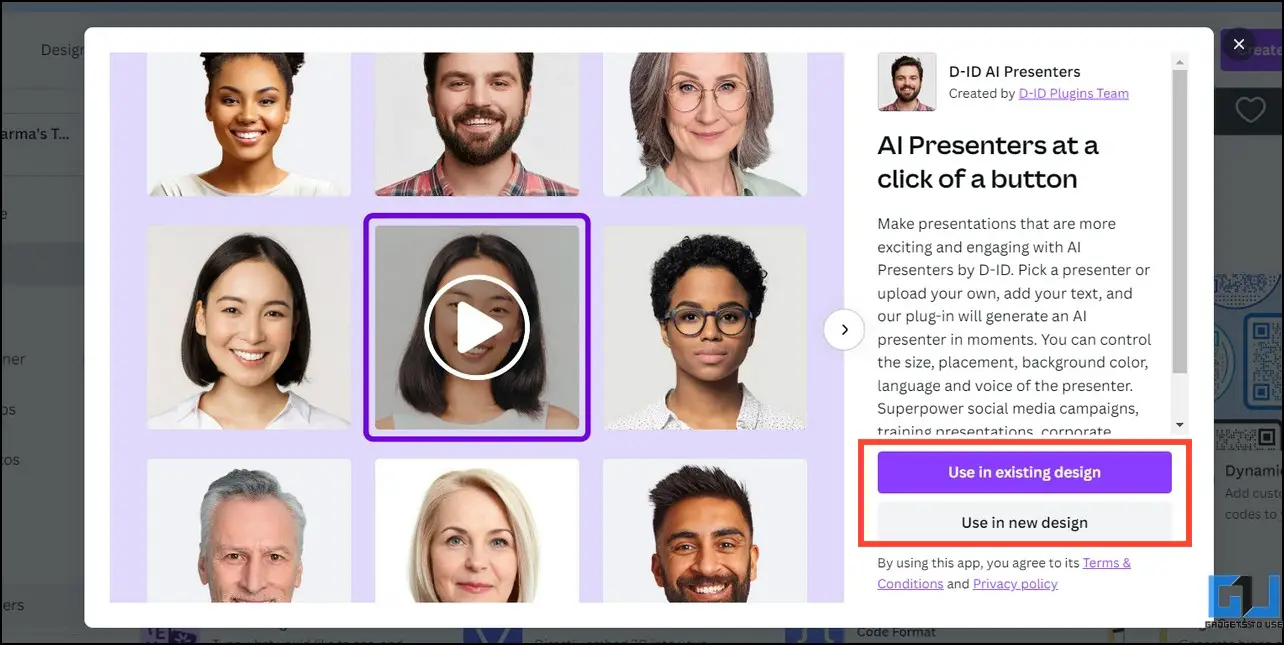 4. Next, click Upload to import your still image in Canva.
Tip: For best results, remove the background from your selected photo and ensure your face is clearly visible.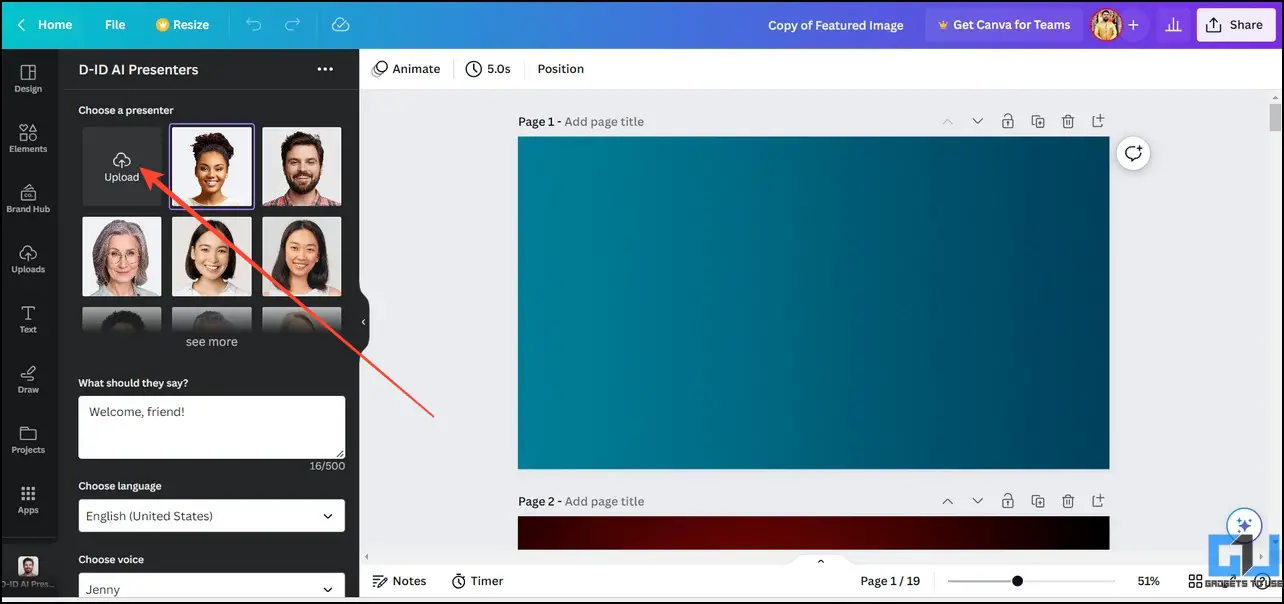 5. Select your uploaded photo, provide a textual description for the video, and choose desired language and voice to generate your video avatar. Click Generate Presentor button to process it.
6. Position the video avatar on your canvas and click Play to preview it.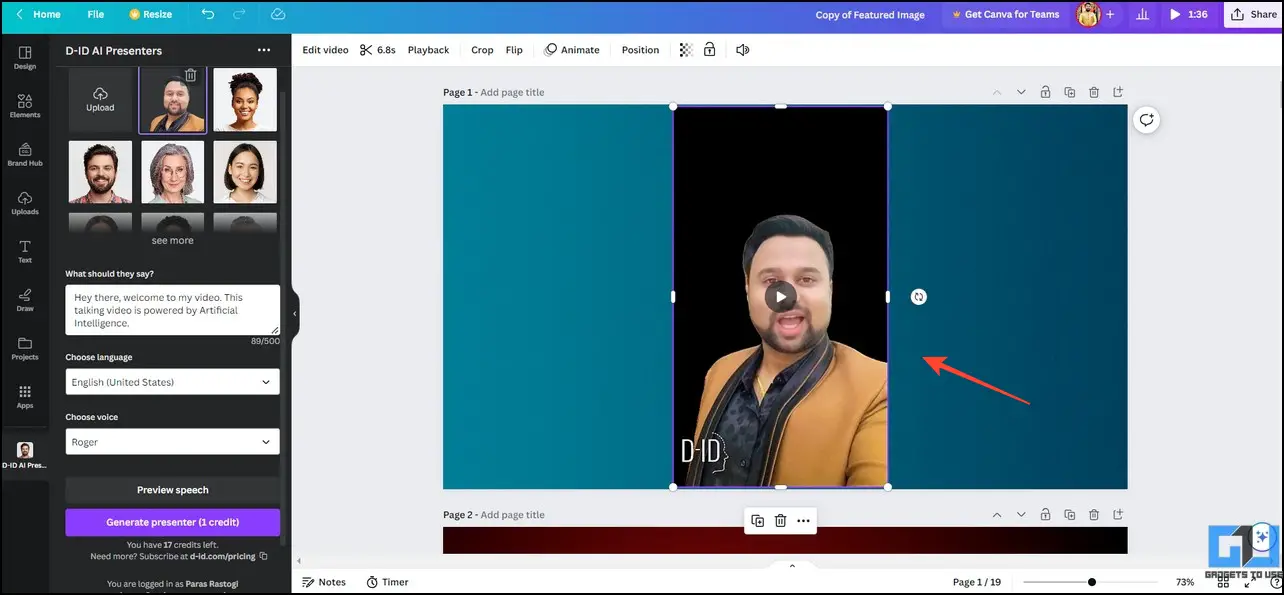 7. Finally, click Share in the top-right and press Download.
8. Pick your desired video format and click Download to save it to your device.
Pros
Simple, easy-to-use UI
Power of both Canva and DID presenter in one place
Cons
20 Credits on the free plan
Text to Speech is limited to 500 words in the free plan.
Generated Video is watermarked
Method 2 – Use D-ID Studio to Create an AI Avatar Video of Yourself
Besides integrating the D-ID presenter app in Canva, you can directly visit the online D-ID Studio to create an AI video avatar of yourself from a still image in seconds. Follow these steps to create your avatar.
1. Open D-ID Studio and click Create Video to start a new project.
2. Navigate to the Presenter section and click Add to upload your still image.
3. Sign in to the service when prompted. You can use Google Sign-in for quick account creation.
4. Pick your uploaded image, type a text script for the avatar to speak, and select your desired voice model. Click the Generate Video button to create your own AI video avatar.
5. Next, click Generate to proceed.
6. Wait till the AI process your video and click the project thumbnail to open it.
7. Click Play to preview the AI-generated video avatar and click Download to save it to your device.
Pros
Generates realistic AI avatar from the photo
Simple UI to easily create videos
Supports up to 3875 characters for textual script
Cons
20 credits on the Free plan, and these credits are used based on your video length
Generated Video is watermarked
Method 3 – Try Heygen AI
HeyGen AI is an evolving video generation platform that works similarly to D-ID Studio. With this online tool, you can create stunning and realistic AI video avatars from your still photos. Unlike other tools, it doesn't require video editing experience and provides an easy-to-understand interface to get on with your work. Here's how it works.
1. Open HeyGen AI studio and click the Try Free button.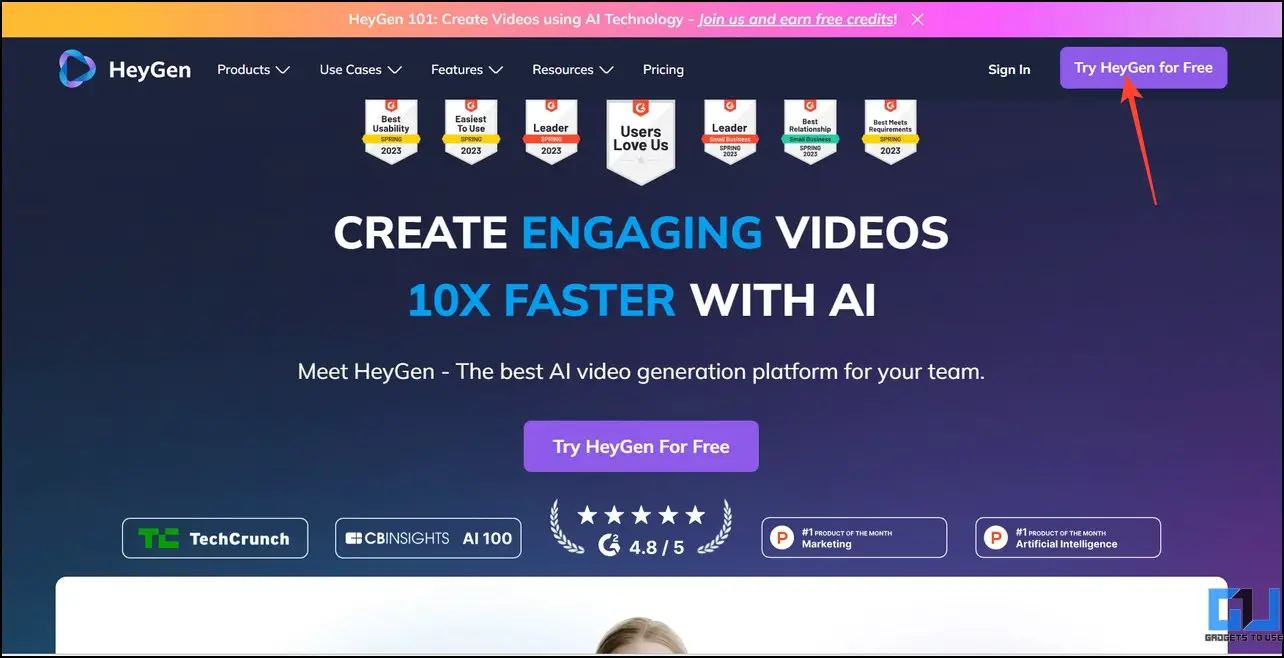 2. Next, click on Create Video.
3. Browse and select your desired video template from the left sidebar.
4. Switch to the Avatar tab and click the Upload button to upload your photo.
5. Sign in when prompted using Google or Facebook Sign-In for quick account creation.
6. Select your uploaded photo, provide a text script, and pick your desired language and voice. Click Submit to process the video.
7. Click the Submit button again to confirm your action.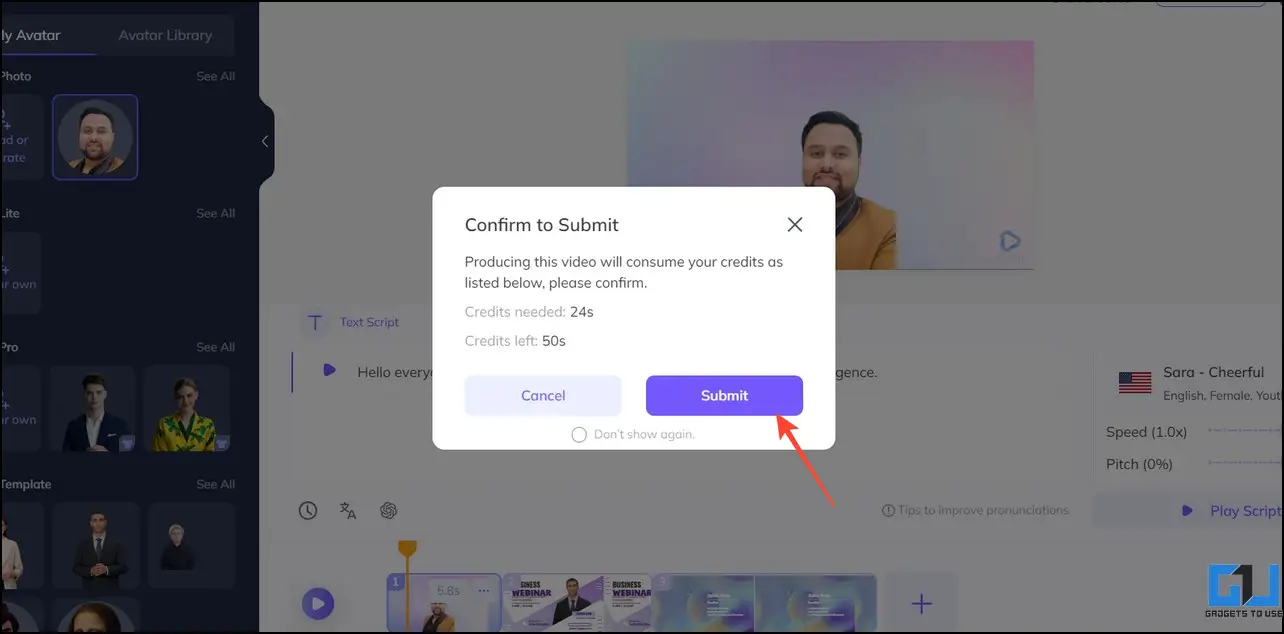 8. Wait a few seconds to let AI generate your video avatar. Once generated, click the Play button to preview it.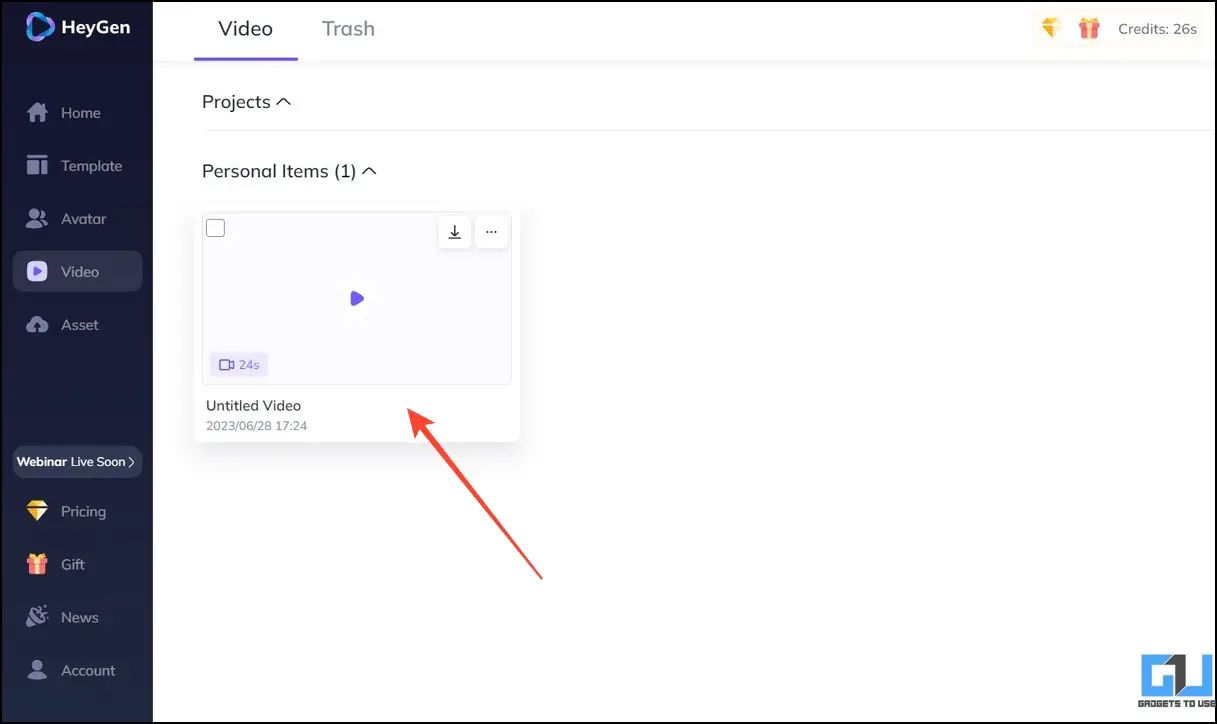 9. If satisfied with the results, click the Download Video button to save it to your device.
Pros
Provides various visual elements to beautify the created AI video
Huge library of AI templates to create videos
Cons
Only 1 minute can be created in the free plan
Generated video is watermarked
Limited video export formats
Method 4 – Make Photos Sing a Song With AI
If you use social media, you must have seen people making trending lip-syncing videos of their favorite songs. What if you could create it with a few taps using AI? Sounds interesting, right? Read our dedicated guide about the best apps to make photos sing a song with AI.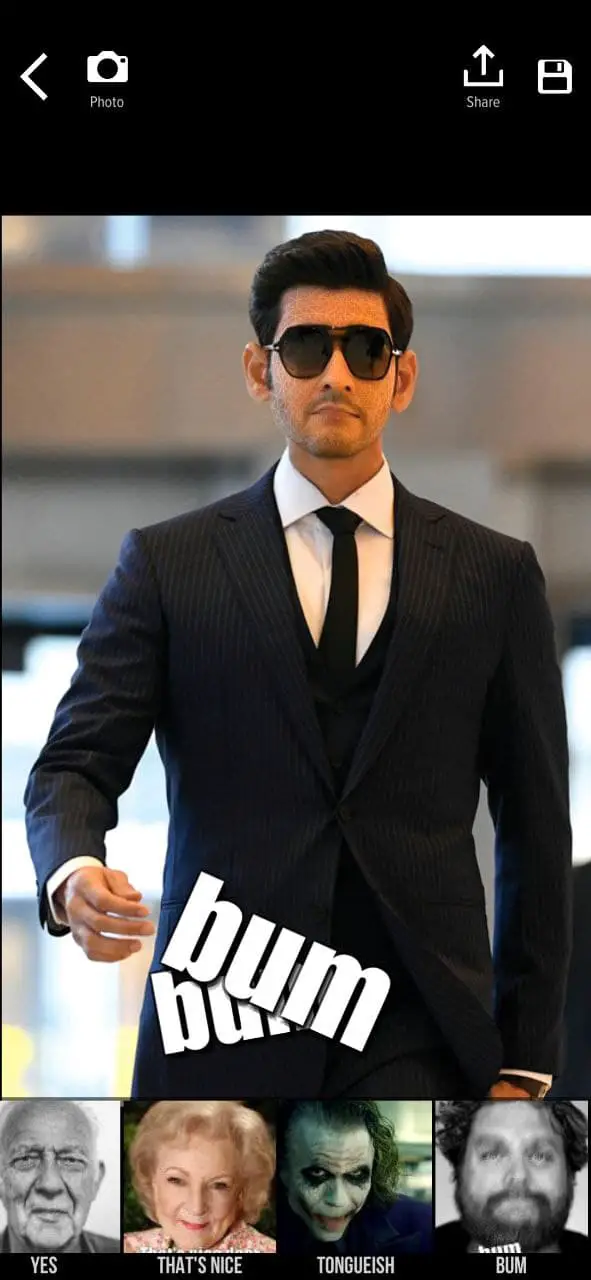 Method 5 – Create a Talking AI Video Avatar With Unboring
Unboring is another popular alternative that can transform any photo into an animated video. It offers several AI presets that can be applied to your image to make them sing or dance joyfully. Follow these easy steps to create your AI video avatar using Unboring.
1. Open Unboring in your browser and click the Upload Content button.
2. Sign in to the online app when prompted.
3. Browse the AI animation presets on the right and pick your favorite to apply to your uploaded face photo. Click Animate to process the changes.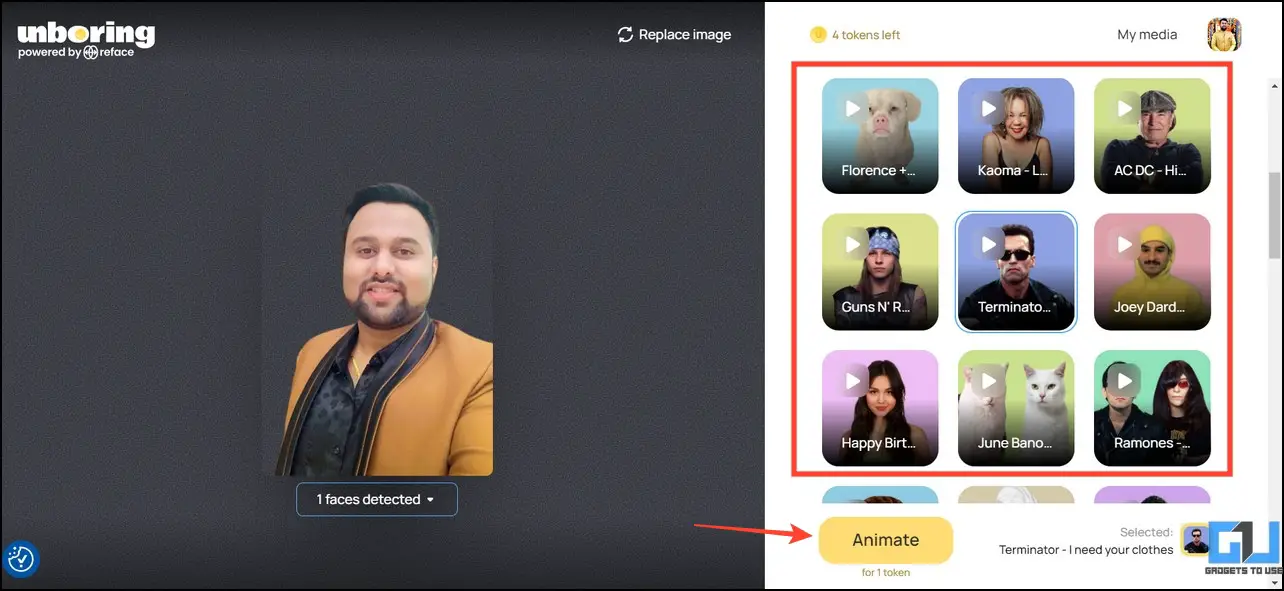 4. Preview the generated video using the Play button. Finally, click Download Video to save the AI video avatar to your device.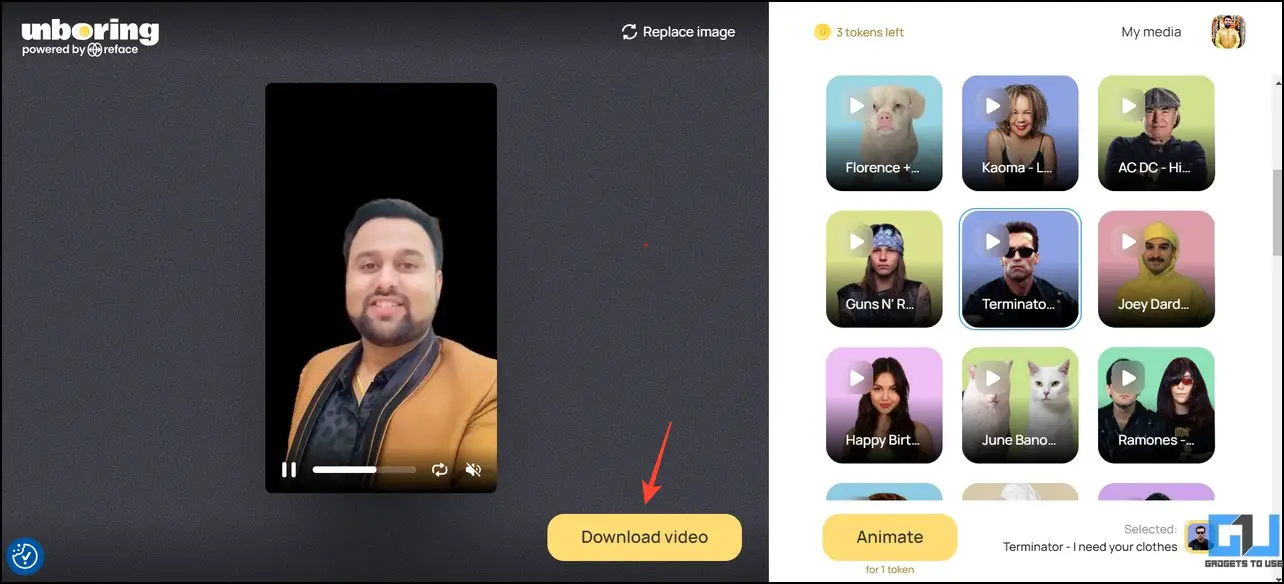 Pros
It creates amusing videos mimicking popular film dialogues
This AI video avatar can be directly shared on various social media platforms
Cons
Offers five free tokens on the Free plan for two days. Each video creation consumes one token
You can't provide a custom script to the AI avatar
You can only restyle your videos to two seconds
FAQs
Q. How to Create a Talking AI Avatar of Yourself?
You can use various free AI tools such as Canva, D-ID Studio, and HeyGen AI to instantly create an AI avatar talking to yourself from a still image. If you like the tool, you can purchase a monthly subscription to unlock more video editing and creation features. For more details, check the steps listed above.
Q. Can I Create an AI Avatar for My YouTube Videos?
Yes. You can create full-length YouTube videos with your AI video avatar using the tools listed in this explainer. However, their free plan is restricted to a few minutes of video creation. You can test and purchase the AI tool subscription that suits you the best.
Q. Which Is the Best Talking AI Avatar Tool?
We loved using Canva to create a talking video avatar because of its simple interface. Its ability to add various visual elements makes it unique, helping users create engaging videos for their projects.
Wrapping Up
So that's how you can easily create an AI avatar video of yourself. If you found this read interesting, spread the word with your friends and subscribe to GadgetsToUse for useful explainers. Also, don't forget to check the below links for more AI-related guides.
You might be interested in:
You can also follow us for instant tech news at Google News or for tips and tricks, smartphones & gadgets reviews, join GadgetsToUse Telegram Group, or for the latest review videos subscribe GadgetsToUse Youtube Channel.