5 Ways to Take Screenshot If App Doesn't Allow; No Root Required
We all need to take screenshots at some point in our day-to-day lives, as these are the best ways to save things on our phones. There are multiple ways to take screenshots on Android phones, but sometimes, some apps won't let you take screenshots for some reason. In such a case, it becomes impossible to save things. So, here I will tell you how to bypass that restriction and take a screenshot if the app doesn't allow it.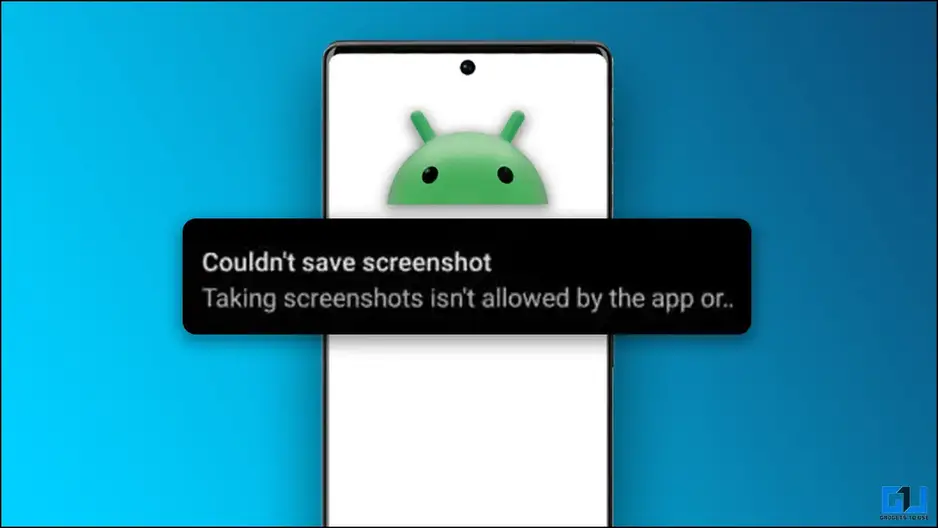 How to Take Screenshots if the App Doesn't Allow?
There are some third-party apps to bypass the screenshot restriction, but they require root privileges. Which is not always feasible, and everyone is not willing to root their phone. So, in this read, we will discuss ways to take screenshots in any app that doesn't allow taking screenshots natively without rooting your Android phone.
Method 1 – Check App Settings to Allow Screenshots
Some apps do not allow taking screenshots natively, but you can capture screenshots after enabling it from settings. One such app is Paytm, which allows you to capture screenshots of any in-app screen using your default screenshot gesture.
1. Open the Paytm app on your phone.
2. Tap on the profile picture to open the hamburger menu.
3. Go to Profile Settings > Security and Privacy > Control Screen Recording.
4. Enable the Allow Screen Recording toggle.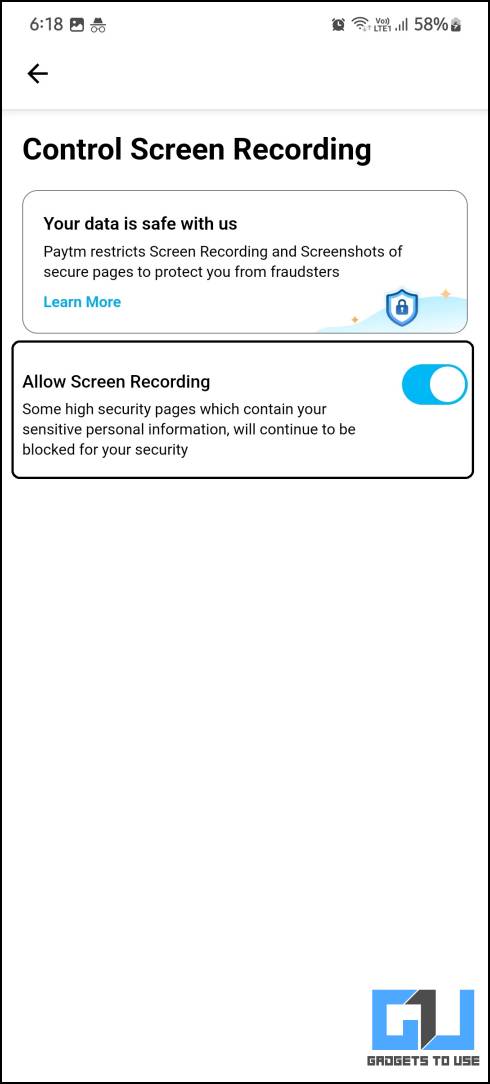 Now, will be able to capture screenshots, but remember that this setting automatically disables once you close the app. You need to re-enable this setting to take screenshots the next time.
Method 2 – Using Google Assistant
Google Assistant lets you capture and share a screenshot on your smartphone without even touching the phone. It takes a screenshot to help you with the content on your screen. You can use this trick to capture screenshots from apps that don't allow you to take screenshots.
1. Open the Google App and tap your profile picture to access Settings.
2. Under Settings, tap on Google Assistant to access Google Assistant Settings.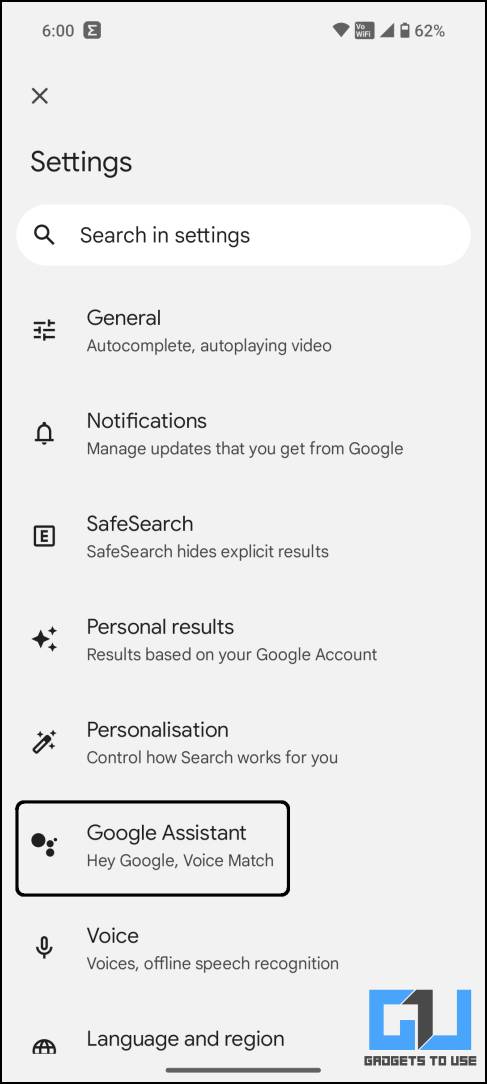 3. Scroll down to General Settings and tap on Use Screen Context.
4. Here, enable the toggles for Use screen context and then enable the toggle for Use screenshot.
5. Now, open the app that doesn't allow screenshots, hold the Home button, or swipe up from the lower left or right corner to launch Google Assistant.
6. Type or ask Google Assistant What's on my screen?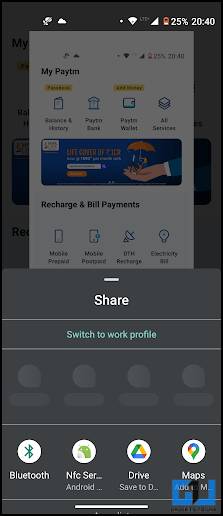 7. After that, tap the Share Screenshot button.
That's it. The screenshot will be captured, and you can share it on other apps. However, if the result from this method is either blacked out or distorted, move to the next trick.
Method 3 – Using the Scrcpy Tool
You can use some PC software that can record your phone's screen. Here, I will use Scrcpy, which can mirror and record your Android device's screen, and the best part is that it does not even require root access. However, this method does not work on streaming apps.
First, download and install Scrcpy from GitHub for Windows or Linux.
1. Now, set up ADB on your PC and connect your Android phone. Run adb command to check if your PC recognizes your device.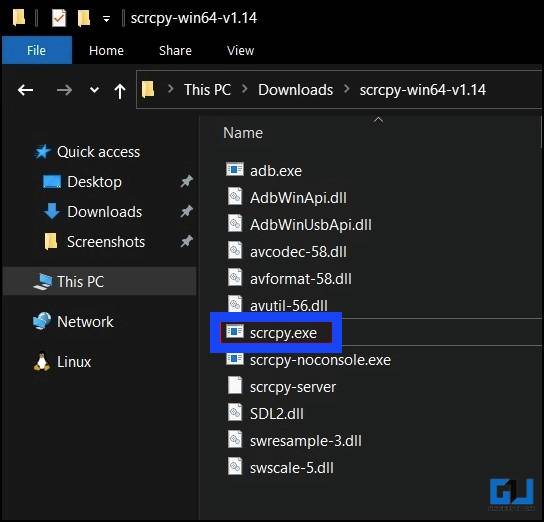 2. Once recognized, open the Scrcpy ZIP file on your computer.
3. Open the extracted scrcpy folder and double-click on the scrcpy.exe file.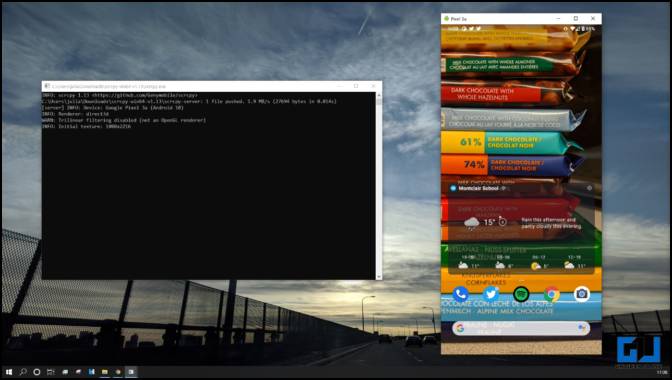 4. It will start mirroring your Android screen on your PC.
5. Now, open that app on your phone and take a screenshot of the app on your Windows PC using Shift Ctrl + S, and on macOS or Linux, you can use built-in shortcuts.
Method 4 – Take Screenshots in Google Chrome's Incognito Tab
If you use Incognito mode a lot on your phone, this simple trick will allow you to take screenshots of the incognito tabs in Google Chrome.
1. Open Google Chrome, type the following in the address bar, and press Enter.
chrome://flags
2. Search for "Incognito" and look for Incognito Screenshot.
3. Enable the "Incognito screenshot" feature and Relaunch Chrome.
4. Now, you can take screenshots under the incognito tab using the same shortcut method you always use.
Now, Chrome will let you capture screenshots of any webpage in incognito mode.
Method 5 – Take a Picture of Your Phone Screen Using a Document Scanner
The last resort is to capture a picture of your phone using a secondary phone displaying the restricted app or screen. For better results, I recommend you use a document scanner like Adobe Scan, which crops and saves the picture like a document. You can then edit the screenshot if required and share it with your friends or save it to the gallery.
FAQs
Q. Why An App Doesn't Allow to Take a Screenshot?
Apps like banking apps or wallet apps do not let you take screenshots because they contain sensitive information about you. Sharing these screenshots can be dangerous for your account; that's why developers disallow users from taking screenshots in the first place.
Q. Is It Wrong to Take Screenshots Using These Tricks?
The feature saves you from potential threats caused by sharing such sensitive information. It is not wrong if you mask the sensitive information on those screenshots.
Q. None of These Tricks Worked On My Phone. Should I Root My Phone?
We never recommend anyone to root their Android phone since it makes your device more vulnerable to viruses and malware that can steal your private data. If you still want to do that, no problem; it is your device, and you can go ahead and root your phone.
Wrapping Up
So, this is how you can take a screenshot in any app that doesn't allow capturing screenshots natively. These methods are foolproof but don't work with all apps. So, you must use the rooting method to take screenshots on all apps. Stay tuned to GadgetsToUse for more such tips, and check the ones linked below.
You might be interested in:
You can also follow us for instant tech news at Google News or for tips and tricks, smartphones & gadgets reviews, join GadgetsToUse Telegram Group or for the latest review videos subscribe GadgetsToUse Youtube Channel.