5 Ways to Use ChatGPT on WhatsApp
ChatGPT is everywhere! From instant messaging services to native applications, it is readily available to use whenever you need it. Now, it has finally paved its way to WhatsApp, making it even more accessible than ever. That said, this explainer discusses several methods to help you use ChatGPT on WhatsApp. Additionally, you can learn to use ChatGPT on Telegram.
Benefits of Using ChatGPT on WhatsApp
Instead of manually creating an account or dealing with complex network issues while using ChatGPT on the web, accessing it on WhatsApp brings you the following advantages:
Quick Responses
Easy to use
24/7 Availability
You can check the credibility of forwarded WhatsApp messages
It can help you fix grammatical errors
Generate images based on your description
Get personalized content such as recipes, images, school work, translations, travel itineraries, and so much more
How to Use ChatGPT On WhatsApp
Thanks to various online chatbots and AI-based keyboards, using ChatGPT on WhatsApp is as easy as eating a cake. Let's discuss each of them in detail.
Using BuddyGPT
BuddyGPT is one of the popular online bots that can help you leverage the power of ChatGPT inside WhatsApp. Here's how you can make the most out of it:
1. Go to the BuddyGPT website on your phone's web browser and tap on the Try it on WhatsApp button.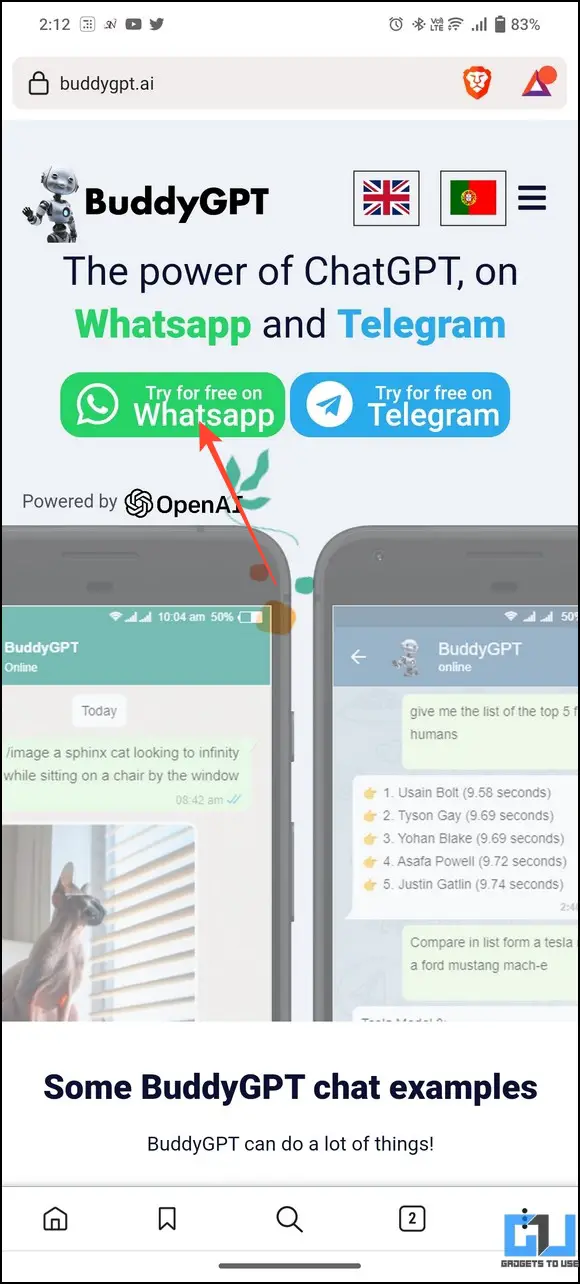 2. The chatbot will instantly load up on your WhatsApp, where you can interact by asking questions.
3. The chatbot will also guide you to generate specific results, such as creating an image by entering your prompt with /image. For instance, we instructed BuddyGPT to create an image of a rabbit eating chocolate, which was surprisingly accurate.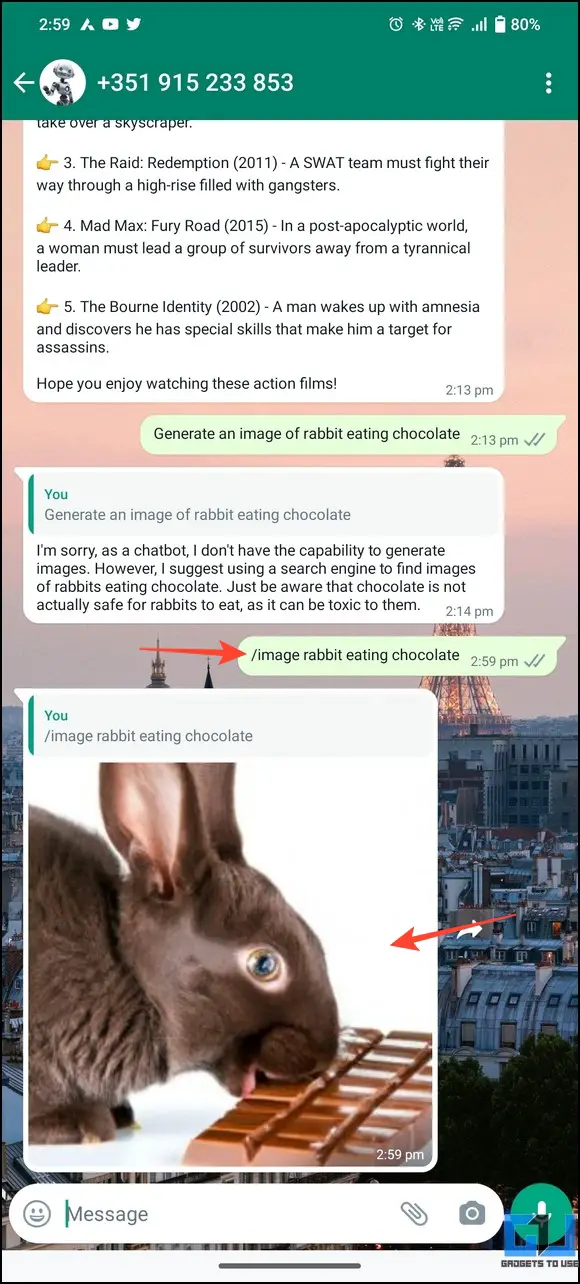 Pros
Uses the GPT-3 Model
Can generate content as well as images
The free plan doesn't require signing up
Quick and instant responses
Cons
The Free plan is limited to sending 10 text messages
You can only generate three images using the ChatGPT bot in the free plan
The monthly subscription is quite expensive
Use ChatGPT on WhatsApp with WizAI
Similar to BuddyGPT, WizAI offers a promising solution to access ChatGPT inside your WhatsApp account. Follow these steps to achieve the same.
1. Go to the WizAI website on your smartphone and tap the Get Started button.
2. The chatbot will load up instantly in your WhatsApp.
3. Next, ask the AI your desired question for relevant answers, or you can normally chat as you do with friends on WhatsApp.
Pros
Uses the GPT-3.5 model
No sign-up is required to use the free version
You can generate different varieties of content on WhatsApp with this bot
Its monthly subscription starts at $2, which is quite affordable
Cons
It can't generate images
It is still in the development phase
The free plan is limited to sending five messages
Tip: Besides BuddyGPT and WizAI, you can also try other ChatGPT bots, such as Shmooz AI, WhatGPT, etc. However, most of them require purchasing a subscription to unlock full features.
Access ChatGPT on WhatsApp With AI Keyboards
Aside from chatbots, you can install various free AI keyboards on your smartphone to access ChatGPT.  The Paragraph-AI and Open-AI Keyboard are popular iOS and Android keyboard apps offering in-built artificial intelligence to answer or generate replies to your prompts. You can learn to install and use them by following our detailed guide on using ChatGPT on mobile keyboards.
Use ChatGPT on WhatsApp Web
If you're using WhatsApp web, you can embed the ChatGPT extension from the Chrome Web Store to create a reply or content using AI.
1. Install the ChatGPT for WhatsApp extension to your web browser.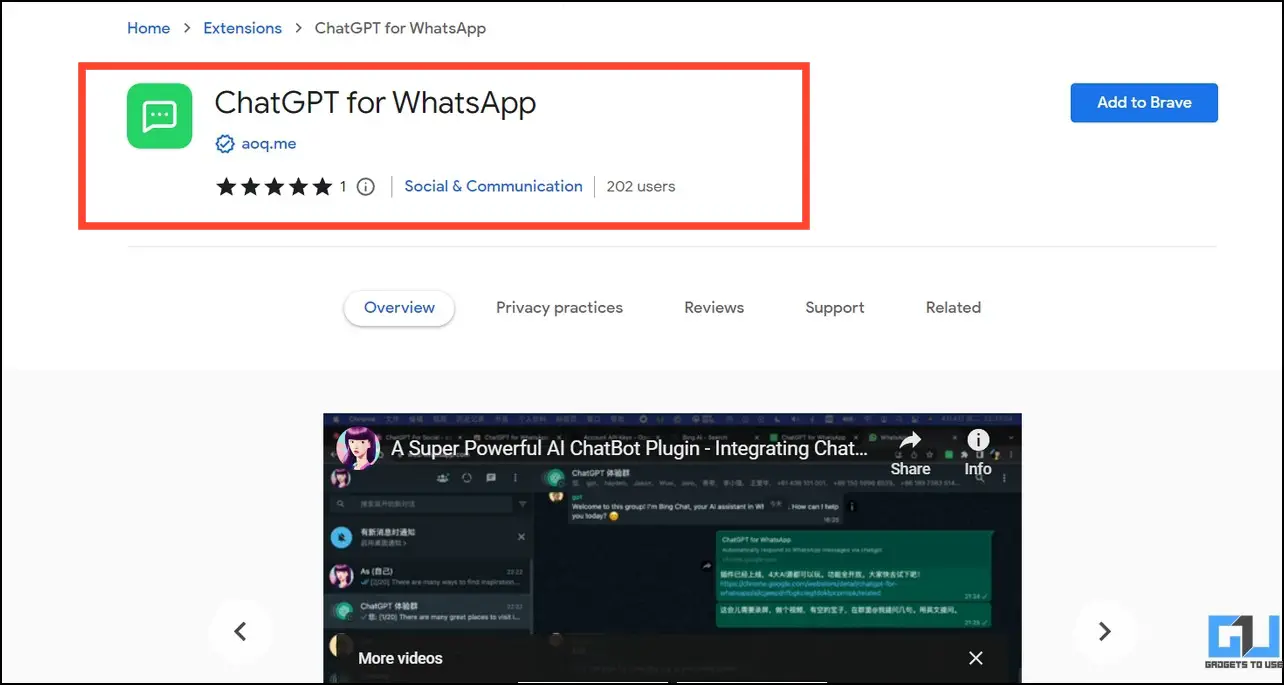 2. Next, configure ChatGPT web model settings and select the available language models.
3. Next, click the Test Connection button to ensure the extension works properly. If it shows an error, switch to a different language model and re-test it.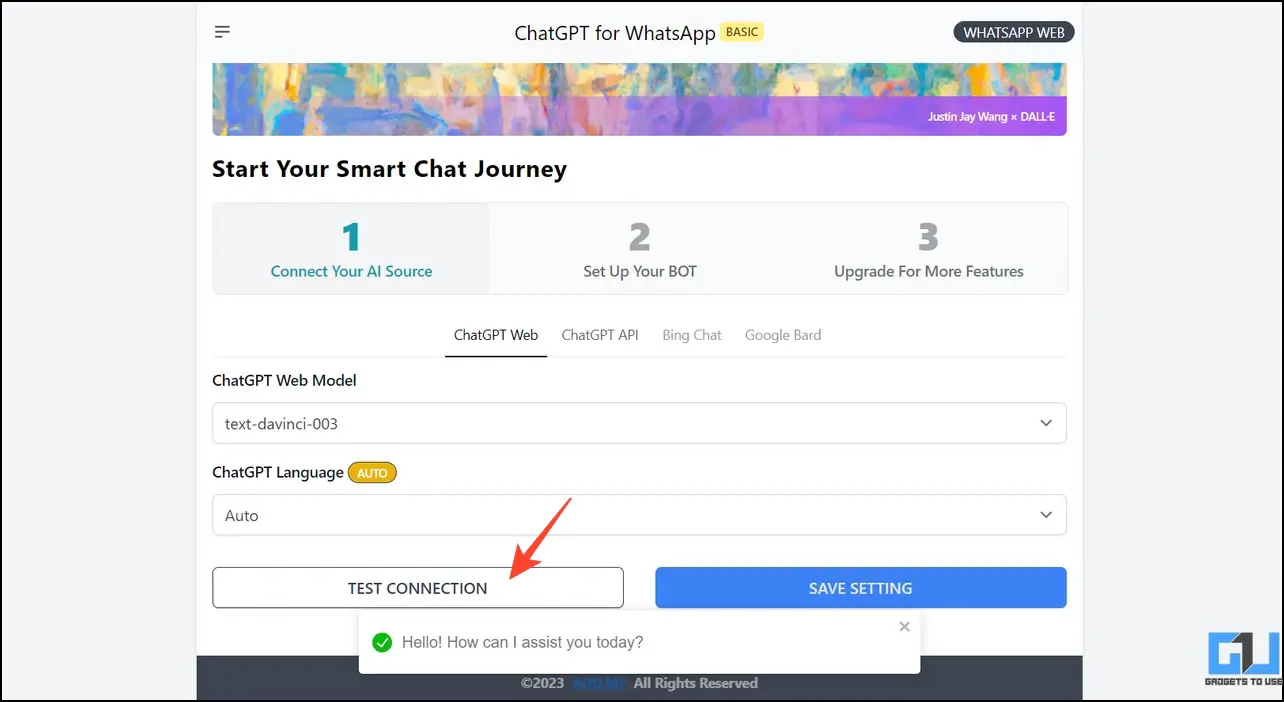 4. Now, open WhatsApp Web and click on the installed extension to activate it.
5. Finally, type your query in the chat, and begin it with the @gpt keyword. For instance, '@gpt suggest some best movies to watch in 2023'.
6. The extension will instantly pick the prompt and reply on your behalf using ChatGPT.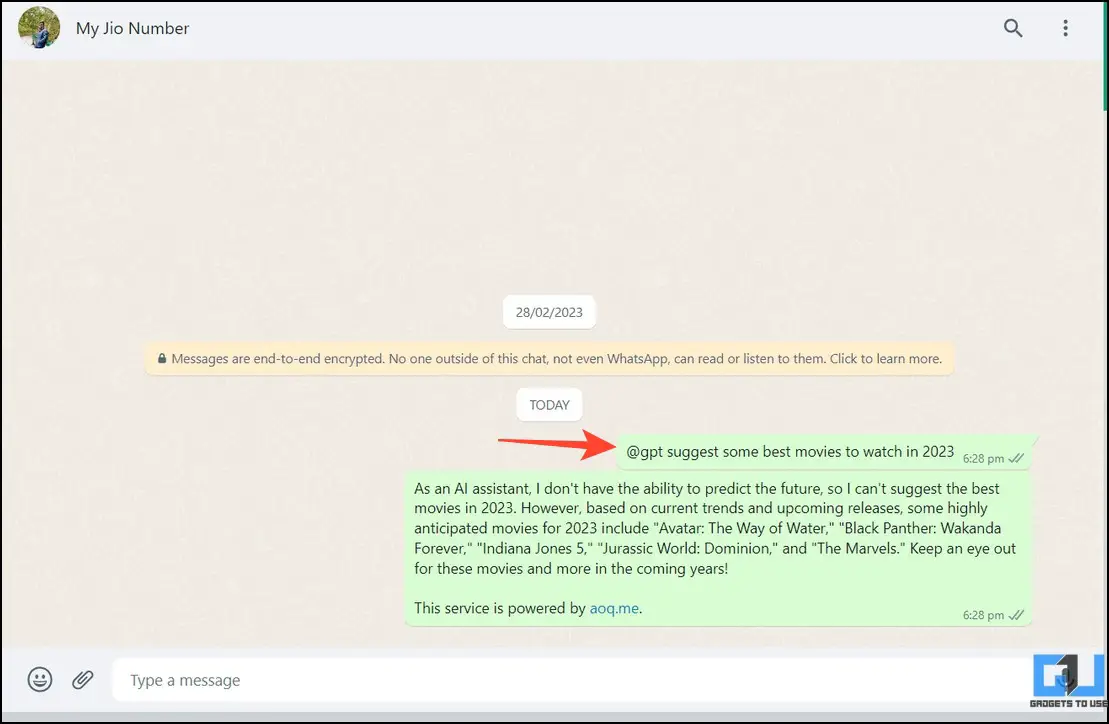 Use ChatGPT on the WhatsApp Desktop App
If you frequently access ChatGPT on your desktop and are searching for a way to send the entire conversation to someone on WhatsApp, this extension has you covered. Here's how you can install and use the same:
Pro-Tip: Download the WhatsApp application from Microsoft Store to use this extension without errors.
1. Install the ChatGPT for WhatsApp extension to your browser.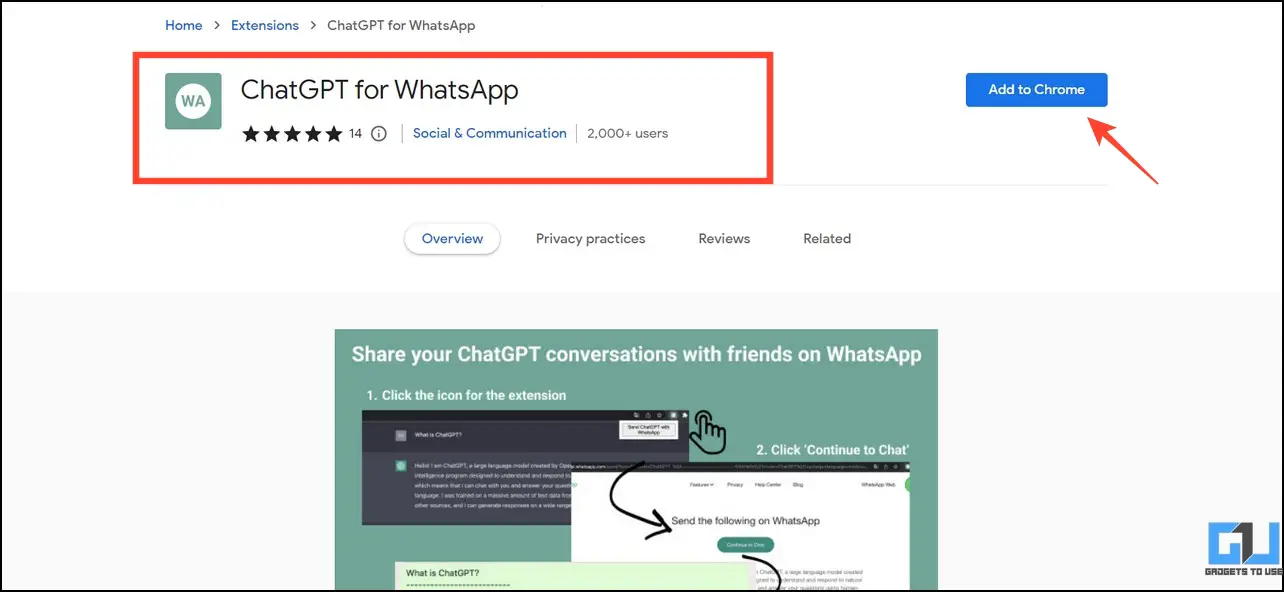 2. Next, sign in with your OpenAI account.
3. Initiate your desired conversation with ChatGPT and click the installed extension to send it to WhatsApp.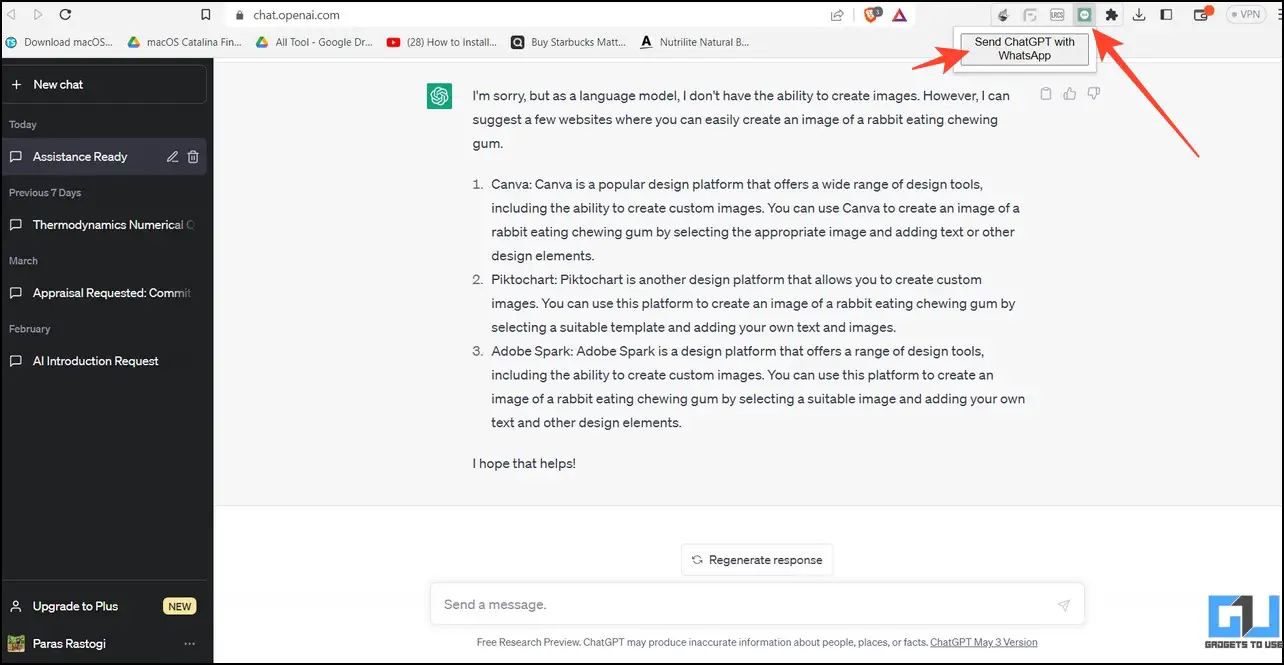 4. When prompted, click on the Open WhatsApp button.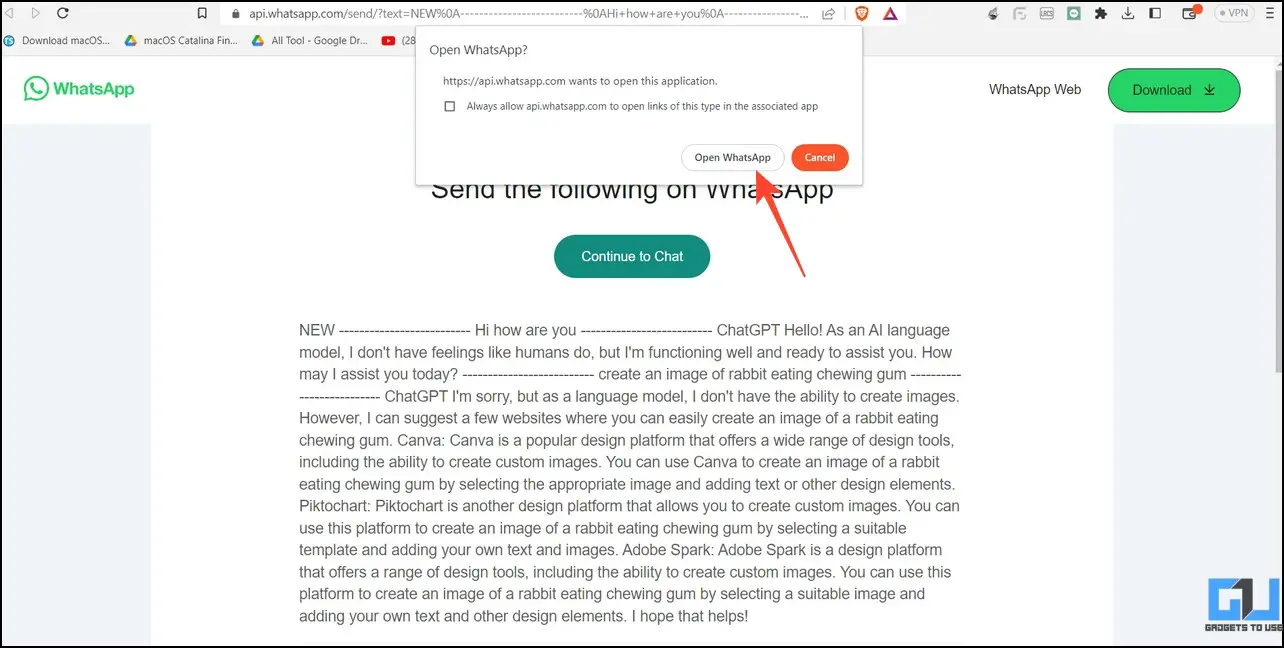 5. Select the contact with whom you wish to share the ChatGPT conversation and click Forward.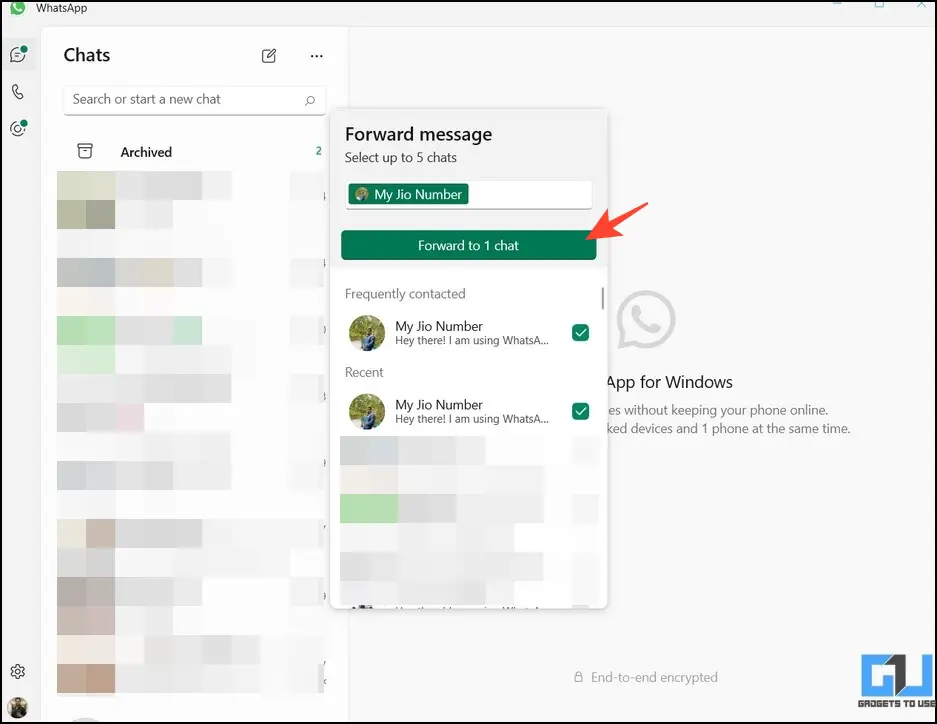 6. Your entire ChatGPT conversation will be instantly shared with the selected contact.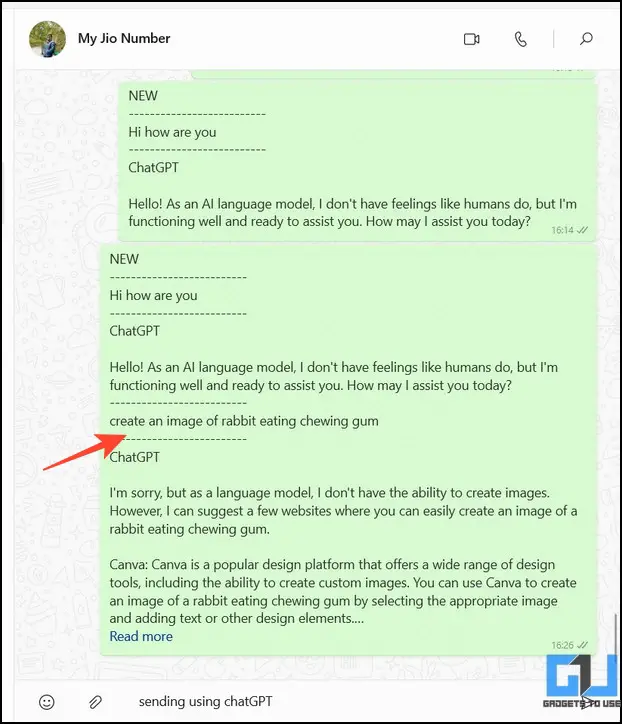 FAQs
Q. Can We Use ChatGPT in WhatsApp?
Yes, there are a couple of GPT bots and other workarounds to use ChatGPT. Follow the methods we have mentioned above to use it on WhatsApp.
Q. How to Use ChatGPT on WhatsApp?
There are a couple of ChatGPT bots, that you can use. Follow the methods we have mentioned above to use it on WhatsApp.
Q. Can You Generate Images Using ChatGPT on WhatsApp?
Yes, WhatsApp bots like BuddyGPT can generate images, using the described text. For more details, refer to the steps above.
Q. Can ChatGPT Understand Multiple Languages on WhatsApp?
Most AI chatbots are based on ChatGPT, which understands multiple languages. However, you might need a subscription to unlock more languages on them.
Q. Will ChatGPT for WhatsApp Work on Both Android and Ios Devices?
Yes, it works on both Android and iOS devices. However, you need to accept the new policy of WhatsApp to chat with them.
Q. How Do I Access GPT Chat on WhatsApp?
The ChatGPT on WhatsApp extension does allow you to export your ChatGPT chats. Read the detailed steps mentioned above to learn more.
Wrapping Up
So these are the ways you can use ChatGPT on your WhatsApp account. If you find it useful, forward it to your friends and subscribe to GadgetsToUse for more interesting reads. Meanwhile, don't forget to read other awesome ChatGPT guides below:
You might be interested in:
You can also follow us for instant tech news at Google News or for tips and tricks, smartphones & gadgets reviews, join GadgetsToUse Telegram Group, or for the latest review videos subscribe GadgetsToUse Youtube Channel.