ALLPOWERS 80W Foldable Solar Panel SunPower Solar Charger with iSolar Technology for Laptop, Tablet, ipad,Smartphone, iPhone, Samsung, Acer, Asus, Dell, HP, Toshiba, Lenovo Notebooks, Laptops and More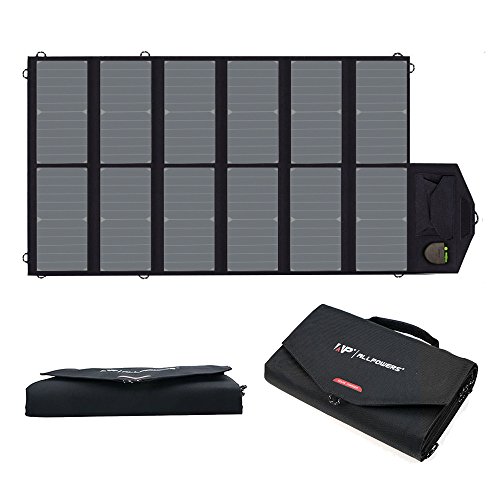 ALLPOWERS: Amazon's #1 Solar Panel Charger Brand
* Faster and safer charging with our advanced technologies
* Professional and million+ happy users
Why Choose ALLPOWERS Solar Charger?
ALLPOWERS SunPower Dual USB solar charger has high efficiency conversion rate, the transformation efficiency is up to 23.5%, while most of the similar products on the market is 15% or even lower
iSolar Technology and 3 Output
Unique voltage regulator design to ensure stable voltage and current, delivering its fastest possible juice, ALLPOWERS is the first seller who use Dual USB and one DC controller
Outdoor Necessities
Equipped with a rugged water resistant, anti-shock, dust-proof exterior for outdoor use. Can also be affixed to your backup, bicycle or tent when you're out enjoying the great outdoors
Safety Protection
The solar panel is FCC, RoHS, CE certified. Short circuit and surge protection technology keep you and your devices safe.
Wide Compatibility
DC port: charging laptops below 21V and 12V car battery, please refer to the laptop types we show in picture and close the laptop when charging.
USB port: smartphones, tablets, ipad, external battery packs, or any other 5V USB-charged gadgets.
Attention:
1. Please check the model, size, voltage and power of your original adapter to ensure compatibility before purchasing the product
2. This item is solar panel, please put it under direct sunlight, cloudy weather may affect its normal working and power; it is suggested to close the laptop when charging
Specification:
* Capacity: 80W
* Load Output: 2x 5V2.4A (Max.USB) 1x 18V4A(Max.DC)
* Solar Conversion Efficiency: 23.5%
* Dual Output: USB&DC5521
* Opened Size: 135*60*0.6CM/53*24*0.24inch
* Compact Size: 31*19*9CM/12*7.5*3.5inch
* Net Weight: 1.8kg/63.5oz
Warranty:
18 months product guarantee from ALLPOWERS
3-in-One: Dual USB port(5V/2.8A per port) with iSolar Technology for charging your 5V powered gadgets, and 18V DC output(18V/4A) for charging your laptop or 12V car battery; No additional battery needed for charging external devices, 100% green energy
High Efficiency: 80W SunPower solar cell is made from US, up to 23.5% efficiency, providing endless joice for laptop and other battery under sun
Slim and Powerful: 1/3 lighter than the same power of solar slicon. The total power increased by 1/3 in compare with the same solar panel size
Simple Style: eyeholes enable easy attachment to backpacks while travling; Portable and frame design in folded fit for outdoor and indoor use, no space occupy
Package Contents: ALLPOWERS 80W Foldable Solar Charger, 10 laptop connectors(please refer to the the picture), DC cable, USB cables, carabiners, cigarette lighter plug, clip line, instruction manual and friendly customer service



BUY NOW

$299.99