Cell Phone Signal Booster Verizon 4G LTE Cell Booster HJCINTL FDD High Gain 700MHz Band13 Wireless Signal Boosters Home Mobile Phone Signal Booster Repeater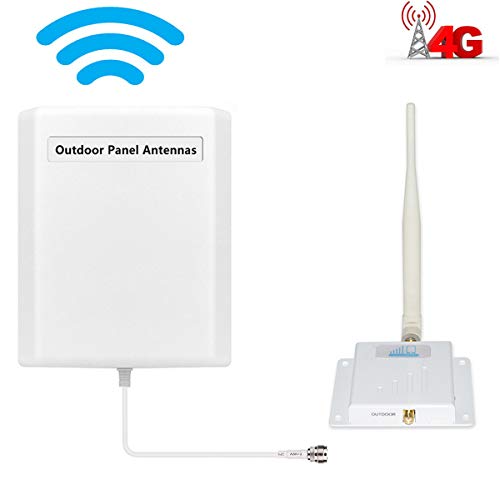 This product is used to strengthen the weak signal, it couldn't create the signal, that's means it won't give you any help if there is no signal at all.
Specification:
Operation Frequency:Band 13
Frequency Range: Uplink:776MHz-787MHz,Downlink:746MHz-757MHz
Emission Designator:LTE(G7D)
Gain:Uplink:60±2dB Downlink:62±2dB
Max.Antenna Gain:Uplink:8.1dBm Downlink:7.85dBm
Package Content:
1* Verizon 700MHz Single Band Repeater
1 * Indoor Ceiling Antenna
1 * Outdoor Panel Antenna
1*5 Meters (16ft) Coaxial Cable
1*10 Meters (32.80 ft) Coaxial Cable
4 * Screws for Mounting
1 * English User Manual
Installation Guide:
1.Check and find a place where your cell phone can receive the best signal outside your house,and keep the outdoor antenna towards the cell phone signal tower
2.Fix the repeater device somewhere inside the house,the repeater should be fixed in a place where is near from the power socket, and have good ventilation.
3.Tightly connect the 10m coaxial cable to the outdoor antenna and the OUTDOOR port of the repeater
4.Tightly connect the indoor whip antenna on the INDOOR port of the repeater. 5.Connect the power of the repeater.
General Troubleshooting Steps:
1.Make sure your cell phone is Verizon 700MHz 4G LTE Band 13 network frequency 2.Make sure the Outdoor Antenna towards the cell phone signal tower,and could receive receive 2-3 bars of stable signal
3.It is better to determine the exact in different location until the highest signal strength is received on your phone(most amount of bars).Once you ascertain the best location then permanently mount the outdoor antenna.Keep the distance between the outdoor antenna and indoor antenna should be above 22ft and make sure a proper amount of physical separation between outdoor antenna and indoor antenna.These things are absolutely critical for this booster to work.
This cell phone signal booster only works with Verizon 700MHz 4G Lte network frequency (777-787MHz,746-756MHz). Works with all cellular devices: Smartphones, Tablets, Data Cards, and Notebooks. With a signal boosting range of up to 1500 sq ft.
▶【Boost Cell Reception】- Nice performance , Low Operating Temperature, Ultra-Low Noise Receive, High Gain. Reduce dropped calls, higher audio quality, faster uploads and downloads. This HJCINTL cell signal booster simply amplifies your existing signal to give you more bars and and maintain fast data speeds while you browse the internet or talk on the phone.
▶【Faster network Data】- Faster high-speed 4G LTE internet. This HJCINTL cell phone booster perfects for people needing fast uploads and downloads for streaming apps. No more slow internet connections or long buffer times while watching your favorite streaming TV shows and movies. Solve your bad cell network signal and enjoy your nice time.
▶ 【Easy to Install】 – All of the components you need for installation are included in the package with easy to read, step-by-step instructions. Requires no technical experience with easy plug-and-play style setup, safe and convenient to use.
Warranty: One year manufacturer's warranty, as long as during the service period we can replace a new repeater for you at any time. cell phone signal boosters, signal booster, verizon signal booster, 4g cell phone signal booster, 4g booster, cell phone booster, cell booster, mobile phone booster, verizon booster, lte booster , cell booster verizon



BUY NOW

$129.99