How to Use Incognito Mode in ChatGPT
Open AI, the company behind ChatGPT has made it clear since the beginning that it records every interaction you have with ChatGPT. For this, they use the chat history feature to improve the language model. Though they have assured that this data will only be used for training purposes, many users consider it a privacy concern. Due to this concern, OpenAI has released a new option to disable chat history. So in this article, we will go over how to enable and use the Incognito mode in ChatGPT.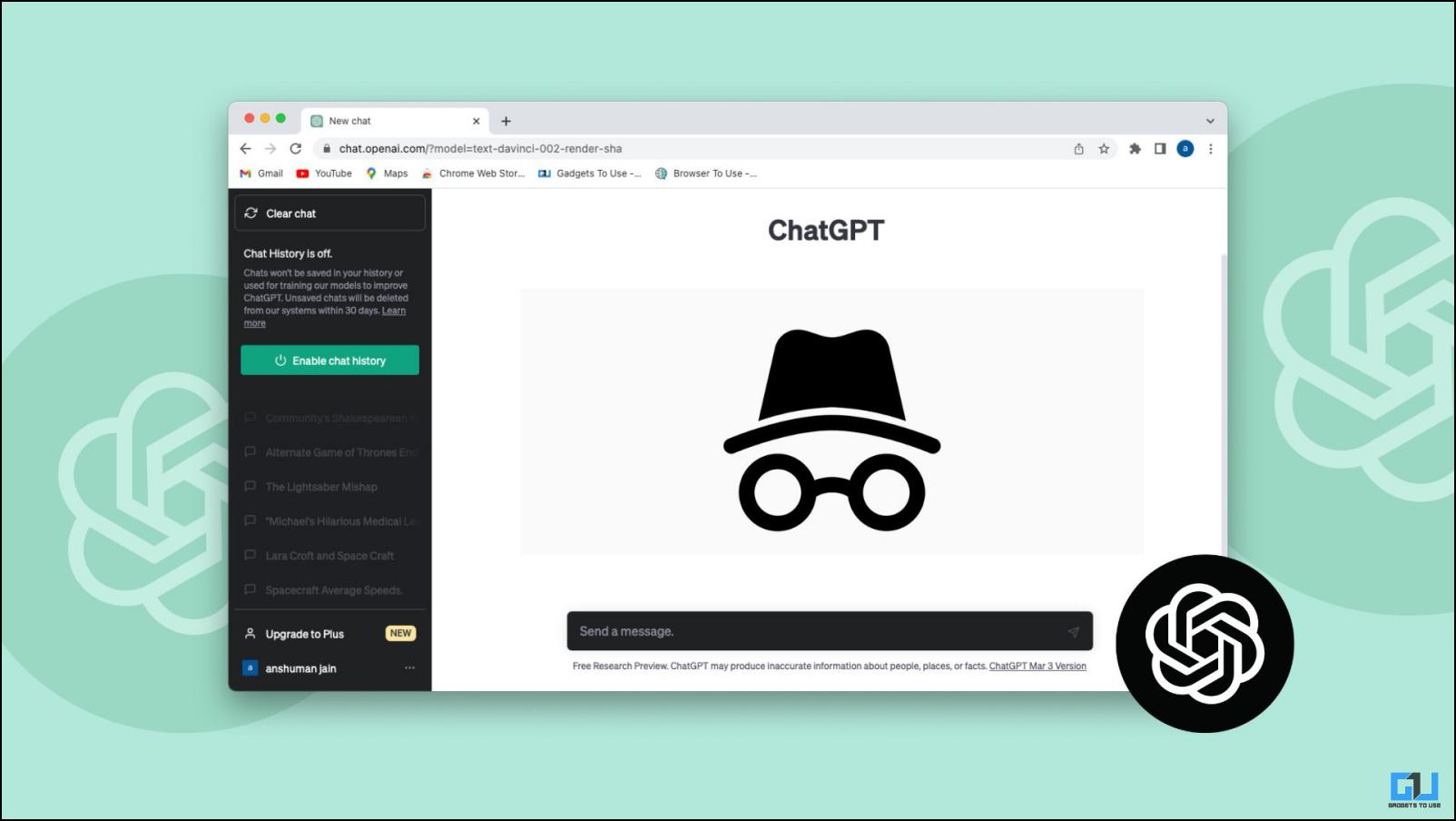 What Is the "Incognito Mode" in ChatGPT?
When a new conversation is started with ChatGPT, it is added to the chat history column on the left side of the window. ChatGPT automatically gives it a title based on the context of the chat.
This allows you to easily browse through your previous interactions with ChatGPT and find its responses. Open AI can use these conversations in chat history for improvements and training purposes.
But now there is an option to disable the chat history feature from the settings. This essentially enables what one employee at Open AI called, the "incognito mode". Your chat history does not get saved and therefore, Open AI cannot use this data for internal testing. You can re-enable it anytime.
Note: All your conversations in this incognito mode get deleted automatically after 30 days.
Steps to Enable Incognito Mode in ChatGPT
Now that you have understood what is this new incognito mode feature and how it works, let us take a look at the steps to enable it in a ChatGPT session.
1. Visit the ChatGPT website on a browser and log in with your Open AI account.
2. Click on the three-dot menu next to the username in the bottom left corner.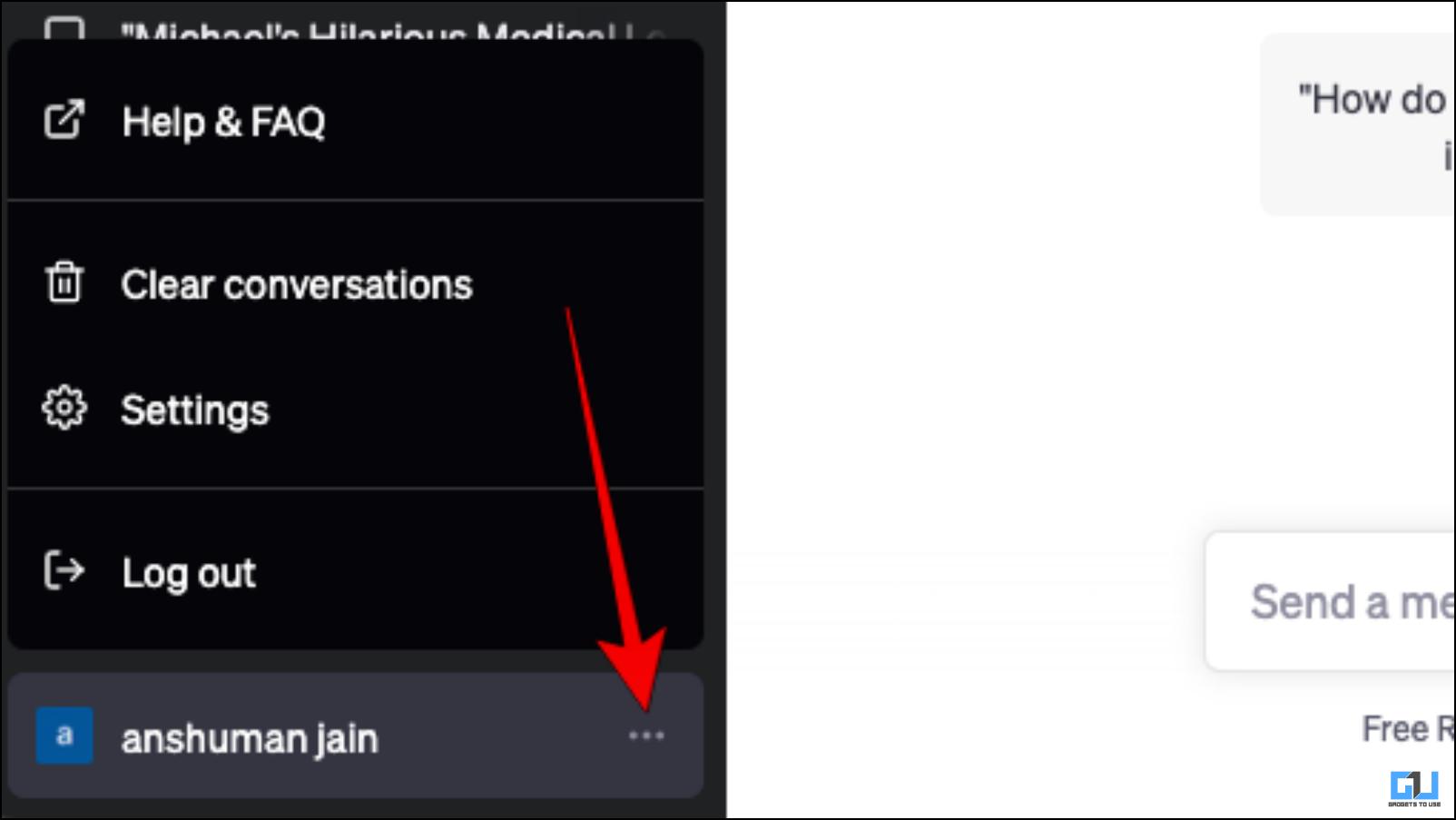 3. Select the Settings option.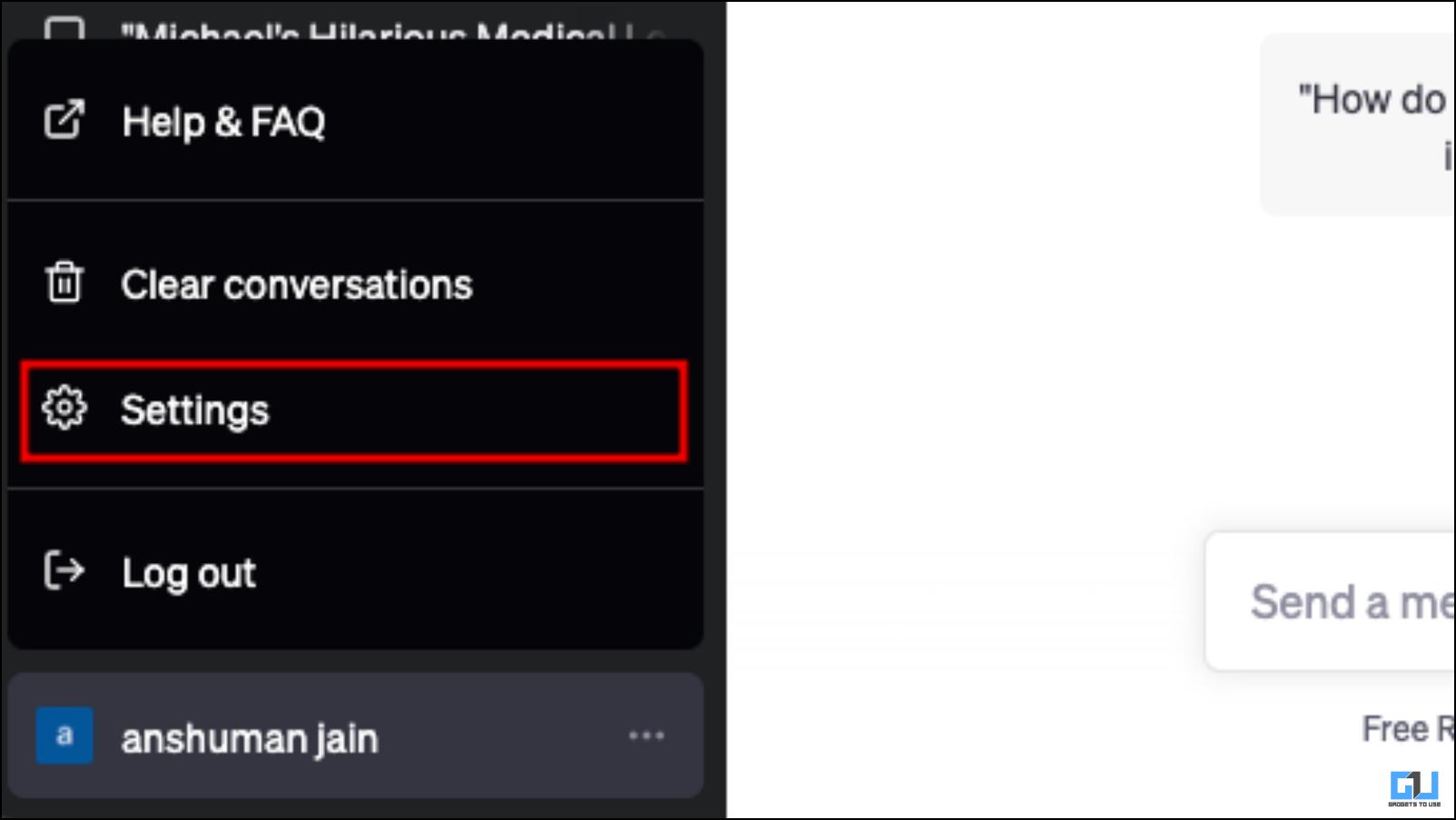 4. Click on the Show button next to Data Controls.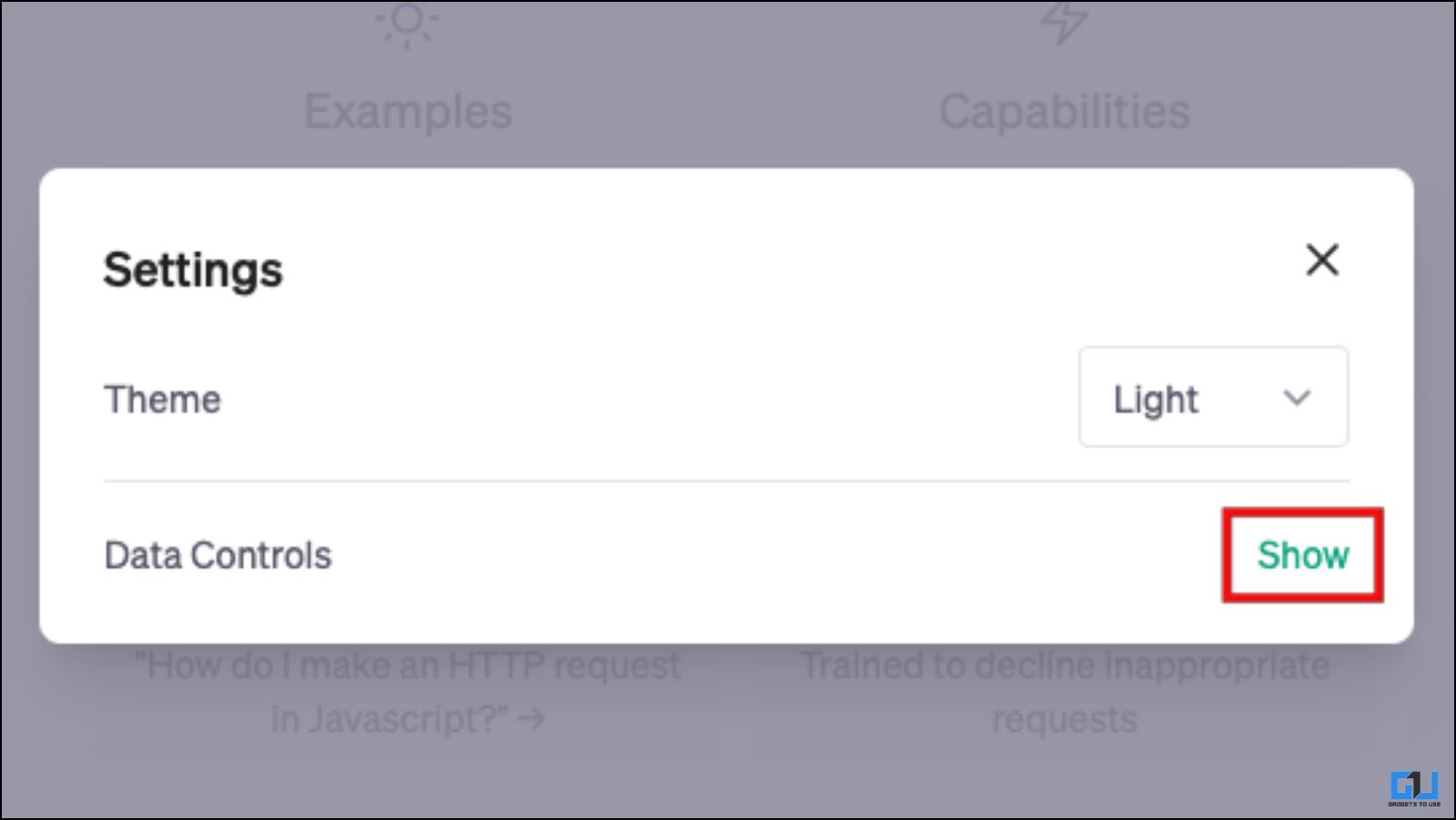 5. Turn off the toggle for Chat History & Training.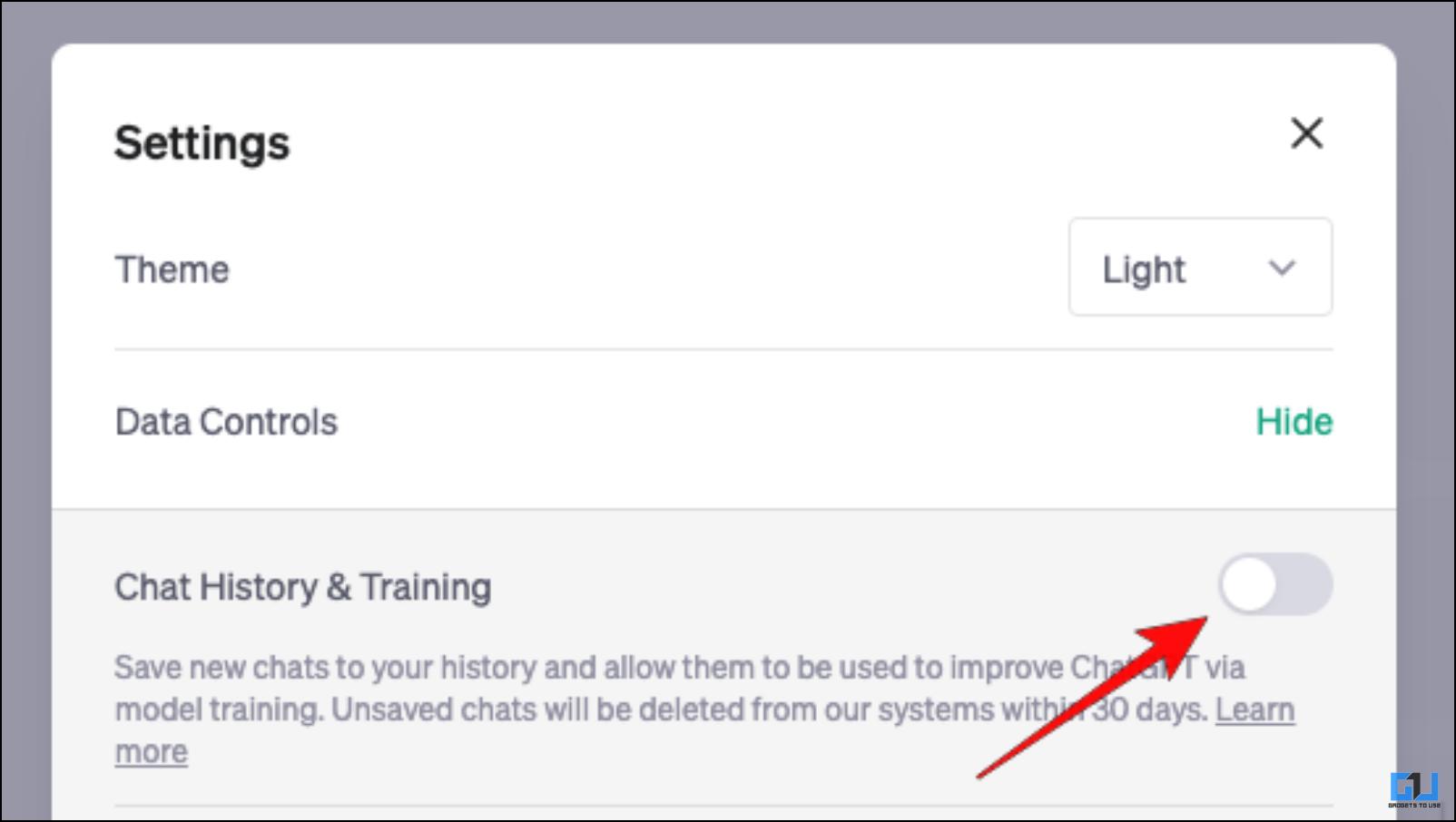 This will disable chat history and it will be greyed out. The textbox will also turn to a darker color.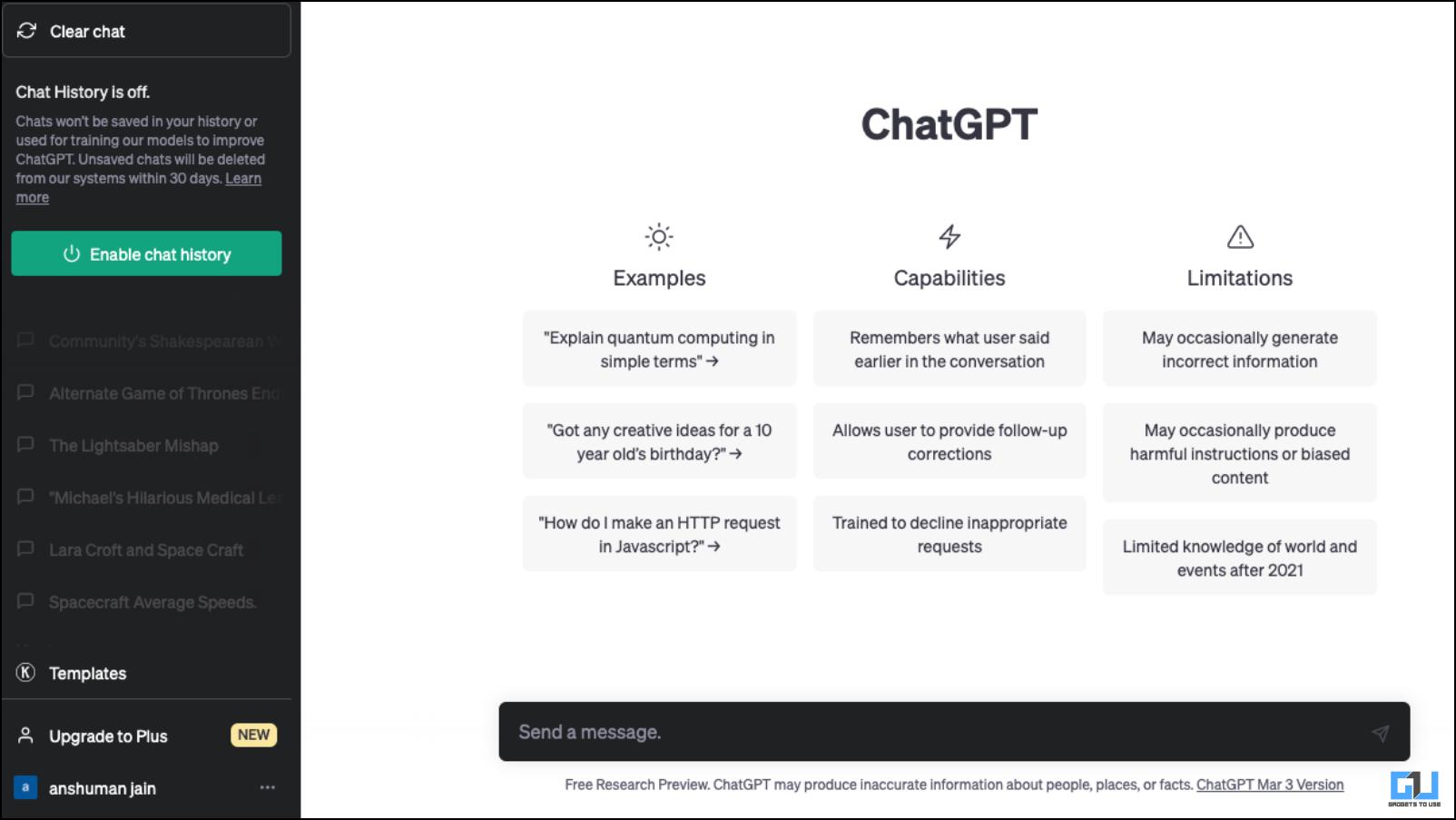 6. To disable ChatGPT incognito mode, click on Enable chat history from the left side menu.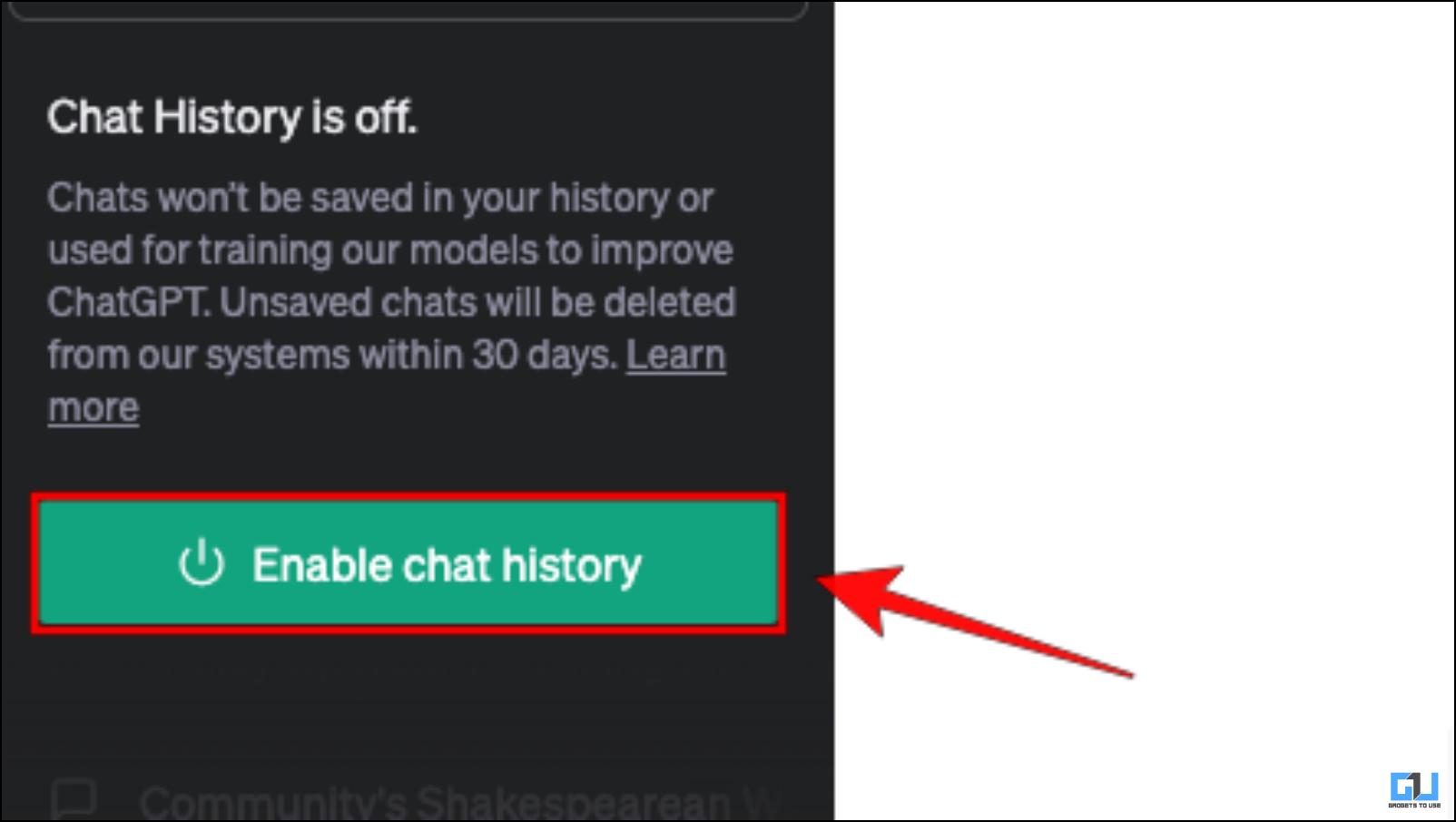 FAQs
Q. Is There an Incognito Mode Available for ChatGPT?
Yes. OpenAI has released a new incognito mode for ChatGPT that lets you turn off chat history. To use it, click on the three-dot menu next to the username > Settings > click on Show > Disable the toggle for Chat History & Testing.
Q. Will My ChatGPT Conversations Be Deleted With Chat History Disabled?
No. Your previous conversations with ChatGPT will not be affected when you disable Chat History & Testing. You can access them again by re-enabling the feature.
Q. Does Open AI Record My Conversation Data with ChatGPT?
Yes. Open AI uses the conversations that you have had with ChatGPT for internal testing to improve the AI chatbot.
Q. Will Incognito Mode Delete My Conversations on ChatGPT?
Yes. Incognito mode in ChatGPT will automatically delete your conversations done in this mode after 30 days.
Q. Can I Delete All My Conversations With ChatGPT?
Yes, you can delete all the conversations you have done to date with ChatGPT. Read our dedicated guide to deleting  ChatGPT history or ChatGPT account.
Wrapping Up
This wraps up our article on how to use incognito mode in ChatGPT. The option to disable Chat history was much requested by frequent users of ChatGPT. I hope you found this guide useful and if you have any queries related to this article then do reach out to us. Till then, stay tuned on GadgetsToUse for more such articles, reviews, and How-tos.
Also, Read:
You can also follow us for instant tech news at Google News or for tips and tricks, smartphones & gadgets reviews, join GadgetsToUse Telegram Group or for the latest review videos subscribe GadgetsToUse YouTube Channel.