Smartphone Video Rig ,Saramonic Phone Filming Kit with Dual Stereo Microphones, Audio Mixer for Apple iPhone 5, 5C, 5S, 6, 6S, 7 (Regular and Plus), Samsung ,Perfect for live-streaming, vlogging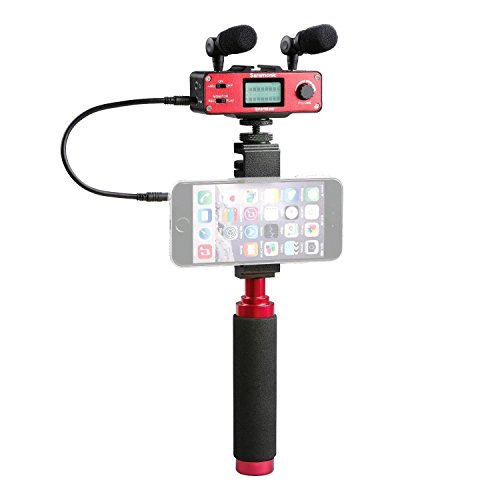 Saramonic SmartMixer Professional Smartphone Recording Stereo Microphone Video Rig
The Saramonic SmartMixer is a two channel, professional audio mixer designed to fit on iPhones and Android smartphones.
Ultimate Flexibility 
The SmartMixer is designed with maximum portability in mind – while still delivering professional quality audio recording. Featuring one mini-XLR input and two 3.5mm stereo mic inputs, as well as phantom power and a headphone monitoring jack, this mixer is capable of capturing high quality recordings while in the field or on the go.
Specifications
Improves audio quality of smart phone
Two 1/8 (3.5 mm) stereo line/mic inputs
One mini XLR microphone input (a mini-XLR to standard-XLR cable included)
+48V phantom power
One 1/8 (3.5 mm) stereo line output to phone
One 1/8 (3.5 mm) headphone monitor output
REC/PLAY monitor switch
Independent L/R level meters
Volume control knob
Includes two plug-in power condenser microphones
Includes a device holder and aluminum hand grip
Power provided by 9V battery
Features
Frequency response: 20Hz to 20KHz (+/-0.5dB)
Noise: 82Db @1kHz, -30 dBu input
Distortion: less than 0.03%@ 1 kHz, -30 dBu input
INPUT 1 GAIN: 15dB
INPUT 2 GAIN & MINI XLR Jack: 15dB
INPUT 1 & INPUT 2 Power: 5V power supplies
MINI Jack Phantom Power: 48V power supplies
Level Meter: -18dB to +3 dB in 3 dB increments
Power Requirements: 9V alkaline or lithium battery
Dimensions: L 95* W 35* H 298 mm
Weight: 0.74kg(26.1oz)
Take your smartphone video to the next level! – this smartphone video recording kit combines everything you need to capture pro audio and video for your smartphone
The Saramonic SmartMixer Professional Recording Stereo Microphone Rig Produces Studio Quality Audio for your Smartphone
The interface features one mini XLR input for balanced microphones and two microphone/line inputs for the included condenser microphones or other user-supplied microphones
A volume control knob and level meter allow easy adjustment of the input level. A headphone monitor output allows you to monitor the input and playback signal. Improves audio quality of smart phone Two 1/8 (3.5 mm) stereo line/mic inputs
Includes: Two 3.5mm (1/8″) stereo line / mic inputs. One mini-XLR microphone input (mini-XLR to standard-XLR cable included), One 3.5mm (1/8″) stereo line output to phone. One 3.5mm (1/8″) headphone monitor output. two 2 plug-in power condenser microphones. a device holder and aluminium hand grip



BUY NOW

$149.95