10 Android Tablet,10.1″ Inch 1080p Full HD Display Android 7.0,2GB+32 GB,Dual Camera Front 2MP+ Rear 5MP,Bluetooth and WiFi Blue Kid-Proof Case(Pink)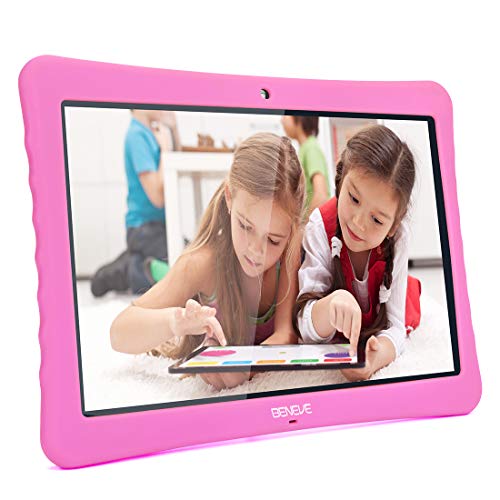 BENEVE 10.1″ KIDS TABLET IS The most affordable, portable and powerful 10 inch tablet.
WATCH IN 1080P FULL HD, 1920*1200 IPS DISPLAY
Discover and enjoy thousands of favorite movies, episodes and TV shows on Netflix, YouTube (subscription fees may apply). The tablet is equipped with quad core and 2GB RAM. Apps can boot up very quickly. Gaming, Internet browsing and video streaming on this tablet is awesome. Multitasking is smooth with Android 7.0.
Portable Muli-media
With dual camera, you can take photos or record videos for important moments or instant ideas. Video can call with your family and friends.
Dual 5G WiFi keeps you connected to any hotspots. Share your pictures or videos on Facebook or Twitter and get more interactions.
Expandable Storage
The 32GB on board storage enables you to store thousands of files, songs, E-books, etc. For more storage, put your micro SD card to the card slot and you can get more storage in your tablet.
Perfect for parents
The size of 10 inch size is very comfortable to use. YouTube and Gmail are pre-installed. You can watch any movies or videos on YouTube. Download e-books for yourself.
Reply emails via Gmail. Play or Work, BENEVE 10.1 inch of kid table supports you every day.
Great for Kids
Google Play Store is pre-installed. Download your favorite apps from Google Play Store and enjoy your entertainment. Download Iwawa or other educational games for your kids.
Parents can create a profile for each of your children on iwawa, set daily limits for tablet use, and choose which books, apps, games, and videos you want to give your kids access to.
What's in the Box:
10.1 Tablet *1
Adapter *1
USB Cable *1
OTG Cable *1
User Manual *1
Screen Protector *1
Free Tablet Case *1
Up to $180 in savings on BENEVE Full HD 10″ tablet, our professionals and skilled after-sales teams will response your questions and problems promptly.At the first time when it occurs.30 Days money back, and lifetime support and a Kid-Proof Case, plus a 18-month worry-free guarantee.
2018 BENEVE newest 10″ stylish ultra-slim android Kid Tablet, come with super IPS screen with 1080p Full HD display (1920 x 1200); Dual cameras, Front–2 million pixels, Rear–5 million pixels.You can enjoy widescreen movies, videos, and games with wide viewing angles, less glare, and even more clear.
10″ kid tablet comes with 32GB internal storage, and the power of the battery can use up to 3 hours after a full capcity of power. It is great to use for offline video watching. You can expand your storage capacity up to 64 GB by using a micro SD card, and keep photos, favorite movies, reading books, compatible games and apps all with you.
Flexible parental controls allow you to manage usage limits, content access, and educational goals that can be managed through your child's device. Parent Dashboard with Discussion Cards enables parents to discover the titles for their kids that they can enjoy and connect with them through rich conversations about these titles.
Micro USB port can charge/sync via your computer, also you can connect with 3.5mm headphone Jack that you can listen to your favorite music without disturbing others, Dual 5G Wi- Fi (802.11a/b/g/n) keeps you connected to hotspots, bluetooth 4.0 for connecting to external entertainment devices like speakers.



BUY NOW

$129.00