Is Google Go App Better than Google App on Android?
In recent years, Android apps have grown significantly in complexity and size, making them run on smartphones with fewer resources. Google addressed the issue way back in 2017 by introducing a series of 'GO' apps like Google Go, Files Go, Camera Go, etc., designed specifically for entry-level smartphones. Today, we will look at a detailed Google Go vs Google app comparison in this article to determine which works better. Additionally, you can learn to fix Google Play Store errors on Android phones.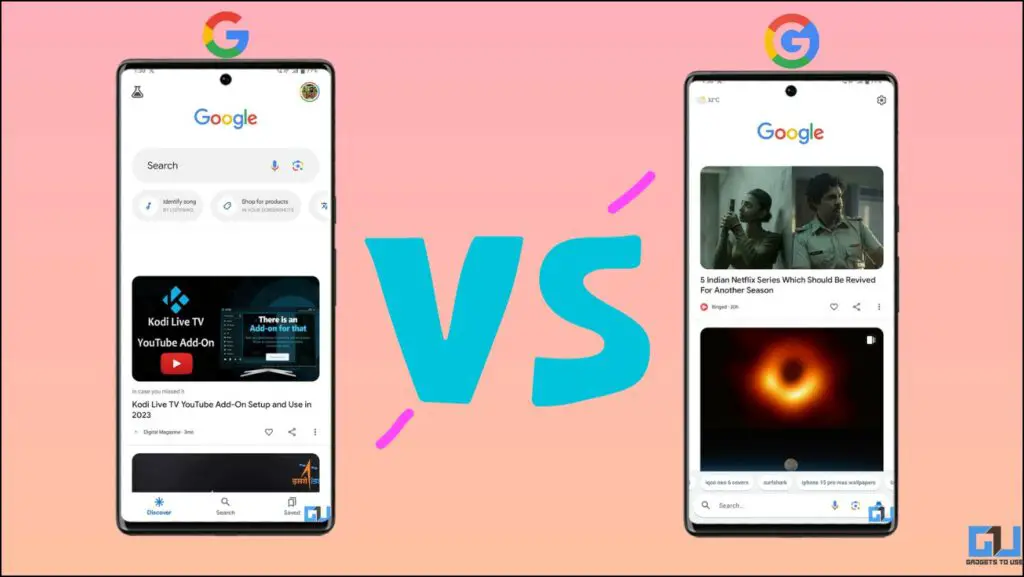 Google Go vs Google: Which is Better?
Google Go is the lighter version of the standard Google app that focuses primarily on using less data, less Android storage, and providing a snappy browsing experience. Think of it as a stripped-down version of the original app containing only the most crucial features to access the internet on the phone. This makes it suitable to run on a low-spec Android device that finds running apps with large file sizes difficult, demanding more RAM.
However, an important question arises here. Does the Google Go app work better than the Google app? We tested both apps thoroughly to give you a detailed comparison. Let's get started.
App Size Requirements
An app size is the first thing that comes to mind during installation if your Android phone has limited storage. Fortunately, the Google Go app takes no more than 9 MB to install and get running. On the other hand, the Google app takes over 200 MB of device space to provide its services. This makes Google Go a no-brainer for entry-level smartphones.
You can install Google Go from the Play Store if you wish to try it.
Interface
Google App
The Google app offers a Card and Tab-based interface. It displays cards for relevant suggestions on your timeline with a tabbed navigation bar at the bottom to easily switch between the Discover, Search, and Saved tabs.
The Discover tab contains the Google Search widget and your items of interest/suggestions based on your search history.
The Search tab shows your search history and trending searches when you scroll to its bottom.
Finally, the Saved tab lets you manage all the past saved items, such as a location, a YouTube video, etc.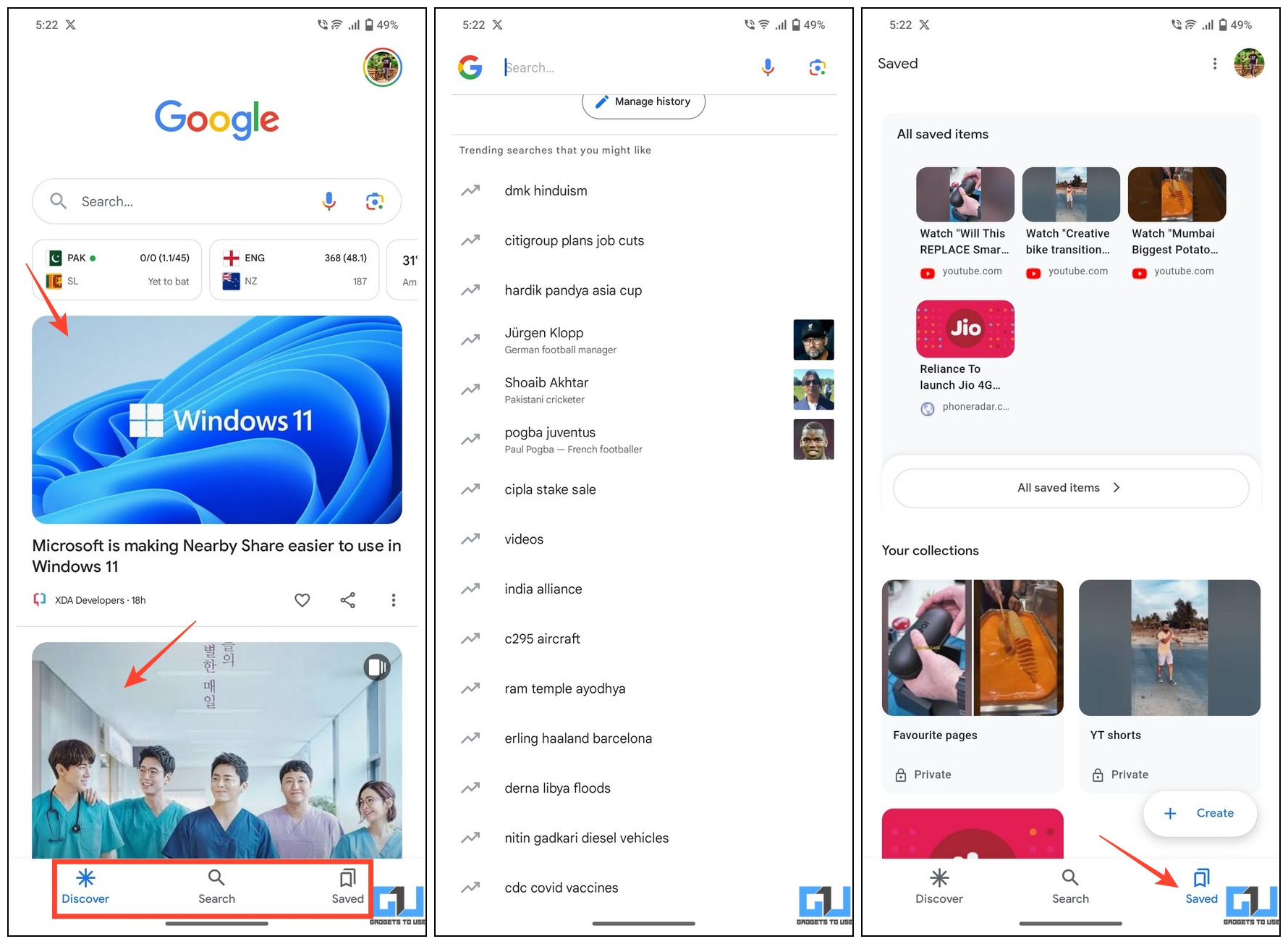 Google Go
With Google Go, the interface is cut short to a simple 'tap-first' window, displaying only the cards of interest with a Google search bar at the bottom. For ease of access, the search bar shows searched history 'bubbles' with quick access toggle buttons for voice search, Google Lens, and incognito mode.
Further, you get a Weather widget in the top-left corner that displays your current weather and opens a lighter page showing the related weather information.
Which Loads Faster?
Thanks to its small app size and better optimization, Google Go loads search results in the blink of an eye. The app uses a single window to open all links instead of multiple windows, reducing the loading time.
While the Google app includes images and video results in the searched content, Google Go trims it down significantly to show plain text to improve its loading speed. We searched for 'C295 aircraft' on both apps, and the results were incredibly faster on Google Go with more textual links than images/videos.
Differences in App Settings
The Google Go app differs greatly from the Google app in terms of app settings. While the former only provides a list of crucial features, the latter allows you to customize the app to your preference completely. Here's how you can access the settings on both apps.
1. Tap your profile icon in the Google app to open Settings.
2. Browse the list of features to personalize the Google app, including Notifications, SafeSearch, Assistant, Voice, Language settings, and much more.
3. Conversely, opening Google Go settings is fairly simple. Tap the Gear icon in the top-right corner to access it.
4. It allows you to configure only four limited settings related to Languages, Accounts, Notifications, and SafeSearch.
Browsing Experience
Google Go provides a fast and compact browsing experience with everything inside a single app window. Like the Google app, it redirects you to the installed app if you open a page with a dedicated app such as Facebook, Instagram, etc. In addition, the incognito button next to the search bar at the bottom sometimes comes in handy to quickly switch to the private browsing mode.
Contrary to its Go variant, the Google app delivers a much more refined experience with personalized cards, quick toggles, and navigation tabs. Each tab, i.e., Discover, Search, and Saved, categorizes your search history and saved items to explore them conveniently. Moreover, you can add experimental features from the Google search labs to make the most of it (as explained later).
Sharing Search Results
Google Go differs slightly from the Google app when sharing search results. Besides sharing suggestion cards on your timeline, the Google app offers a share button next to each search result to forward it effortlessly. On the other hand, the search results in the Google Go app do not contain any Share button, making copy-paste the only way to share them.
Additional Language Support
If you're tired of manually translating the search results, you'll love Google Go. Unlike the Google app that uses your device language, Google Go provides additional support for a secondary language to help users translate search results instantly. Here's how you can enable it.
1. Tap the Gear icon in the top-right to open Google Go settings.
2. Press Choose a second language and set your desired language to use it coherently with your primary language.
Support for Experimental Features
The Google app defeats its Go variant when testing the experimental features. These features are part of the Google Search Labs, where users can access and try early-stage features to share their feedback.
You can find a shortcut to try these experimental features in the top-left corner of the Google app, where you can browse the list to enable desired features in the app. Currently, the Google Go app doesn't support experimental features.
Pro-Tip: Search 'Google Search Labs' to add experimental features to the Google app.
FAQs
Q. Can I Install Google and Google Go Apps on the Same Android Phone?
Yes, you can install the Google and the Google Go app on the same Android device. Head to the Google Play Store to download and install them.
Q. How to Disable the Google App on Android?
Open the Settings app, tap Apps, locate the Google app in the list, and tap Disable to remove all existing updates from your Android phone.
Q. Can I Replace the Google App with the Google Go App?
Yes, disable the Google app from Settings and install Google Go to use it as a replacement. For more details on installing Google Go, read the steps listed above.
Final Words: Google Go vs Google Which Is Better?
So that was all about the Google app vs the Google Go app. We recommend using Google Go if your Android device feels too sluggish to run the standard Google app or prefer a clean and compact interface for your web browsing needs. Otherwise, the Google app provides a refined browsing experience with nifty features you shouldn't miss out on. Let us know your pick, and subscribe to GadgetsToUse for more in-depth comparison articles. Also, don't forget to check the below links for awesome Android tips and tricks.
You might be interested in:
You can also follow us for instant tech news at Google News or for tips and tricks, smartphones & gadgets reviews, join GadgetsToUse Telegram Group, or for the latest review videos subscribe GadgetsToUse Youtube Channel.